The Crash of B-17 44-8444 'Treble Four'
The Death of Brigadier General Frederick Walker Castle
---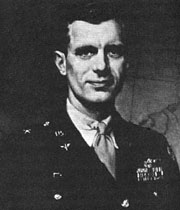 In December 1944 Brigadier General Frederick W. Castle was the Commander of the 4th Combat Bomb Wing of the 3rd Air Division, 8th U.S. Army Air Force in England. 4th Bomb Wing headquarters was located at Rougham Field near Bury St. Edmunds, but General Castle lost his life while flying with the 487th Bomb Group at Lavenham. On 24 December 1944 he commanded the 487th Bomb Group and led the Air Task Force in the largest 8th Air Force action of the war. This was 8th Air Force Mission #760, which involved more than 2,000 B-17s and B-24s, including formation assembly ships, war wearies, and almost anything else that could fly and carry a bomb load.9 The mission was to bomb German airfields and supply lines to stem the German offensive in the Ardennes known as the Battle of the Bulge. The 487th Bomb Group's target was the airfield at Babenhausen, Germany. As Air Leader, General Castle flew in the copilot's position with pilot Lt Robert W. Harriman's lead crew. Their aircraft was Pathfinder B-17G 44-8444 of the 836th Squadron (2G:C). The crew called the aircraft Treble Four after the last three digits of its serial number.13 In the 487th Bomb Group formation, the 838th Squadron was the lead squadron. Treble Four flew in the number 1 position of the lead element. Pilot Lt John H. Edwards and Deputy Air Leader Captain Mayfield R. Shilling flew Pathfinder B-17G 44-8021 in the number 2 position off Harriman's right wing. Pilot Lt Richmond C. Young and copilot Lt Lawrence N. Bross flew B-17G 43-38028 in the number 3 position off Harriman's left wing.4, 15 See the formation flimsy for this mission (Image 13).
Captain Shilling wrote:
I was flying deputy lead to General Castle. Wing and Division assembly was made on time and in perfect weather. The climb was started on leaving the English coast. We reached Belgium at 1130, still climbing. We reached altitude at CP 3 and had just leveled off when we were attacked by fighters, causing the lead aircraft to abort.11
Richmond Young wrote:
About 15-20 minutes before our fighter cover was to rendezvous with us for protection over the target area, the formation was attacked by a large number of German fighters.15
German Messerschmitt Bf-109 and Focke Wolfe Fw-190 fighters attacked the formation just south of Liege, Belgium. The 836th Squadron was the Low Squadron. It lagged behind the rest of the formation, and was attacked by a German Focke Wolfe Fw-190 Sturmgruppe squadron. The Germans attacked in company front formation and decimated the 836th Squadron. The other two squadrons were also attacked. German fighters shot out at least two engines on Treble Four and set the plane on fire. Lt Procopio, the radar navigator, and Lt Rowe, the tail gunner, were wounded.2, 6, 9 Either Lt Harriman or General Castle ordered the crew to bail out. Bombardier Paul Biri did not salvo the bombs because the plane was over troops of the American 1st Army. As Harriman or Castle guided the plane toward an open field away from American infantrymen, another attack caused the right wing auxiliary fuel tank (the Tokyo tank) to explode. The right outer wing was lost and the plane entered a violent right spin at 12,000 feet. The waist and tail sections separated from the aircraft during the spin. Treble Four crashed in an inverted position and the bomb load detonated. Lt Harriman was unable to bail out, and he and General Castle were killed in the crash.2 Eyewitnesses reported that copilot Lt Claude Rowe, the Officer Tail Gunner on this mission, was hit by German strafing in the air after he bailed out. He died at the scene. Radio operator T/Sgt Lawrence Swain fell to his death and was found without his parachute.2, 11 Radar operator Lt Bruno Procopio bailed out and died of his wounds at a military hospital in Liege. Five men survived.2 After Treble Four was shot down, the 487th Bomb Group, commanded by Captain Mayfield R. Shilling, went on to successfully bomb the German airfield at Babenhausen.11 General Castle, Lt Harriman, and T/Sgt Swain are buried at the American Cemetery at Henri-Chapelle, Belgium.1, 7, 8 General Castle was posthumously awarded the Congressional Medal of Honor. His portrait hangs in the Swan Hotel at Lavenham, and in the Mayors' Parlour of St. Edmundsbury Borough Council at Angel Corner, Bury St. Edmunds.5
---
Mission Summary
Sources:
Reports of Crichton2, Deterly2, Harbold6, Hodges9, and Shilling11
Eyewitness accounts posted on Henri Rogister's CRIBA website10

REFERENCE POINT         NORTH      EAST       TIME    ALTITUDE   COMMENTS
                        LATITUDE   LONGITUDE  (GMT)   (Feet)     (Sources in parentheses)

LAVENHAM AIRFIELD       52:07:44   00:46:54   0900       226     TAKEOFF
                                                                 (HARBOLD, MAP)

ASSEMBLY                                               7,000     PERFECT WEATHER ALOFT
                                                                 (HODGES, SHILLING)

FELIXSTOWE (CP1)        51:57:48   01:21:05            7,000     START OF CLIMB
                                                                 (HODGES, SHILLING, MAP)

OSTEND (CP2)            51:13      02:53      1130               STILL CLIMBING
                                                                 (HODGES, SHILLING, MAP)

CHECK POINT 3 (CP3)     50:35      05:00      1223    22,000     LEVELED OFF
                                                                 (HODGES, SHILLING)

1st ABORT CALL          50:33      05:23      1229               (HARBOLD, HODGES)

1st ME-109 PASS                               1230               (HODGES)

2nd ABORT CALL                                1232               (HODGES)

1st ME-109 FIRING PASS  50:30      05:15      1232    22,000     10 MILES SOUTH OF LIEGE (HODGES)
                                                                 50:30N 05:15E IS 17 MILES WSW OF
                                                                 LIEGE (MAP)

MACARTY BAILED OUT                            1236               (CRICHTON, HARBOLD, HODGES)

BIRI BAILED OUT                                       12,000     (HARBOLD, HODGES)

TREBLE FOUR SPINNING                          1237               (HODGES)

TREBLE FOUR CRASHED     VICINITY VA 400180    1250               (DETERLY)

CRASH SITE              50:31      05:28                         300 YARDS FROM CHATEAU ENGLEBERMONT
                                                                 (HARBOLD, IMAGES 14 AND 15.  HODGES,
                                                                 HARBOLD, AND CRICHTON ALL AGREE ON
                                                                 THIS, BUT CRICHTON SAID 5013N-0528E,
                                                                 AND HODGES SAID 5031N-O5E.)

CHATEAU ENGLEBERMONT    50:31:21   05:28:50              800     COORDINATES FROM GOOGLE EARTH
                                                        (EST)

SWAIN'S WATCH STOPPED                         1252               (CRICHTON)


---
Details of the Crash
The number one engine was "throwing oil" by the time the aircraft reached Check Point 3 (CP3) at coordinates 50:35:00N 05:00:00E, at 1223 hours GMT. (General Harbold6)

General Castle's first abort call over VHF was at 1229 hours GMT. The coordinates were 50:33:00N 05:23:00E, 17 miles (27 km) from CP3 on an azimuth of 97.6 degrees. General Castle's second abort call was at approximately 1232 hours. (General Harbold and Major Hodges6, 9)

"At the town of Amay, mechanical problems began. The outside port engine sprouted an oil leak, and eventually caused a loss in airspeed... It was 12:30 when this Fortress left formation from the left hand side, and flew at a low altitude over the crossroads of Comblain-au-Pont and Saint-Severin... McCarty [MacArty], Jeffers, and Auer bailed out over the crossroads of Nandrin-Werbomont. The Army Air Force report did not speak of Procopio, Swain, Hudson, nor Rowe, but they bailed out together; the eyewitness accounts state that 6-7 parachutists appeared. Biri, the bombadier, prepared to follow, but was asked to wait by Harriman, who had been ordered to bail out by Brigadier General Castle, but could not locate his parachute. Brigadier General Castle remained with the plane in order to direct it away from civilian population for its doomed crash landing. The plane abruptly went into a spiral dive, and Biri bailed out, injuring a knee on landing, and was found and taken in by the Neyrinck family of La Croix Andre. The plane crashed near the castle of Englebermont and the Sotrez farm." (Mr. Rogister10)

"...a tremendous aerial battle began in the direction of Xhos [from Fraiture]... Suddenly a Fortress made a steep, 180 degree turn to the left while heavily trailing smoke, and then several white mushrooms appeared - parachutes; some of the crew had bailed out. We counted six, and then the plane went into a tailspin and exploded, but another chute opened as the plane came apart. All of this happened very quickly. A part of the fuselage fell at Baugnée, and a wing at the cemetery of Nandrin. After several seconds, there was a violent explosion. The B-17 had fallen over an area of several hundred meters near the castle of Englebermont and La Croix Andre." (Mr. Rogister10)

The right outer wing landed at the cemetery of Nandrin. The aft fuselage section landed at Baugnée. (Mr. Rogister10) Biri was thrown from the forward hatch when the plane lost its right outer wing and went into a right spin. The force of this violent maneuver caused the aft fuselage (radio room and waist) and the tail section to separate from the aircraft. "The tail of the crashed A/C was discovered in an open field at about coordinate 5013N-0528E. Shortly afterwards the outer section of the right wing was seen about a half mile Northwest of the tail section, and the section of fuselage between stations 1 and 5 was seen a half mile NNW of the tail section. ... Biri says [he] was only 100 yards from A/C when he landed - gave self up to farmhouse less than 1/2 mile away." (Major Crichton2)

Note: Biri was probably the last to bail out. It must have been Biri's chute that "opened as the plane came apart." The coordinates for the aircraft tail must be 5031N-0528E; it landed within 0.5 mile of the other aircraft pieces.

The section consisting of the nose, bomb bay, left wing, and right inboard wing crashed in an inverted position at a 30-degree nose-down angle. This main crash site was 300 yards from the Chateau d'Englebermont. (Major Crichton2) This was 3 miles (4 km) northwest of Hody, and 2 km due south of Rotheux-Rimiere.

Lieutenant Rowe, copilot and tail gunner of this lead plane, was wounded before he bailed out. This was determined from blood evidence in the tail section of the aircraft. (Major Crichton2) He was found dead between Seny and Fraiture, nearly 10 kilometers from the point of impact of the plane. Thus, he was one of the first to bail out. Eyewitnesses reported that he was hit by German strafing during his parachute descent. (Mr. Rogister10)

"MacArty, first out of nose, bailed out at 1236h (looked at watch), making delayed jump. Landed in plowed field, picked up about 1 mile away toward Liege." (Major Crichton2) "Lieutenant MacArty estimates that he landed about seven (7) miles southeast of the town of Xhos or at 5024N-0541E." (General Harbold6) MacArty "was found safe and sound where he landed at Sparmont." (Mr. Rogister10)

Note: MacArty landed southeast of Xhos, but the coordinates 5024N-0541E indicate a point 11 miles east southeast of Xhos. The Eyewitness Report on Mr. Rogister's website said MacArty landed at Sparmont, which is 3 miles southeast of Xhos.

T/Sgt Swain was found dead in an open field without his parachute. His watch had stopped at 1252 hours GMT. (Major Crichton2) "We saw a failing parachute, which was maybe on fire, descending rapidly on Moulin [midway between Tavier and Ellemelle]. This had to have been Lieutenant [T/Sgt] Swain." (Mr. Rogister10)

S/Sgt Hudson landed in a tree and "was taken [to] a Chateau - the HQ for a military MP unit where he met S/Sgt Tonny Plummer, 6822845, 4th Det 73 G 2 Co G, 2nd ECA Regt, APO 658. Had burns on face and contusions on right foot." (Major Crichton2) "Jules Lejeune hurried to the 'tige de Terwagne' [Terwagne] where another parachutist was hanging in a tree. Upon Jules' arrival, the parachutist, being prudent, drew his pistol and held it in aim at Jules until the jeeps arrived. I don't know the name of this American, who, after being rescued by the American soldiers of "civil affairs," came to our house to recuperate. His face was lightly burned. We hope that our American friends can locate him." (Mr. Rogister10)

Note: This must have been S/Sgt Hudson. Terwagne is 8 miles southwest of the crash site, so Hudson was probably the first to bail out.

"We then proceeded to the MP HQ at Chateau d'Englebermont, which was 300 yards from wreckage of the engine and nose section. At the Chateau we talked to the MP medical officer, Captain Wolgel, who told us about watching the A/C crash on 24 December and then proceeding to the wreckage. Due to bombs exploding he could not get to the wreckage. However, he circled the periphery to ascertain if there was anyone alive in the wreckage. In so doing he discovered three legs and some viscera which he took back to the Chateau with him and sent for burial to the American Cemetery at Henri Chapelle." (Major Crichton2)

The 518th MP Bn Headquarters was located at Chateau d'Englebermont. Here is a report by Major Deterly of the 518th MP Battalion, which was included in Major Crichton's report:
26 December 1944

Subject: Crashed Aircraft
To: CG Eight Air Force
Through Provost Marshall US Army APO 230

B-17 No. 444 crashed vicinity VA 400180 about 1250 hours 24 December 1944.
Parts of two bodies identifying marks sent to closest American Cemetery Henri Chapelle.
Plane was totally destroyed.
Enclosed is sheet found near Sprimont Belgium, coordinates VA 5414 on 24 December 1944.
Included (1) bill fold found vicinity VA 400180.

For the CO
Frederick Deterly
Major CM
Exc Officer
518th MP Bn
Medical on APO 230


Found three legs (3)

---
Crash Site
The tail section coordinates were 50:31N 05:28E. The main crash site (Nose, Bomb Bay, Left Wing, Right Inboard Wing, and Engines) was approximately one-half mile northeast of the Tail Section, and was said to be 300 yards from the Chateau d'Englebermont, which is at 50:31:21N - 05:28:50E.2, 6, 9 See Images 15 and 16.
All aircraft pieces landed within one half mile of each other, less than 1 minute of arc apart.3 (1 minute of arc = 1 nautical mile = 1.15 statute mile = 1.6 kilometer)
The crash site was approximately 4 miles (7 km) from the first abort call point on an azimuth of 122 degrees. This is 3 miles (5 km) northwest of Hody, and just south of Rotheux-Rimière.

---
Crew of B-17G 44-8444 'Treble Four' on 24 December 1944
NAME                  RANK     SVC NUMBER   POSITION               OUTCOME

Castle, Frederick W.  Brig Gen  O-319375    Air Leader/Copilot     Died in crash

Harriman, Robert W.   1st Lt    O-695257    Pilot                  Died in crash

Auer, Edmund F.       Captain   O-795170    Pilotage Navigator     Bailed out; Survived; "A left
                                                                   knee wrenching later required
                                                                   ligament surgery."(Hodges)

Biri, Paul L.         1st Lt    O-667235    Bombardier             Bailed out; Survived

MacArty, Henry P.     1st Lt    O-712624    Dead Reckon Navigator  Bailed out; Survived

Procopio, Bruno S.    1st Lt    O-700148    Radar Navigator        Wounded in aircraft; Bailed out;
                                                                   Died at military hospital Liege

Rowe, Claude L.       1st Lt    O-819325    Officer Tail Gunner    Wounded in aircraft; Bailed out;
                                                                   Hit by German strafing in air;
                                                                   Died on the scene.

Hudson, Lowell B.     S/Sgt     16113290    Waist Gunner           Bailed out; Landed in tree;
                                                                   Survived

Jeffers, Quentin W.   T/Sgt     16131444    Engineer Gunner        Bailed out; Survived

Swain, Lawrence H.    T/Sgt     39279733    Radio Operator Gunner  Bailed out; Found dead without
                                                                   parachute; Parachute may have
                                                                   caught fire


---
Landing Sites of the Crew of 'Treble Four'
NAME       N LAT   E LONG   COMMENTS

CASTLE     50:31   05:28    DIED IN CRASH (HODGES, HARBOLD, CRICHTON)

HARRIMAN   50:31   05:28    DIED IN CRASH (HODGES, HARBOLD, CRICHTON)

AUER       50:29   05:30    NEAR HODY (HODGES, MAP)

BIRI       50:31   05:28    100 YARDS FROM CRASH SITE (HARBOLD, CRICHTON)

MACARTY    50:24   05:41    7 MILES SOUTHEAST OF XHOS (HODGES, HARBOLD);
                            50:24N 05:41E IS 11 MILES ESE OF XHOS (MAP);
                            MACARTY LANDED AT SPARMONT. (ROGISTER);
                            SPARMONT IS 3 MILES (5 KM) SE OF XHOS (MAP)

PROCOPIO                    BETWEEN SPARMONT AND XHOS (CRICHTON, ROGISTER)

ROWE                        BETWEEN FRAITURE AND SENY, 10 KM FROM 
                            THE CRASH SITE (ROGISTER)

HUDSON     50:26   05:21    IN A TREE NEAR TERWAGNE (ROGISTER, MAP)

JEFFERS                     MACARTY, JEFFERS, AND AUER BAILED OUT, IN THAT
                            ORDER (HARBOLD); THIS PLACES JEFFERS' LANDING
                            SITE BETWEEN SPARMONT AND HODY.

SWAIN      50:29   05:27    NEAR MOULIN (ROGISTER, MAP)

Distance and Azimuth Between Points
Source: How Far Is It?                          DISTANCE    HEADING


Lavenham Airfield to Felixstowe (CP1):          27 miles    115 deg

52:07:44N 00:46:54E to 51:57:48N 01:21:05E
Distance 27 miles (43 km) (23 nautical miles) 
Heading east-southeast (115.0 degrees)


Felixstowe (CP1) to Ostend (CP2):               84 miles    127 deg

51:57:48N 01:21:05E to 51:13:00N 2:53:00E
Distance 84 miles (136 km) (73 nautical miles) 
Heading southeast (127.1 degrees)


Ostend (CP2) to CP3:                           102 miles    115 deg

51:13:00N 2:53:00E to 50:35:00N 5:00:00E
Distance 102 miles (164 km) (88 nautical miles) 
Heading east-southeast (114.7 degrees)


CP3 to 1st Abort Call Point:                    17 miles     98 deg

50:35:00N 5:00:00E to 50:33:00N 5:23:00E
Distance 17 miles (27 km) (15 nautical miles) 
Heading east (97.6 degrees)


1st Abort Call Point to Crash Site:              4 miles    122 deg

50:33:00N 05:23:00E to 50:31:00N 05:28:00E
Distance 4 miles (7 km) (4 nautical miles) 
Heading east-southeast (122.1 degrees)


Total Distance                                 234 miles


---
Bibliography
Crichton, Jack A. 8th US Air Force Report of Investigation, RE: The Fate of General Frederick W. Castle on the Bombing Mission of December 1944. (Major, 487th Bomb Group Intelligence; hand-written notes transcribed to text file by Henri Rogister)

Crichton, Jack A. Excerpt from Personal Diary Concerning the Death of General Frederick W. Castle. Dec 1944 - Jan 1945 (Major, 487th Bomb Group Intelligence)

de Jong, Ivo. The History of the 487th Bomb Group (H). Paducah KY: Turner Publishing, Oct 2004. ISBN: 1-59652-018-3
Information about ordering this book
Information about this book and its author

Hainsworth, Giles. Local USAAF Commemorative Associations and Wartime Bases. St. Edmundsbury Borough Council. 2004

Harbold, N.B. Report of Investigation of the Death of Brig. Gen. Frederick W. Castle. 16 January 1945 (Brigadier General, Chief of Staff, 3d Air Division, 8th Air Force, U.S. Army; report provided by Mr. Norman Valentine)
Page 1 | Page 2 | Page 3 | Page 4

Hodges, Robert H. General Castle's Last Mission. 486th Bomb Group Association Newsletter. 1984 (PDF File - Report provided by Mr. Norman Valentine, and later by Mr. Robert Harper, veteran of the 486th Bomb Group.)

Rogister, H. and Russell, Thad. The Fallen B-17 of General Frederick Castle in the Region of Fraiture, Belgium

Shilling, Mayfield R. Air Leader's Narrative Report for Mission of 24 December 44. 26 December 1944 (Captain, 487th Bomb Group, AAF Station 137; report provided by Mr. Norman Valentine)

Skeels, Duncan R. Airfields of Suffolk - A Visitors Guide (PDF File). Babergh District Council of South Suffolk. 1998

Valentine, Norman J. Brigadier General Fred Castle and the Crew of 'Treble Four'. 19 August 1999

Valentine, Norman J. Personal Communication by E-mail. 2003 (General Castle's Driver at 4th Bomb Wing HQ, Bury St. Edmunds)

Young, Richmond C. Personal Conversations. 487th Bomb Group Reunion. Savannah, Georgia. 28-31 May 2003. (Pilot of B-17G 43-38028, 838th Squadron, 487th Bomb Group)

---
Images
---
Map Reference Sites
---
Paul M. Webber
Nephew of a 487th Bomb Group Veteran
File created Friday, 14 March 2003
Last edited Wednesday, 4 February 2009
---