We have moved ! Please go to www.plumstedequestrianctr.com remember to bookmark when you get there!


Jane Ervin
102 Jacobstown Road, New Egypt, NJ 08533
Phone: 609-758-1547
E-mail: [email protected]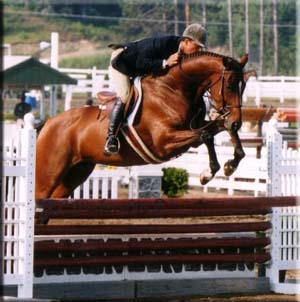 (Integrity, pictured above, bred by Jane Ervin)
Plumsted traditionally has had a reputation for raising, training, showing and handling top hunter horses in the country from an early age. Such wins include the International Hunter Futurity East Coast and finals in Kentucky and Devon horse show prizes every year. Horses come to Plumsted from all over the country, including states such as California, Arizona, Vermont, Maine, New York and Florida. Also, we have a jumper qualified for the Marshall and Sterling finals, and a few childrens hunter horses and ponies competing on the circuit and some pre-green and young hunters.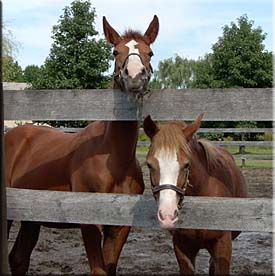 We are very diversified, starting horses from weanlings and going right through to the performance divisions. We have always been active as a barn at the USA Equestrian sanctioned events from "C" to "AA and Jane Ervin has also been a frequent associate horse show judge. What is enjoyable to many about Plumsted is its laid back environment, keeping the focus on enjoying the horses yet maintaining a level of expertise that can garner prizes at shows such as The Devon Horse Show.
We start ours young at Plumsted, focusing on developing riders at an early age. With ponies such as Miss Serenade, pictured below, horsemanship, riding, and showing can be a rewarding and fulfilling experience. We cater to toddlers ages 3 and up. The toddlers get to learn about the ponies with hands on experience; grooming and learning parts of the horse and tack. Then we start them out on a lead-line and they graduate to a lunge line before riding independently. We strive to get horse show oriented children and families and work into pony/horse ownership, but offer the leasing option along the way. Miss Serenade was leased by the Colavitos for the Devon Horse show and for other local rated horse shows. We always have a long waiting list to join our program and have limited slots available for the toddlers.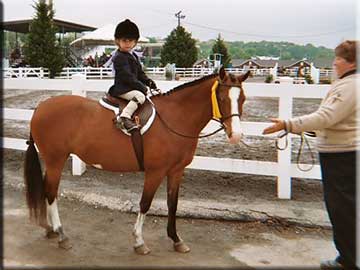 Our farm is a harmonious one, owned solely by the trainer and her husband, therefore the trainer is always in one location and can provide results in an easier fashion, implementing any choices that need to be made in the rider or horses program. Plumsted works with top veterinarians and farriers to help us reach our goals and uses a very current and proven nutritional program for our equine partners.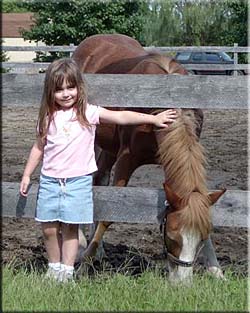 Currently there are 4 ponies at Plumsted in training and showing and quite a few youngsters showing and winning on the line across the country! Plumsted has many many ship-in students from around New Jersey due to the location. Shipping-in is a convenient alternative to boarding if the commute is unreasonable. We strive to keep our fees competitive, but less costly than most, being trainer owned and operated. The farm is on 75 acres in New Egypt, New Jersey. It houses 14 horses and 5 broodmares in the mare field. Plans are currently in order for another expansion including an indoor arena.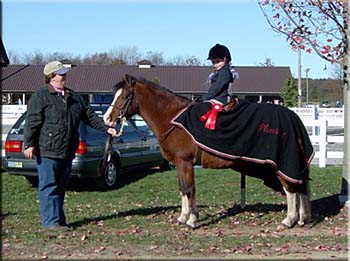 Anyone interested in the toddler program or other board and training options can feel free to
e-mail to plan a visit or to request further information or references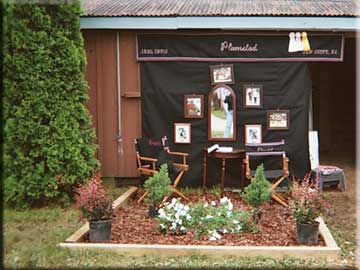 Plumsted will be going to Ocala (HITS) Florida for a month in the winter to horse show and get away from the cold!
---

Jane Ervin
102 Jacobstown Road, New Egypt, NJ 08533
Phone: 609-758-1547
E-mail: [email protected]