A Tribute to John Lennon
1940 - 1980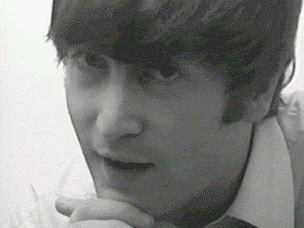 John Lennon was a talented musician, but he was also a friend, father, husband and peace activist. Although he died more than twenty years ago, his spirit will live on forever in his work and in his two sons Julian and Sean.

This picture (below) is the Dakota. John lived in this apartment building with his family during the last years of his life.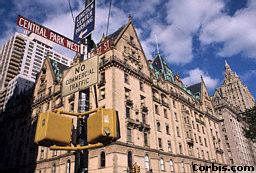 John's death came as a shock to all those who knew him and to his fans.

Here is what John's closest friends and family members said after John died.

Paul McCartney: "I can't take it in at the moment. John was a great guy. He is going to be missed by the whole world."

George Harrison: "After all we went through together I had, and still have, great love and respect for him. I am shocked and stunned. To rob life is the ultimate robbery. This perpetual encroachment on other people's space is taken to the limit with the use of a gun. It is an outrage that people can take other people's lives when they obviously haven't got their own in order."

Mimi Smith: "There was never any possibility that he would be just an ordinary person. He'd have been succcessful in anything he did. He was always just as happy as the day was long. I will never recover."

Yoko Ono: "John loved and prayed for the human race. Please pray the same for him. Please remember that he had deep faith and concern for life and, though he has now joined the greater force, he is still with us here. There will be no funeral. The silent vigil will take place December 14 at two pm for ten minutes."

Sean Lennon: "Now Daddy is a part of God. I guess when you die you become bigger, a part of everything."

Mick Jagger: "I knew and liked John Lennon for eighteen years. But I don't want to make a casual remark now at such an awful time for his family, millions of fans and friends."

David Geffen: "This is a great loss in every possible way. John Lennon was a great artist, a wonderful father and a wonderful husband."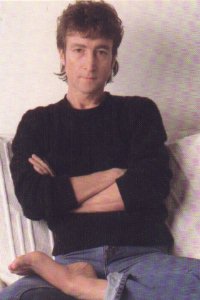 John influenced a lot of people. Here are some more quotes from some of those people.
Jimmy Carter: "John Lennon helped create the music and the mood of our time. His work as an artist and musician was far from done." Smokey Robinson: "Forty is an early age to have to leave this planet-but as a performer, the way Lennon was killed is very frightening and tragic to me. He was truly one of the world's greatest musical innovators and I'm sure he will be missed and mourned by many, especially those of us who are his peers."
Andy Rooney from the Chicago Tribune: "Almost everyone who becomes famous ends up acting the way famous people act. It isn't so much that famous people want to act that way; the are forced into certain patterns of behavior. John Lennon was trying to act some way other than the way famous people act and people wouldn't let him..." Sheila Hershow from Federal Times: "All we were saying was give peace a chance. But until John Lennonn gave us the words we never managed to say it right." Richard Roberts from Philadelphia Evening Standard: "Another era has passed. My link with my idyllic, fanciful teen years, the ones that always seem to mold us and have the greatest meaning in our lives as we experience growing up, has ended. Another peacemaker has been taken from us and the Beatle's classic 'Yesterday' take on a new meaning..."
Share your own thought on John Lennon by signing the John Lennon Tribute book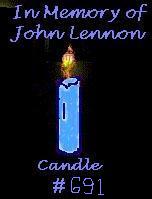 ~~~~~~~~~~~~~~~~~~~~~~~~~~~~~~~~~~~~~~~~~~~