Dear Beatles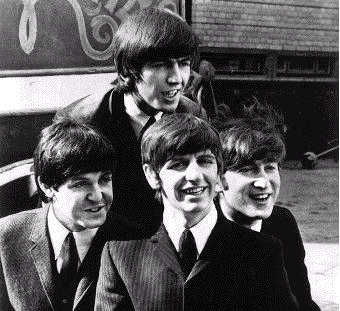 The following letters were written by fans in the 60s. The Beatles gave their permission to have these letters published in the book Dear Beatles. The book was compiled by Bill Adler.
Dear George:
All I want to do is mother you. So do most of the girls I know.
It must be a marvelous feelings, George, to realize that all around the world you have millions of mothers.
Love,
Kate M.
New Orleans, Louisiana
Dear Beatles,
I want to come and see you in London.
Please tell me what is the quickest way from Cleveland by bike.
Love
Claudine W.
Cleveland, Ohio
Dear Ringo,
There is only one Ringo, and there is only one Winifred Henderson.
Isn't it about time that the one and only Ringo and the one and only Winifred Henderson got two - gether at last!
Love and stuff,
Winifred H.
Bayonne, New Jersey
Dear Ringo
What did you do before you were a Beatle? Were you a ordinary person?
Love, Janet L.
Miami, Florida
Dear Beatles,
Thank you for your picture.
I wanted to send you a picture back. But I don't have a picture, so I am sending you a picture of Elizabeth Taylor the actress, because she looks most like me.
Love,
Liza W.
Indianapolis, Indiana
Dear, darling Beatles,
To think that I, Harriet Watts, live on the same planet with the Beatles, breath the same air as the Beatles, see the same sun, moon, and stars as the Beatles.
Oh! It's just too much!!
Fondly and Forever,
Harriet W.
Atlanta, Georgia
Dear Beatles,
I told my mother that I can't imagine a world without the Beatles, and she said she could easily.
Loyal Forever,
Lillie K.
Fairbanks, Alaska
Dear Beatles,
I have 826 pictures of the Beatles, and am just beginning.
All my love,
Diana A.
New York City
Dear Beatles,
We have started a Beatle fan club.
So far we have two members. I am club President and Winifred is Vice President in charge of new members.
Your fans,
Gloria J. & Winifred Z.
Oakland, California
Dear Ringo:
You have the nicest smile of all the Beatles. Are those your real teeth?
I hope you don't mind my asking.
Sincerely,
Evelyn M.
Salt Lake City, Utah
Dearest George, my favorite Beatle,
Let my spend one precious glorious minute with you. I'll even take 45 seconds.
With love,
Hannah L.
Jacksonville, Florida
Dear Beatles,
My name is Rappaport. Please tell me how I can change my name to Beatle as soon as possible.
Yours Truly,
Cara R.
Malden, Massachusetts
Dear Ringo, my favorite Beatle,
I just love the way you walk, talk, smile, and sing.
I just love your eyes, nose, mouth, teeth, ears, neck, and arms.
When I love somebody, I love all of them.
Kisses from
Patricia J.
San Francisco, California
Dear Ringo:
I named my new dog after you, and he is the proudest dog on the block.
With love,
Susie P.
Winston Salem, North Carolina
Dear Beatles,
Could you tell me what is the best way to sing? With your mouth opened or closed?
Yours truly,
A future great singer
Hans M.
Albany, New York
Dear Beatles,
Please dedicate you next song to me.
If you do, it will be a terrific seller, because I have loads of friends, and they will buy the record.
Your fan,
Irma S.
Raleigh, North Carolina
Dear Beatles,
I read in the newspaper that you have millions of dollars and you travel all around the world in big airplanes and stay in the best hotels and hove lots of clothes and eat in fancy places, but I want to know something.
What do you do for fun?
Love,
Ruth J.
Atlanta, Georgia
Dear Beatles,
Whenever I think of you, chills run up and down my spine.
Even in the summer-time.
Love,
Kathryn J.
Des Moines, Iowa
Dear Beatles,
Please call me on the telephone. My # is 629-7834.
If my mother answers, hang up quick. She's not much of a Beatle fan.
With love from,
Maxine M.
Cleveland, Ohio
Dear Beatles,
I am the President of a Beatle fan club. My friend Brenda is Vice President, Alma is secretary, and Joyce is treasurer.
Our dues are 15 cents a week, and we are saving money from our dues for a trip to England to see our dear Beatles.
It will take six years to get enough money.
Joan W., President
The Beatle Club of Brooklyn
Dear George,
If you ever called me on the telephone, I would faint right on the spot.
And if I fainted, I wouldn't get a chance to talk to you, so you'd better send me a letter. I don't faint from letters.
Love to you from,
Nancy R.
Philadelphia, Pennsylvania
Dear George,
I am the girl who touched you at Kennedy Airport, and I am never going to wash that hand again as long I live.
Forever
Mona W.
Milwaukee, Wisconson
Dear Beatles,
I am 6. When I grow up, I want to be a Beatle or a doctor.
Love,
Paul W.
Dallas, TX.
Dear Beatles,
My name is Roger. I am 11 years old. Could you please tell me how I can get to be a Beatle?
I can't sing, dance, or act, but I am a hard worker and I like to make lots of money.
Roger W.
Anderson, Indiana
Dear Ringo,
You are the handsomest man in the world, except for my father.
My father is handsome too, in an old way.
Love,
Norma A.
Denver, Colorado
Dear George,
What do you do when you are not singing? Do you gargle a lot?
Your fan
Henrietta Z.
Toledo, Ohio
Dear John, the HANDSOME BEATLE,
What toothpaste do you use? What soap do you use? What cereal do you eat? What color socks do you wear? How big are your shoes? Do you like white bread? What is your favorite ice cream flavor? Do you drink Coke or 7-Up?
Please answer quick, because I want to know all the important things about you.
Your best fan,
Julie L.
Amarillo, Texas
Dear George,
How does it feel to be the perfect man?
With love,
Jane M.
Newark, New Jersey
Dear Beatles,
I am a loyal fan. I have every one of your records and I don't even have a record player.
Love,
Donna J.
Portland, Maine
Dear George,
I want to send you a present for your birthday. Please send me a list of things that don't cost more than 25 cents that you want.
Love,
Cynthia L.
Albany, New York
Dear Beatles,
uoy evol I.
That is I love you backwards. Actually, I love you forwards and backwards.
Reverof,
Janet L.
New York City
That is "forever" backwards.
Dearest John,
I would like a lock of your hair. Also, a lock of hair from George, Paul, and Ringo. You know you have plenty of hair, so you can spare one lock each for me.
With love,
Sylvia M.
New York City
P.S. Please write the name of the person on each lock, so I will know who the lock of hair belongs to, as it is hard to tell when it is not on a person's head.
Dear Beatles,
I need the names of some BEATLES fan clubs near my house.
There are no BEATLES fan clubs in my neighborhood. I told my mother that I want to move, but she doesn't think that is a good reason.
Love,
Agatha W.
Lansing, Michigan
Dear George,
Could you please tell me what size socks you wear? I am knitting you a surprise.
With love from,
Jackie W.
Providence, Rhode Island
Dear Beatles,
Please write and tell me who is the older Beatle. I am 15 and I go for older men.
Love, Frances W.
Trenton, New Jersey
Dear George,
Have you ever thought of becoming a minister?
If you were a minister, everybody would go to church all the time.
Love,
Hilda M.
Detroit, Michigan
Dearest, sweetest Beatles,
I have Beatles pictures all over my room. I have Beatles pictures over my bed. I have Beatles pictures over my desk. I have Beatles pictures in my closet. I have Beatles pictures over my bookcase.
My father hopes you are just a fad.
Love from a Beatle fan-
all the way!
Stella J.
Chicago, Illinois
Dear George,
I would give everything I have to be with you, and I don't have much.
I adore you.
Mona M.
Seatttle, Washington
Dear John,
I love you because you are so skinny.
I love skinny boys.
I had a boyfriend named David once, but I got mad when he put on six pounds.
Love,
Stella J.
Staten Island, New York
Dear Beatles, the only ones for me,
I have dedicated my life to making the Beatles happy.
Please tell me where I should start.
Wild for you,
Patty E.
Jackson, Missippi
Dear Beatles,
There are now four Beatles-George, Paul, John and Ringo.
There should be five Beatles-George, Paul, John, Ringo, and Hilda.
I am Hilda.
Love,
Hilda J.
New York City
Dear George,
I would like to fix you up with a blind date. I know that most boys don't like to go out on blind dates, but this girl is sensational!
I should know, the blind date is me!
Forever yours,
Gladys C.
Knoxville, Tennessee
Hello Beatles:
I like your singing very much.
Which opera do your songs come from?
Love,
Lucille M.
Raleigh, North Carolina
Dear Beatles,
Do you think you could sing at our school on May 15?
The reason is nobody ever sang at our school dance, except Marsha Goldman, who is in grade 10.
Marsha sings OK but she always forgets the words.
Please say yes.
Joan G.
St. Paul, Minnesota
Email Sarah