New England
Narrow Gauge.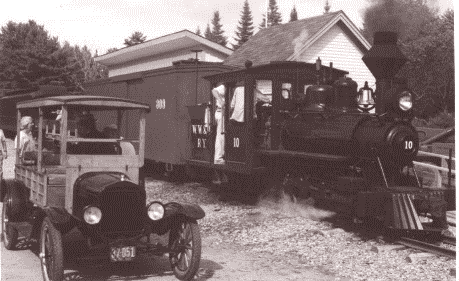 New 12/13/1999
Updated Links 1/26/2000
More New Links 6/16/2000
Yet More Links 7/12/2000
Updated links 11/7/2000 (Election Day!)
Updated 12/07/2000
Updated 07/17/2001
Update 8/23/2001 new links and pictures
Update new link 8/29/2001
Update 10/15/2001 Kato Forney conversion.
Update 11/08/2001 Kato 2-6-2 and Forney conversion.
Update 1/05/2002 Links and New England industrial NG.
Update 3/05/2002 New England industrial NG.
Update 04/10/2002 Kato Conversion and NG Convention.
Last Update 07/08/2004 Fix broken links and add new ones.
Latest Update 07/11/2006 Fixed image links broken by editing with MS Word (Grumble, mutter).
---
Contents:
Joe Works and Sango HOn30 models from the 1980s
---
New England Narrow Gauge
Quite often people immediately think "Colorado" when the words "narrow gauge" appear. The fact is that narrow gauge lines appeared throughout most of the country at various times. In New England, the Maine two-foot lines have garnered most of the attention. It might surprise people to know that similar lines in other gauges appeared elsewhere in New England. Additions to this section have come from Jim Favre, and members of the New Haven Forum from a thread on "New Haven's Narrow Gauge Ancestors".
Billerica and Bedford Railroad (Massachusetts).
This line was the first two footer. It lasted less than a year, with all rail and equipment (and chief proponent George Mansfield) going to Franklin County, Maine and the Sandy River shortly after the roads demise. Many have speculated that if the initial investors had shown more patience the line might have prospered within a few years. Motive power consisted of a pair of Hinckley Forneys (0-4-4, but they ran backwards as 4-4-0s).
Boston

Revere

Beach
and Lynn Railroad (
Massachusetts
).
How about a three-foot narrow gauge line that ran in Boston, carried commuters (and owned cross harbor ferries), eventually electrified and lasted until 1940? That's "The Narrow Gauge" as locals called the BRB&L. Motive power included 4-4-0 tender engines and over twenty 2-4-4 Mason Bogie locomotives.
Grafton Centre Railroad.
Narrow gauge predecessor of the Grafton & Upton.
Martha's Vineyard RR (
Massachusetts
).
Another three-foot gauge island railroad. Used a small Porter 0-6-0 tender engine.
Nantucket RR (Massachusetts)
A three-foot gauge line connected the main boat landing with hotels and other communities on the island. Used a Mason Bogie, 4-4-0 and a 0-4-4 Forney. According to some sources, a car from the line serves as part of a cafe today on the island!
West

River
Railroad (*
Vermont
).
A three-foot gauge country shortline, controlled for a time by the Central Vermont. Its unsteady history is described in the book "36 Miles of Trouble". Ran 4-4-0 and 2-6-0 tender engines. Reportedly planned as a two foot line at one stage.

Worcester
&
Shrewsbury
RR.
The narrow gauge Worcester & Shrewsbury RR was opened in July 1873 to haul passengers the 2.7 miles between Worcester's Union Station and Lake Quinsig. Steady lake excursion traffic ensured it's success and in 1896 was leased by the Worcester Consolidated Street Railway and converted to a standard gauge trolley line. (This text came from an ebay auction of some tickets from the line. Please let me know if you wrote it so I can give credit).
New England
Industrial Narrow Gauge.
Various New England concerns had narrow gauge intra-plant railroads. Well known two foot lines of this type were S.D. Warren Paper of Maine, who ran small Baldwin 0-4-0Ts, and Whittan Machine Works in Massachusetts who had an electrified line until replaced by a pair of very narrow GE diesels. now at Maine Narrow Gauge in Portland and Edaville. Others include Plymouth Cordage, running 42 inch gauge compressed air locos (fire is a bad thing with rope fibers in the air) and American Thread Company in Willimantic, CT, who ran a 3 gauge foot line. There are pictures of the latter online, the 0-4-2T "Helen B." part way down the page of Gallery 17 at the "Thread City" site. Gallery 20 at the same site has two scenes which include the locomotive and a flat in service. There were also a couple of narrow gauge quarry lines in the Canaan Ct. area. These used horses to pull the trains until the 1930's or later, when at least one acquired a small Plymouth locomotive. A surviving tip car is preserved in front of the (now burned) Canaan station. *Jim Favre pointed out an extensive three-foot line owned by U.S. Gypsum operated in Cheshire, MA until the 1970's using low cab Plymouth diesels. Someone sent him a digital picture of the line, but he mis-placed the sender's info (please let me know if you provided the picture!) Other lesser known or un-named narrow gauge lines existed in Windsor Locks, at the tie treating plant at Montowese (north end of Ceder Hill Yard, New Haven), and a coal tram using a small "critter" at the State Hospital in Middletown, CT.
Narrow Gauge Modeling.
I've been interested in narrow gauge railroads ever since Bob Hayden and Dave Frary published their series on the Elk River in RMC. That led me to Linwood Moody's Maine Two Footers and I bet you can guess the rest (I'm certainly far from alone). I acquired a some HOn30 kits and locos in the late '70s early '80s, but never built a real narrow gauge layout (except for temporary loops and one 2 ft by 3 ft loop with scenery which never ran at all well). Except for some planning, most of the equipment remained in boxes. A few years ago in Florida I built my standard gauge HO layout, and worked on my Dad's S scale CNJ layout, but never really did anything with the narrow gauge. About three years ago I found the Mailcar HOn30 mailing list and subscribed. About the time I relocated from Florida to my original home state, Connecticut, I joined the "South Eastern New England" HOn30 group, now the "New England HOn30 Module Guild" since we encompass people from a much wider territory. I'm building one module so far (shown semi-finished at the Whitman MA. two foot show this November) and assembling kits that have sat in my collection for years (the Polymold Taconet I'm finishing now was post marked 1972)!
Early Attempts.
The original HOn30 layout is long gone, although bits and pieces remain (pack rat that I am). Here we see some of the original rolling stock. The Elk River-esque Minitrains Plymouth needs new gears to become operational (and will be cleaned up/modified with a front transmission housing and hood top gas thank similar to the WW1 gas engines when it is made operational). The small two wheel cars are all based on Minitrains mine cars, following both Frary/Hayden techniques and those of E.L. Moore in a small HOn30/TT/N scale layout he built around the same time. The four wheel box car and caboose are rather un-convincing, especially with the single freight truck side frame fitted over the wheels instead of pedestals. The MR&W lettering could stand for either Moose River and Western (fairly Maine like) or Morose River and Woebegone in the humorous style popular at the time.
A couple of structures built for this layout survived, including a small water tank and a bucket coaling facility (both scratch built).
Current Module.
The module is based on scenes in Robert Jones "Two Feet to Tidewater", but is planned to serve as a rural area on my free-lanced Billerica and Boston Railroad. The concept of the railroad is that the primal U.S. two foot gauge Billerica and Bedford was not dismantled after a year of operation, but rather extended into the outskirts of Boston as a commuter line to the countryside (similar to the 3ft gauge Boston, Revere Beach and Lynn). I'm modeling the resulting road circa 1900, although I'll admit to harboring a few internal combustion critters and even a few European prototype pieces I can't bring myself to part with. The module had it's first showing in November 1999 at the Whitman, MA 2 ft. show. The following Photos show the my module there.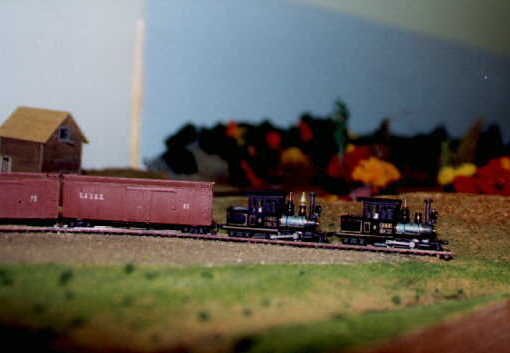 Two B&B Joe Works forneys and Polymold boxcars wait on the spur track on my module.
Jeff Schumaker's HOn30 rendition of the "Whistler" railcar pauses at the Woodland Scenics' Flagstop. Jeff says the railcar has sides and roof from an MDC Overton car and the drive from a Bachmann 'N' scale trolley.
My active rolling stock consists of two Joe Works small forneys, a modified Joeuf excursion (open) passenger car and a pair of Polymold boxcars. Currently under construction or repair are the two Polymold passenger cars, a powered boxcar and a couple of flats. Next up, the Sango Dachshund 2-6-0 kit I've had so long that the foam packing is disintegrating.
Here is one of the Joe Works forneys showing that such engines don't have to be plain black! These are retired until I find a way to repower them.


Update!
The module has been to a couple of additional shows, as well as group meets. It was displayed at Tom Dickey's railfan day and at the 2000 Whitman show. Scenery is further along (but need to find a way to build trees that will survive removal from the module and transport). The first picture shows Tom's B&SR #9 pulling a train across the module. The other two show Bob Bennet's train on the main and my Bachmann/AHM Baldwin conversion on the side track.

Under construction also is a N Gauge Kato 2-6-4T to HOn30 2-4-4T conversion. More when it's a bit further along. (See below)

European Prototype Models.
The next train shown is a European style freight with a Jeouf Decauville engine pulling Minitrains and scratch built cars. The inspiration for these were the Welsh narrow gauge filtered through the Thomas the Tank Engine books (which had a series on a line like the Talylyn) and some random articles in MR and Airfix magazine. These were built before the scribed and pre-cut strip styrene from Evergreen became available, so scribed sheet and strip stock had to be hand cut/carved from plain sheet. The second train is a passenger tram consisting of an Egger/Joeuf steam dummy and Liliput passenger stock. I've always liked steam dummies and wish I had one of the old Ken Kidder HO versions in my collection! As you can see, I never really settled on a single prototype (or even continent!).

HOn30 Conversions
Locomotive Conversion Ideas:
Some of these I've done or am in the process of doing, some I plan to do and others I just like (but there is only so much time and money). Most will cost between $100 - $200 dollars when finished the majority probably around the $150 or less. Note that there is one problem with the majority of these conversions (and most HOn30 steam conversions in general). Most locomotives in 30 inch gauge or less, excepting some 0-4-0, 0-6-0 and 0-4-4 types, are outside frame! The limitations are either weight (its hard to balance the greater weight of large engines on the skinny frame) or firebox size (the engine either needs a very narrow firebox between the frames or a high shallow one above them, either of which limits power on steam engines). Unless you are inclined to build your own wheel/axle extensions, counterweights and frame members this factor pretty well limits you to either very small locos or living with the inside frame drives.
Steam:
Bachmann 0-4-0 to 4-4-0: There was some discussion of this on the Mailcar HOn30 list. The resulting engine would be smaller than the (tiny) 2 ft. 4-4-0s used on the Mt Gretna line. The main thing that needs doing is to move the drive rod from the rear wheel to the front driver. That will require an extension of the frame to mount the cylinders, under which extension the (scratch built) lead truck will mount. The superstructure could be built from Chivers' Charlies Creek Baldwin conversion or a Porter locomotive could be built using the Brick Price Hawaiian Plantation kit for the cab and tender. The Keystone Logging Junk kit provides Shay domes that are close to Porter designs. Another possibility would be mounting the old Matchbox SantaFe 4-4-0 boiler and cab (maybe enlarging the cab a bit). These turn up on Ebay for around $10 on occasion.
Flieschmann 7000 : Tank Locomotive 0-4-0T: This drive might make a better basis for a small 0-4-0 switcher than the Bachmann dockside drive. The dockside wheelbase is shorter than most 0-4-0s, allowing it to rock when trying to start against a load (sometimes un-coupling). In particular, most small Porter locomotives had much longer (relative to wheel size) wheel bases. This drive with the Kennebunk Porter conversion should make a nice looking engine. I don't know what it's running qualities are, and the wheel flanges would need filing.
Kato C-11 2-6-4T: Remove the rear driver and add Chivers, Brick Price or Portland Forney conversion to make a high-drivered Forney. The Chivers kit gives you all the pieces; the Price or Portland kits are just cab and tank, so you need new domes, stack etc. The locomotive has side tanks, eliminating all of these will require cutting down the weight and replacing part of boiler casting but is possible. The modified engine is similar in proportion to the Mason Bogies used by some of the New England NG lines. The idea was Brick Price's, I believe Bob Hayden also has such a locomotive conversion.
Here are views of a partially finished conversion. The body of the Kato C-11 was removed and replaced with a scratch built cab, tank and boiler. I could have saved myself a lot of work by starting with one of the Chivers forney conversions. The brass cab would have to be kept isolated from the frame (the frame halves have opposite polarity) and a plastic boiler is needed for the same reason. The engine is smaller than the late forneys like SR&RL #10 and B&SR #7, but is still a nice sized engine. The Kato drive runs beautifully out of the box (most brass requires a bit to a lot of tweaking to run right). The wheels are too large and too close together for any Maine forney, the engine has lines somewhat similar to a Mason Bogie ala the BRB&L. The domes are from Colonial Castings, the stack and water fill are PSC, the bell is Cary and the headlight from Keystone's logging junk set. The pilot is from an HOn3 Eire Ltd 2-4-2T kit. The scratch built firebox fills in where the rear driver was removed.

Kato C-58 2-6-2: This engine should look nice under a Chivers Charlies Creek 2-6-2 conversion in place of the Bachmann drive. The advantage (besides the superior performance of the Kato drive) would be the larger wheels. The Bachmann switcher wheels are really somewhat small for a large 30 inch gauge engine. This conversion would have a racy "high drivered" look, just right for pulling a passenger express! An alternative to the Baldwin look of the Chivers kit would be to use the cab and tank etching from Brick Price's Hawaiian plantation loco kit (really just a Porter cab and tender) with domes from the Keystone Logging Junk set (really shay parts, but they have a similar shape to Porter domes).
Keith Wandry had the same idea, and is in the process of building it! He has a couple of in progress pictures on his site. One shows the mechanism together with a drawing of the Chivers body, the other shows the boiler and cab fitted to the mechanism. To see the difference in appearance, follow the link below to Ken's Chivers 2-6-2 to see how the conversion was designed to be built. The operational difference should be more profound. I can't stop my Kato C11 drives with my MRC TechII pack, except by turning off the power switch! Setting the controller knob all the way down still leaves the engine crawling along. Not generally a problem with Bachmann's N scale drives! <VBG>.
Bachmann, Tomix or MDC 2-8-0: A similar conversion to the above could be done on any of these drives. Again, the Chivers kit will give a late Baldwin look; Brick's cab and tank will resemble a porter. According to pre-release info on the MDC model, it has 50 inch drivers in N-scale, which would be within a fraction of an inch of the 28 inch drivers on the Mexican two foot and 30 inch gauge Baldwin 2-8-2s! The photo of the MDC model show a somewhat bulky boiler and tender shell which might be ok for HOn30 (just replace the details and cab!). Unfortunately, the real mikes were outside frame and the model is inside frame, but you gotta compromise in this scale (or build yourself).
Flieschmann 7095 - Class 94 Tank Locomotive 0-10-0 or 7186 - Class 50 Tender Locomotive 2-10-0: This might seem a bit extreme, but Baldwin built a group of 0-10-0s for China in 600mm gauge. Unlike some export locos, these had the standard Baldwin style cab and domes. Interestingly for such a large engine, the tenders were tiny four-wheel units! To build one I'd start with the Flieschmann engine, file down the flanges a bit, strip the boiler and add details and cab from the Chivers 2-6-2 kit. You'll need an extra sand dome, Colonial castings has Baldwin domes which should match. I'd probably use a Bachmann N gauge bobber caboose as the tender frame, and cut down the Chivers tender shell to fit.
Internal Combustion:
LifeLike SW1200 and Ertl Mavis: Almost everyone knows about this combination. This is a quick and in-expensive way to get some motive power.
Box cab on various chassis: There are several approaches possible here. Get the best running N diesel drive you can find. Body can be made from various steel caboose shells (see Martin Fischer's beautiful HOn3 box cab made using an Athearn Santa Fe caboose shell), from two Grandt line GE box cabs or from wood. Keep in mind that while a logging speeder might be home built and look like a shack on wheels, most road power would show a bit more refinement. The Grandt box cab itself can be converted by sliding in the wheels on the axles.

Here is my conversion, based on Martin's, Gerry Hopkins' FS&K engines and Jeff Saxton's On30 Sekiu Lumber box cab. It needs a boxy radiator on the roof so it doesn't look so much like an electric. The drive is an Atlas/Kato RS-11. Windows are Grandt outfit car castings, doors are Grandt HOn3 caboose, louvers are from City Classics.
GE Hood Unit: About the simplest conversion you can do is to slide in the wheels on the Grandt HOn3 GE hood or box cab unit. I think you have to shave off some of the bearings to get the wheels in gauge. Other options include narrowing the cab and mounting on two trucks to build the Whittin Machine Works/Edaville units, or combining two kits with an N diesel to make a double ended two truck engine. Jeff Schumaker made a beautiful example of this, written up in Light Iron Digest.
Jordan Mack switcher: The Jordan 15 ton Mack switcher should lend itself to powering either with a small N power truck (like the Bachmann Plymouth) or a left over drive from one of the Grandt conversions discussed above.
SS Limited Mack switcher: This kit was metal, and a different style switcher than the Jordan kit (having two "Bulldog" Mack AC hoods instead of the more square hoods of the Jordan kit). It should be possible to narrow and power it the same way.
Bachmann HO 44 tonner and 70 tonner: I've seen a Bachmann 44 tonner converted to HOn30. I'm not sure if the drive was original or replaced with a LifeLike F7 or similar. The frame was lowered and narrowed, the hood and cab were narrowed. Be sure to make the hood narrow enough for the cab door to work! Or move the door. A similar conversion should be possible with the 70 tonner. The results would be similar to Southern Pacific's 3 foot gauge GE units.
Two foot Alco: Using an N gauge PA drive and parts from HO Alco shells it should be possible to cobble up something similar to the WP&Y Alcos (either the hood units or the shovel nosed cab units). This would be a very modern narrow gauge line.
Two foot Uboat: South Africa has a class of 2 ft. gauge GE units that resemble Uboats! There is a picture on the Narrow Gauge from Off the Beaten Path site. A cut down Athearn or Bachmann Uboat on an N gauge B-B truck drive would be close.
Streamliner: In the 1920's and 1930's these were popular on the mainline RRs. Who's to say no narrow gauge line would ever come up with a version of the Zepher/Flying Yankee or New Haven's Comet.
Roco
-Baldwin Conversion.
I was inspired by a builders photo of a Baldwin 30 inch gauge 0-6-0T to look at Americanizing a Roco 0-6-0. Others have done this, although I think something has to be done with the cab to remove the German look. I knew I had a cab and domes from a damaged AHM Baldwin around (if I could just find it!), so I scanned both the Roco engine and another Baldwin then used cut and paste techniques to test the kitbash without cutting plastic. The first image shows the basic engines. This Roco model was an older one with only the funny German balloon stack molded on. I cut it off a long time ago as part of an attempt to make it look more British (the same time it got painted green, remnants of which remain visible).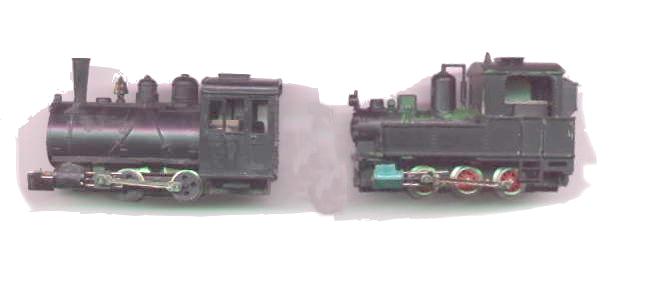 The second image is a composite showing three options for the conversion. Number 1 is the minimal conversion. The cab , stack and domes are replaced with the Minitrains Baldwin parts. I spliced on the Minitrains pilots as well, although I'll build those up for the actual conversion. Those who do not have a scrapped Minitrains shell available could make the same conversion using the Chivers Finelines Baldwin 0-4-2T kit, setting aside the saddle tank casting. The problem with this conversion is the whole engine is obviously shorter than the Grove Farms loco on which it is based, and the side tanks are both lower and shorter. The proportions are closer to those of various Porter locomotives (See below). You could scratch build a Porter cab and domes or take them from an otherwise non operable Joe Works Porter. An etched Porter cab should be available in the near future if you can wait for it.
Number 2 is the same engine with the side tanks built up to match the proportions of the prototype. This would not be hard with riveted styrene or brass overlays, but does raise the level of building above the simple replacement of parts. This might make a good conversion kit of etched/cast parts.
Number 3 is a pretty close replica, with the boiler and side tanks extended back to allow the second sand dome and match the proportions of the prototype very closely. This would be a difficult conversion because the motor gets in the way of the extended boiler. This might be fixable with a smaller can motor. The need to make the curved boiler and an extension on the frame raise the difficulty of this conversion, but it's still not scratch building.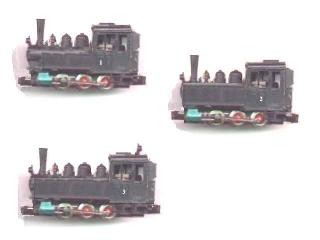 I'm not sure what a New England 1900s commuter line needs with a Hawaiian plantation loco anyway.
Another option is to use this Roco engine as the basis of a Porter. The roof line is closer (a sharper curve than the Baldwin) and the length appears closer. Given that the motor precludes lengthening the Roco engine, this may be a better option. Since the middle wheel set is just "along for the ride", the engine can be converted to a long wheelbase 0-4-0 fairly easily. The center axle must remain with its gear, but the wheels can be pulled and the axle shortened to match the other gear shafts. The downside is that this provides an un-obscured view of the gears on one side of the locomotive; made worse by their being molded in bright red plastic on my example! A plastic "modesty panel" may be needed to hide them. The following illustration shows the prototype (30 inch gauge, no less!) and a digital mockup of the model. In addition to removing the center wheel, I've simulated enlarging the side tanks and applying overlays to the cab in Porter style. the cab roof is also extended by a thin plastic overlay.



| | |
| --- | --- |
| Ok, I've started the Porter conversion. I decided to leave it as an 0-6-0. The photos show a start with the cab overlays in place (the windows need cutting out) and extensions of the side tanks framed but needing riveted overlays. Still needed also are some covering of the joint under the smokebox and the front and rear pilots. | |
| | |
Links of Interest.
New England Narrow Gauge, prototype and model.
HOn30 Home Depot - THE source for HOn30 info.
The Flagstop New England HOn30 Module Guild home page.
Old Revere Beach Photo Album, including BRB&L photos.
Friends of the Bedford Depot Where U.S. two footers got their start! Check out the colored Puck photo.
Ken's Chiver's 2-6-2 in progress. On a kato drive.
PENOBSCOT BAY RAILWAY AND NAVIGATION COMPANY. (Dead Link)
Toma's Two Foot Modeling Maine HOn30, in Japanese (unfortunately, I'd love to read about building the B&B Puck!) NEW! English translations available.
Sn2 SR&RL, Gilpin Tram, and Eastern Narrow Gauge info.
Jeff Bissionette's HOn2 site Need new address
Massachusetts steam locomotives
Pleasure Island Massachusetts amusement park that was home to WW&F #10.
Sugar Plantation Railroading.
The Cane SIG Sugar cane RRs and modeling (mostly HOn30).
The Godchaux Plantation Railroads Louisiana Sugar Cane Lines.
A Sugar Plantation layout. Good pictures of the Chiver's Forney. Recently added a Sango Dachshund Baldwin 2-6-0. (Moved)
Other U.S. prototype narrow gauge
The 30 Inch Gauge Logging Page. Covers some of the limited 30 inch gauge in the U.S.
A Yosemite Shortline Hopper Car in HOn30
DEER CREEK A HOn30 working logging diorama.
Narrow Gauge around the world (prototypes).
Narrow Gauge From Off The Beaten Path - Unusual locos (including the Baldwin mentioned above).
The Narrow Gauge book list Dead Link
Narrow Gauge Industrial RRs (Mostly European)(Moved!)
Southern (REALLY Southern) Two foot and 30 inch gauge railroads in Patagonia, The Falklands and South Georgia Island (whaling station). (Moved)(Forbidden error)
Swedish Narrow Gauge museum site with some really funky critters! (in Swedish, but the pictures are neat).
History of Koppel light railway cars.
Railfan Photos at Don's Railspot (includes industrial critters and Korean 30 inch gauge).
Mauro Bottegal's Decauville and Feldbahn page. Italian and other narrow gauge and some nice HOe conversions (Dead Link).
Narrow Gauge around the world (models).
HOe Online In German.
Stefan Zickenrott's very nice HOe layout. (Dead link)
OO9 - Netherlands group Layouts and projjects in OO9 and HOe.
Frederic Delaitre home page. Narrow Gauge and subway links, and a history of Egger-Bahn and Joeuf HOe trains (in English and French).
Light Railway in small: The Egger - Bahn Another Egger-Bahn history (English, some German).(Dead link!)
Narrow gauge & Co. Narrow gauge and an illustrated history of Egger-Bahn (by year!). In French
Narrow gauge model railways in H0e (H0n30) scale - Serbian HOn30 models by Aleksandar Salatic
GUILLAUME'S MODEL RAILWAYS Dutch tram and industrial models and prototypes, in Dutch and English
A Sn2 0-4-0 modeled (very nicely!) in 9mm gauge..
Hiromi Masaki's page. Want to see HOn20 models running on code 25! rail? This is the place. (New page, still under construction.)
The world of model making - The passion of the narrow gauge railway. Mostly large scale, some great links! English and French. (Dead Link)
U.S. Manufacturers of HOn30 (and 009)
Railway Recollections (formerly Miracle Castings). Producer of Resin HOn30 models including new Porters, passenger cars and Gilpin Tram ore cars.
Mark Rollins Railroad Designs Including a nifty Class A Climax conversion and a EBT style speeder.
Train and Trooper Carries most lines of U.S. HOn30, and sells its own resin cars.
B&F Hobby Another great source for HOn30.
Miniatures by Eric has introduced a line of Hawaiian sugar trains in both HOn30 and On30.
Mocalova Model Works U.S. made resin models, including a new diesel "Critter".
The New England Scene HO scale Mains 2ft structures.
Steven's Creek Models Makers of HOn30, On30 and laser cut parts.
Portland Locomotive Works Makes various Maine prototype structures and a resin cab and tank for an HO Forney.
Banta Modelworks Makes HO and S laser cut models of Philips Station from the SR&RL.
American Model Builders Makes an HO laser cut model of Strong station.
Non-U.S. Manufacturers of HOn30 (and 009)
Peco (009)
Backwoods Miniatures (009)
Langley (love the Double-Fairlee on a Bachmann U36b chassis)
Ferro-Train European train models
Worsley Works (009) (Dead link)
The Latest Joe Works locos (in Japanese).
Reynaulds A U.S. source for Roco, Liliput and Tilig HOe (and European N mechanisms as well).
Schmalspubedarf Supplier of specialized in German and Austrian narrow gauge railways in scale 1/87.
Modellwagen is a builder of HOe models in Japan. Unfortunately only in Japanese, but clicking on links will show some neat stuff. (I like the Uta railbus and the Kiso barber car!).
Back to Pieter's Train Page.

This page hosted by

Get your own Free Home Page