PIERO UMILIANI _ music available from Dusty Grooves. (updated 13 February 2002)



Helen Merrill & Piero Umiliani -- Parole E Musica . . . CD . . . $11.99 RCA (France), 1961

A strange and obscure session that has the cool jazz vocals of American Helen Merrill backed by a small Italian combo led by soundtrack composer Piero Umiliani. The work was originally recorded for a TV program in Italy, and each track is preceded by an Italian voice, reciting Italian versions of the lyrics over spare musical backing -- then Merrill's voice comes in with a bigger jazz group, singing each track in English. Sounds crazy, but it actually works well -- and it gives the album a compelling edge and kind of a sexy late-night quality. Tracks include "Solitude", "Everything Happens To Me", "Night & Day", "Why Don't You Do Right", and "Willow Weep For Me". (Issued in digipack sleeve)


Armando Trovajoli/Piero Umiliani/Morricone et al -- I Sogni Della Musica . . . CD . . . $23.99 Seven Seas/King (Japan), Late 60s

Excellent stuff from the Italian soundtrack heyday of the late 60s! This wonderfully packaged set features work by Armando Trovajoli, Piero Umiliani, Ennio Morricone, Riz Ortolani, Francesco De Masi, and Bruno Nicolai -- with tracks from the films Rapporto Fuller-Base Stoccolma, Troppo Per Vivere Poco Per Morire, Tiffany Memorandum, Dalle Ardenne All'Inferno, and Come Rubare La Corona D'Inghilterra. Most of these soundtracks haven't been in reissue form for ages, and this handsome set puts the tracks together with a very groovy mix that's more than just a compilation of assorted tracks. Essential listening for any fan of Italian soundtracks -- and proof that most of these Japanese reissues still do a better job than the Italian ones. Titles include "Arabella", "Diamond Bossanova", "Tema Di Cristine", "Beat Fuga Shake", "Notte Al Grand Hotel", "The Touch Of A Kiss", and "Argoman Bossanova". 16 tracks in all.


Piero Umiliani -- Angeli Bianchi...Angeli Neri . . . CD . . . $13.99 Easy Tempo (Italy)

Very cool, very groovy soundtrack from this Italian film about Satanic ritual and demonic possession. The great Piero Umiliani serves up a wide-ranging batch of tracks, from groovy vocal pop tracks (with vocals by Shirley Hammer), to spooky funky instrumentals with a sort of "haunted feel", to some surprisingly-placed Brazilian tracks (recorded in Brazil, with performances by Wilson Das Neves!) Insane stuff, but wildly entertaining throughout, and with a mix of material that runs from jazzy, to easy, to downright groovy. 23 tracks in all, and in a great package! Score another hit for the Easy Tempo crew!


Piero Umiliani -- Il Corpo -- Original Soundtrack . . . CD . . . $13. Easy Tempo (Italy), 1974

Sweetly funky and very slinky -- this is one of the best early 70s scores by the great Italian composer Piero Umiliani! The record has lots of bubbling electric piano, rumbling electric basslines, warm acoustic percussion, and moody wordless vocals. At some level, the album sounds a lot like the contemporaneous work by the great Italian Fender Rhodes combo Crossfire -- but it's also filled with a spacey madness that could only come from the pen of Umiliani! One of the best of the recent Easy Tempo reissues -- and very nicely put together, with a consistent sound throughout! Titles include "The Body", "Tidal Stream", "Chaser", "White Sand", "In The End", "Free Life", "Stream", and "Dusken


Piero Umiliani -- La Ragazza Dalla Pelle Di Luna . . . CD . . . $13.99 Easy Tempo (Italy), 1970

Nice reissue of this rare one by one of our most popular Italian composers! The soundtrack's from an erotic film starring sex-goddess Zeudi Araya, but despite the kinky origins of the material, the music's actually got a lot more sophistication than you'd expect -- and the score feels more like a Morricone cerebral one than a cheesy sexy one. There's lots of spooky instrumentation, dark string passages, and haunting piano or basslines. A few tracks are funky, but the real strength of this one is the dark moodiness, laid down by off-beat orchestral passages and tight electric solos. 26 cuts in all, with a very sexy package!


Piero Umiliani -- Legge Dei Gangsters - Original Soundtrack . . . CD . . . $13.99 Right Tempo (Italy), 1969

Very tight batch of crime jazz tracks composed by the great Piero Umiliani for this lost Klaus Kinski thriller. The material is played by some of Italy's best jazz players, and the tracks have nice sax solos, brassy riffs, organ lines, and even some cool flute and vibes. The reissue's got 17 tracks in all, with a motherlode of stuff that wasn't on the original soundtrack LP, and which all sounds great. If you dig jazz thriller soundtracks, this is one of the best we've heard, and the whole thing's put together with the usual high quality you'd expect from Easy Tempo. Tracks include "Apertura In Jazz", "Tema Dell'Addio", "Very Fast", and "Swing Come Sempre".


Piero Umiliani -- Man & The City . . . CD . . . $13.99, LP . . . $11.99 (gatefold) Right Tempo (Italy), 1976

A hip set of swinging urban tunes -- recorded by Piero Umiliani in 1976, in a mode that recalls American "urban" jazz tributes from the 50s and 60s. The difference with this one is that it's got a bit of a 70s sound -- with some slight electric instrumentation, and washes of sound that feel a bit like they were lifted from a Lalo Schifrin soundtrack, an influence that's more than ok in our book! The work is quite different than some of Umiliani's mad 60s work -- but no less great, and a welcome addition to his rich catalog of work. Titles include "The Man & The City", "Friendly City", "Hectic City", "Viaducts", "Uptown", "City Sounds", "Power Stations", and "Siena Square".


Piero Umiliani -- Musica Elettronica . . . CD . . . $13.99 Easy Tempo (Italy), 1969-1981

Very groovy stuff from this mad Italian genius! The set features Umiliani getting a lot more experimental than usual, leaving behind his regular funky/easy bag for one that's a lot more tweaky and twonky, but still pretty darn groovy! Some of this stuff reminds us of tracks from the Raymond Scott Manhattan Research set -- as it's spare and bubbly, done in an older analogue style, with a good dose of humor thrown in to warm up the music a bit! Other tracks are funkier, if not in the rhythms, at least in the syncopated style of Umiliani's sounds and keyboard work. Very nice, and a key piece of the mad Umiliani puzzle! Titles include "Momento Ritmico", "Motore A Ioni", "Gadget", "New Experience", "Arabian Synthesizer", and "Officine Stellare".


Piero Umiliani -- Ode To Duke Ellington . . . CD . . . $13.99, LP . . . $11.99 (2LP) Easy Tempo (Italy), 1962/1963/1974

Sounds sleepy -- but it's totally groovy!! The mad talents of Italian soundtrack genius Piero Umiliani are turned towards his love of Duke Ellington -- and the result is an incredibly groovy batch of tracks that mix up jazz, electronics, and plenty of great keyboards! The bulk of the material on the set was recorded in 1974 -- and it features Umiliani playign moog and ARP, in a strange sort of "tribute" to Ellington that takes the usual Duke tunes, and turns them into hard grooving little numbers, with lots of bubbling electronic bits and weird sound effects. The first cut on the set is a mad mad version of "Caravan" which leaps and churns all over the place, sounding funkier than you could ever imagine! As the set progresses, some of the tracks are more traditionally jazz-based, but everything is played by a larger group, and the groove is still pretty darn excellent! Titles include "Ode To Duke Ellington", "Solitude", "Dreaming Of Duke", "Jeep's Blues", and "Never Together


Piero Umiliani -- Roy Colt & Winchester Jack . . . CD . . . $11.99 Cinevox (Italy), 1970

Italian composer Piero Umiliani's best known for his work on soundtracks that are groovier or more bossa-oriented -- but he does a darn nice job on this spaghetti western score from 1970! The soundtrack features a number of different modes -- from straight western-sounding themes played on a guitar, to complicated larger arrangements that feature elements like organ or vibes, to groovier tracks that kind of show the late 60s origin of the music. The CD features 12 tracks from the film's score, plus the vocal number "Roy Colt", which is sung by the group Free Love, and originally only issued on a 45!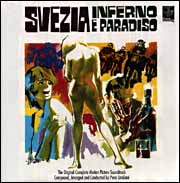 Piero Umiliani -- Sweden -- Heaven & Hell (Svezia -- Inferno E Paradiso) (reissue) . . . LP . . . $14.99 Easy Tempo (Italy), 1968 (2LP)

A landmark sountrack! Piero Umiliani's great groovy score for this film about morality in Sweden has sooooo many neat little bits that you'll never tire of listening to it -- with mod tunes, funky tunes, and lots of silly numbers. Features the original version of the worldwide hit "Mah Na Mah Na", made famous by the Muppets, the Dave Pell Singers, and many others -- a massive groover with a nasal-like vocal, and some of the strangest female backing singers you'll ever hear. Other tunes mix strings, wordless vocals, bossa rhythms, and even a bit of electric harpsichord and organ.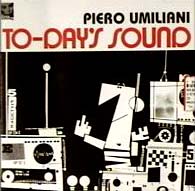 Piero Umiliani -- To-Day's Sound . . . CD . . . $13.99 Easy Tempo (Italy), 1971
Piero Umiliani -- To-Day's Sound (reissue) . . . LP . . . $14.99 Easy Tempo (Italy), 1971 (2LP)
More fantastic wild stuff by this Italian genius! This CD is filled with cool groovy little cuts featuring the maestro himself on moog, Fender Rhodes, and marimba -- plus instrumentation that includes vibes, flute, and Lowry and Hammond organs. Even more wild than the classic Sweden Heaven & Hell LP, with cool little cuts like "Safari Club", "Free Dimension", "Truck Driver", and "Music on the Road". Wonderful stuff from 1971 -- and another reason why the forces of time and space are converging on the late 90's to make this the best time ever to sample groovy music from around the globe!


Piero Umiliani & Chet Baker -- Piero & Chet -- Italian Movies . . . CD . . . $13.99 Liuto Records (Italy), 1958/1959/1962

Rare Chet Baker soundtrack material -- and from Italy, no less! The CD features 12 tunes from 4 different films -- Smog, Audace Colpo Dei Solito Ignoti, Urlatori All Sbarra, and I Solti Ignoti -- all recorded during the years 1958 to 1962, featuring Chet as the main soloist, over backdrops by Italian composer Piero Umiliani. Umiliani's the genius behind some of the madder Italian soundtracks in our catalog -- but his work here is beautifully straight and jazzy, a perfect foil for Chet's playing, which is looser, freer, and (dare we say it?) filled with more feeling than on some of his American recordings from the time. Titles include "Sentirsi Solo", "Tema D'Amore", "Tensione", "Smog", "Relaxing With Chet", "Twilight At Los Angeles", "Motorizzazione", "Gassman Blues", and "Furtivamente". Really great -- like some of Miles Davis' best soundtrack work at the time!
Piero Umiliani -- Mah Na Mah Na -- The Original Mix (12 inch) . . . LP . . . $6.99 Easy Tempo, 1968/1998 (NO LONGER IN STOCK)
Very groovy 4 track e.p. that brings together the original versions of 4 of the best tracks from Piero Umiliani's fantastic score to Sweden Heaven & Hell! The title track's a huge hit, as you probably know, and it's here in a 7" single version, different from the LP version. The other tracks on the single include "Stoccolma My Dear", "Contestazione", and "Topless Party". All tracks have a nice groovy bossa feel, and the single's a nice pairing down of the best tracks on the album!