Stud Book Temporarily Closed
Progeny
KC Celtic Delight, Chestnut Colt out of KC Tomisue's Delight
Jaded Mist, ?? Filly out of Good Luck Lace
Celtic Warrior, Chestnut Thoroughbred Colt out of Lady Admiral
Celtic Kitty, ?? Thoroughbred Filly out of Scat Kitty Cat
Celtic Dawn, ?? Thoroughbred Filly out of Awaken
RTW All That Is Celtic, Grey Thoroughbred Filly out of Hit It High
Celtic Dancer, ?? Thoroughbred Filly out of Sundance
Black Celtic, Black Thoroughbred Colt out of Golden Beauty
Noble Mist, Grey Thoroughbred Filly out of Noble Beauty
Flower's Somethingmisty, Grey Thoroughbred Filly out of Flower Child
Bagpiper, Grey Thoroughbred Colt out of Spooky Slew
Star of Avalon, Grey Thoroughbred Colt out of SI Sunstar
Starina, Grey Thoroughbred Filly out of SI Sunstar
Mistletoe, Grey Thoroughbred Filly out of Hear Me Sing
Kissed In Mist, Chestnut Thoroughbred Filly out of Kissed To Go
Gee Im Mulligan, Black Thoroughbred Colt out of Betty Gee
---
Earnings $3,157,250
Race Record 67: 13-24-12 (Other: 17) (RETIRED)
Show Record
Before Purchase
Silver Meadows Dancing Daisy Halter
2nd in Grey Halter
3rd in Colt Halter A
5th in 16.0-17.0hh Halter
6th in Thoroughbred Halter
10th in 1 Year Old Halter
Vanilla Fields Opal Halter
1st in Name Halter C
1st in Thoroughbred Halter D
1st in 16.0-16.3hh Halter G
1st in Special Extra Class
3rd in 1 Year Old Halter A
3rd in Grey Halter A
4th in Colt Halter B
Vanilla Fields Horseshoe Halter Show
1st in Thoroughbred Halter A
2nd in Colt Halter A
2nd in 16.0-16.3hh Halter
9th in Name Halter C
9th in Yearling Halter
9th in Grey Halter
Colored Farms Halter Show
1st in 16.0-16.3hh Halter
3rd in Colt Halter
3rd in Thoroughbred Halter
3rd in Racing Prospect
5th in Grey Halter
6th in 1 Year Old Halter
Pewter Oakes Gold Strike Halter Show
1st in Yearling Halter D
1st in Thoroughbred Halter C
2nd in 16.0-16.3hh Halter
3rd in Grey Halter
4th in Name Halter A
4th in Colt Halter E
Pewter Oakes Sunburst Halter Show
1st in Colt Gender Halter A
1st in Colt Grey Halter
2nd in Colt Name Halter A
2nd in Colt 2 Year Old Halter
2nd in Colt Thoroughbred Halter
4th in Colt 16.0-16.3hh Halter
Pewter Oakes Sunburst Eventing Show
2nd in Colt Halter C
5th in Race 1/7 Furlongs
Pewter Oakes Moonlight Halter Show
1st in Colt 16.0-16.3hh Halter
2nd in Colt Name Halter A
2nd in Colt 2 Year Old Halter
3rd in Colt Gender Halter B
3rd in Colt Grey Halter A
5th in Colt Thoroughbred Halter A
Mystic Egyptians Arabian Halter Show
2nd in Colt Halter B
2nd in Grey Halter C
2nd in 2 Y/O Halter B
Whitewood Sunglare Fair
3rd in Grey Halter C
4th in Thoroughbred Halter A
5th in 2 Y/O Halter A
FF August 2003 Champion Titles Show
1st in Grand Champion
Stallion Show-Off
2nd in Junior Stallions
Pewter Oakes Bluebell Halter Show
2nd in 2 Y/O Halter
2nd in Grey Halter
4th in Colt Name Halter C
4th in Thoroughbred Halter
5th in 16.0-16.3hh Halter
6th in Colt Halter B
Kootenay Ranch Coca-Cola Halter Show
1st in Thoroughbred Halter
2nd in Colt Halter A
Skye Sporthorse's Opening Halter Show
1st in Thoroughbred Halter
2nd in Colt Halter
2nd in 2 Y/O Halter
2nd in Grey Halter
2nd in 16.0-16.3hh Halter
Space Warp Opening All Dicipline Show
2nd in Colt Race
5th in Thoroughbred Halter
Sleepy Hollow Halter Show
1st in Grey Halter B
2nd in Colt Halter A
2nd in 2 Y/O Halter
3rd in 16.0-16.3hh Halter B
4th in Thoroughbred Halter
Relaxation Pleasure Show
3rd in Colt Halter
Pewter Oakes Springbloom Halter Show
1st in Colt 3 Y/O Halter E
1st in Colt Thoroughbred Halter E
2nd in Colt 16.0-16.3hh Halter G
3rd in Colt Halter A
4th in Colt Grey Halter C
5th in Colt Name Halter A
FF September 2003 Champion Titles Show
1st in World Champion
Championsville Sept-Oct Trials
1st in Thoroughbreds-Colts-G3-8f
3rd in Colt Halter
Pewter Oakes Gala All Event Show
1st in 1/2 Mile Race
2nd in Name Halter G
2nd in Thoroughbred Halter
3rd in Colt Halter H
3rd in 3 Y/O Halter
Pewter Oakes Festival All Event Show
1st in Flat Racing, Grade III
FF October 2003 Champion Titles Show
3rd in Ultimate Elite Champion
Pewter Oakes Sweet Blossom Halter Show
1st in Colt 3 Y/O Halter
1st in Colt Thoroughbred Halter
1st in Colt Grey Halter
2nd in Colt Name Halter B
2nd in Colt Gender Halter B
4th in Colt 16.0-16.3hh Halter C
Hollow Road's Grand Opening Show
3rd in Stallion/Colt/Gelding Halter
7th in Grey Halter
Vanilla Fields Vying For Gold Race
1st in Day 10.Colts Race 6-7 Furlongs/Turf
2nd in Day 2.Colts Race 2-5 Furlongs/Turf
2nd in Day 4.Colts Race 3-6 Furlongs/Dirt
5th in Day 1.Colts Race 1-5 Furlongs/Dirt
5th in Day 7.Colts Race 4-6 Furlongs/Turf
5th in Day 9.Colts Race 5-7 Furlongs /Dirt
Vanilla Fields Horseshoe Race
2nd in Day 6.Colts Race 4-6 Furlongs/Turf
2nd in Day 8.Colts Race 5-7 Furlongs /Dirt
2nd in Day 9.Colts Race 6-7 Furlongs/Turf
3rd in Day 3.Colts Race 2-5 Furlongs/Turf
4th in Day 4.Colts Race 3-6 Furlongs/Dirt
5th in Day 2.Colts Race 1-5 Furlongs/Dirt
Pewter Oakes Rainbow Race
1st in Day 1.Colts Race 1-5 Furlongs/Dirt B
1st in Day 3.Colts Race 2-5 Furlongs/Turf A
2nd in Day 10.Colts Race 6-7 Furlongs/Turf B
3rd in Day 4.Colts Race 3-6 Furlongs/Dirt A
3rd in Day 6.Colts Race 4-6 Furlongs/Turf A
6th in Day 7.Colts Race 5-7 Furlongs/Dirt A
Pewter Oakes Sunburst Race
2nd in Day 2.Colts Race 2-5 Furlongs/Turf B
2nd in Day 4.Colts Race 4-6 Furlongs/Turf B
2nd in Day 7.Colts Race 5-7 Furlongs/Dirt B
2nd in Day 9.Colts Race 6-7 Furlongs/Turf B
5th in Day 1.Colts Race 1-5 Furlongs/Dirt A
6th in Day 3.Colts Race 3-6 Furlongs/Dirt A
Pewter Oakes Fizzling Race
1st in Day 2.Colts Race 1-5 Furlongs/Dirt
1st in Day 10.Colts Race 6-7 Furlongs/Turf
2nd in Day 3.Colts Race 2-5 Furlongs/Turf
2nd in Day 5.Colts Race 3-6 Furlongs/Dirt
2nd in Day 6.Colts Race 4-6 Furlongs/Turf
2nd in Day 7.Colts Race 5-7 Furlongs/Dirt
Pewter Oakes Firecreek Race
1st in Day 4.Colts Race 3-6 Furlongs/Dirt
1st in Day 6.Colts Race 4-6 Furlongs/Turf
2nd in Day 3.Colts Race 2-5 Furlongs/Turf
3rd in Day 1.Colts Race 1-5 Furlongs/Dirt
3rd in Day 9.Colts Race 5-7 Furlongs/Dirt
3rd in Day 10.Colts Race 6-7 Furlongs/Turf
Winged Battle For The Lead Races
2nd in TB GI Racing
Pewter Oakes Raider Race
5th in GI Race
FF2 Hunt For Gold Race
1st in GI Race
Frostfarm 2 Rainbow Route Race
10th in Rainbow Route Race
FF2 Outlaw Quickie Sprint Race
2nd in Outlaw Quickie Sprint Race (+$30,000)
FF2 Crimson Carnival Dirt Races
2nd in Yellow Ribbon Race (+$10,000)
8th in The Last Crumb Race
FF2 Pot Of Luck Races
1st in Day 2 Open Race 7
2nd in Day 1 Stallion Race 1
7th in Day 2 Open Race 6
FF2 The Clock Is Ticking Rodeo Show
1st in Hot N Thirsty Endurance Race (+$5,000)
FF2 Tamworth Stakes Race
2nd in Tamworth Stakes (+$5,000)
FF2 Wollongong Sprint Race
3rd in Wollongong Sprint
FF2 Falcon Memorial Route Race
5th in Falcon Memorial Route
FF2 Sweating For Truimph Sprint Race
3rd in Sweating For Triumph Sprint (+$2,500)
FF2 Dr Who Graded Races
3rd in GI Race
FF2 Race Meet // March 2005
2nd in GI Male Race (+$7,500)
Race Commentary: Celtic Mist - gave a good fight though no response when asked for a little extra in final furlong.
FF2 Poland Endurance Race
2nd in 17 Miles Stallions Endurance Race
FF2 Wrangling Rodeo Show
1st in Wild Horse Race Over Country (+$5,000)
FF2 United Kingdom Graded Races
1st in GI Race (+$10,000)
Jades/Windswepts Rodeo
1st in Stakes Race
Magnolia Hill/Horse Of The Year Summer 2004
2nd in Older Male (3 votes)
Final Summoning Stables Grand Opening Show
1st in Endurance Race
2nd in GI Race
Kildeer Creek's Doublemint Gum Racemeet
1st in GII 10f 4 y/o + Colts and Stallions (+$120,000)
DeeAnne's Hannibal Lector Race Meet
4th in Hannibal Lector Stakes GI 1 3/16 Mile for 4YO+
DeeAnne's Cannibalism...Eww Endurance Race
2nd in 50 Mile Endurance
Kaliska's Squish Board/Green Ham & Peas Race Off
2nd in 1 mile/open gender/turf
Myrtlewood Thoroughbreds Inc. Board/January Blues Race Meet
3rd in January Blues Handicap(GI) (+$100,000)
Race Commentary: American Dreams IVE and Divination shot out of the gate and zipped through bullet fractions. In the back of the pack, Outspoken came from nowhere to surge to the, getting there by a length. Celtic Mist made a good effort in the stretch, only 3/4 of a length behind Divination in third.Queried Love and American Dreams tired in deep stretch.
EPH As The Crow Flies Endurance Meet
2nd in Endurance Race (+$2,500)
ASAR Blazing Saddles Graded Races
7th in GI Race
ASAR Popped The Balloon Graded Races
7th in Popped The Balloon Graded Race
OSI Lightening Graded Races
6th in GI Race
RRSG/Thousand Mile Challenge: Race One
3rd in 200 Miles Endurance Race (+$25,000)
Serendipity Farms Inc. Graded Stakes Meet
3rd in Dare to Dream Stakes/GI/3 yo and up/1 1/8/dirt (+$15,000)
RRSG/Thousand Mile Challenge: Race Two
Best Condition Award
1st in 200 Miles Endurnace Race
POA North by Northwest Endurance Races
2nd in 75 Miles Endurance Race (+$7,000)
POSB Lady Bug Endurance Races
70 Miles Endurance Race Champion
1st in 70 Miles Endurance Race (+$25,000)
POSB Allsim Commonwealth Olympics Show Day 3 Endurance Racing
30 Mile Stallion Endurance Race Champion
1st in 30 Mile Stallion Endurance Race (+$20,000)
DHB Hate It Or Love It Endurance Show
2nd in 79 Mile Endurance Race (+$10,000)
POSB Plum Pudding Endurance Race
50 Mile Endurance Race Champion
1st in 50 Mile Endurance Race (+$20,000)
POSB Excaliber Endurance Race
4th in 50 Mile Endurance Race (+$5,000)
POSB Bee Hive Endurance Race
Champion of Show (+$50,000)
50 Mile Endurance Race Champion
25 Mile Endurance Race Champion
1st in 50 Mile Endurance Race (+$20,000)
1st in 25 Mile Endurance Race (+$20,000)
FINALS ARE DONE!! Endurance Race
2nd in 50 Mile Endurnace Race
POSB Sahara Desert Endurance Race
2nd in 60 Mile Endurance Race (+$10,000)
POSB PS I Love You Endurance Races
Reserve Champion of Show (+$40,000)
50 Mile Endurance Racing Champion
1st in 50 Mile Endurance Racing (+$20,000)
2006 All-Sim Olympic Games-Endurance Race
Gold Medalist (+$50,000)
1st in Olympic Finals/30 miles (+$5,000)
1st in Prelim One/25 miles
1st in Prelim Two/25 miles
FF2 November 2003 Champion Titles Show
1st in Ultimate Elite Champion
Pewter Oakes Bumble Bee Halter Show
1st in Stallion 4 Y/O Halter
1st in Stallion 16.0-16.3hh C Halter
2nd in Stallion Thoroughbred Halter
2nd in Stallion Grey Halter
3rd in Stallion Halter A
4th in Stallion Name Halter B
FF2 Leagues Dec 2003 Annual Show
4th in Champions League
FF2 December 2003 Champion Titles Show
5th in Ultimate Elite Champion
FF2 Gold Ribbon All Event Show
1st in GI Race
FF2 Febuary 2004 Championship Titles Show
3rd in Ultimate Elite Champion
FF2 March 2004 Championship Titles Show
3rd in Ultimate Elite Champion
FF2 April 2004 Championship Titles Show
1st in Ultimate Elite Champion
Freezing Frazzle All Event Show
2nd in 5 Miles Endurance Race
3rd in 4-9 Y/O Stallions Halter
3rd in GI Race
4th in Stallion Halter A
5th in Stallion Name Halter B
FF2 May 2004 Championship Titles Show
1st in Ultimate Elite Champion
FF2 June 2004 Championship Titles Show
6th in Ultimate Elite Champion
FF2 Tweed Heads Halter Show
1st in 7+ Y/O Grey Halter
4th in 7+ Y/O Stallion Halter
4th in 7+ Y/O Thoroughbred Halter
4th in 7+ Y/O 16.0-16.3hh Halter
6th in 7+ Y/O Name Halter
FF2 January 2005 Title Championships
3rd in Ultimate Elite Champion
Calcutta Stables Opening Show
1st in Stallion Halter C (+$50,000)
2nd in Other Color Halter
3rd in Thoroughbred Halter
4th in 7-8 Y/O Halter
FF2 Febuary 2005 Title Championships
1st in Ultimate Elite Champion (+$10,000)
FF2 Lost In Space Halter Show
1st in 7+ Y/O Name Halter (+$5,000)
1st in 7+ Y/O Grey Halter (+$5,000)
1st in 7+ Y/O 16.0-16.3hh Halter (+$5,000)
2nd in 7+ Y/O Thoroughbred Halter
4th in 7+ Y/O Stallion Halter
FF2 March 2005 Title Championships
3rd in Ultimate Elite Champion
FF2 Russia Halter Show
1st in 8 Y/O Thoroughbred Halter (+$5,000)
1st in 8 Y/O Grey Halter (+$5,000)
1st in 8 Y/O 16.0-16.3hh Halter (+$5,000)
3rd in 8 Y/O Stallion Halter
4th in 8 Y/O Name Halter
Jariello April Thoroughbred Halter Show
1st in Grey Halter (+$5,000)
1st in 8-9 Y/O Halter (+$5,000)
6th in 16.3hh Halter
10th in Stallion Halter
FF2 England Colour Halter Show
4th in Grey Stallion Halter
Kaylas/FF2 Breed Halter Show
1st in Thoroughbred Halter A (+$5,000)
FF2 American Breed Halter Show
6th in Thoroughbred Stallion Halter
Ginger Halter Show
1st in Grey Halter
LIVE MSN All Around Show
1st in Stallion Halter
LIVE MSN All Around Show 2
Reserve Thoroughbred Halter Champion
2nd in Thoroughbred Halter
Magnolia Creek Farm Spring Show Series: Show 1
2nd in Thoroughbred Halter C
6th in Stallion Halter E
9th in Grey Halter
AIS/Live YIM Halter Show
2nd in Grey Halter
CIEB Halter Show
3rd in Grey Halter
5th in Stallion Halter
RRSG/Rapid Rainbow Halter Show
3rd in Grey Halter A
Prance to the Music Halter Show/Live Show
3rd in Stallion Halter
9th in Thoroughbred Halter
POSB Thoroughbred Stallion/Colt Showcase
4th in 9 Years Old (+$5,000)
POSB 1st Edition Thoroughbred Stallion Show
Progeny Champion (+$50,000)
Reserve Color Champion (+$30,000)
POSB Thoroughbred Stallion/Colt Showcase II
3rd in 9 Years Old (+$7,000)
Aristocratic Throughbreds/Cucumber Melon Halter Show
1st in 16.1-17.0hh Halter
3rd in Grey Halter B
4th in 10-12 Y/O Halter
6th in Thoroughbred Halter
6th in Stallion Halter A
POSB Thoroughbred Stallion/Colt Showcase III
3rd in 9 Years Old (+$7,000)
POSB Mid Summer Gala Dressage Show
8th in Introductory Dressage
POSB Mid Summer Gala Jumping Show
3rd in Introductory 2'0-2'6 Jumping (+$7,000)
POSB Mid Summer Gala Eventing Show
Beginner Novice Eventing Champion
1st in Beginner Novice Eventing (+$20,000)
POSB Mid Summer Gala Cross Country Show
3rd in 10 Miles Cross Country (+$7,000)
POSB Thoroughbred Stallion/Colt Spectacular
2nd in 10 Years Old (+$10,000)
POSB Dragonduel Dressage Show
5th in Introductory Dressage (+$2,500)
POSB Dragonduel Jumping Show
6th in Introductory 2'0-2'6 Jumping (+$1,000)
POSB Dragonduel Eventing Show
4th in Beginner Novice Eventing (+$5,000)
POSB Dragonduel Cross Country Show
4th in 27 Miles Cross Country (+$5,000)
RESB Bumblebee Dressage Show
1st in Introductory Dressage
Pewter Big Invitational Extravaganza Event
Introductory Jumping Champion
1st in Introductory 2'0-2'6 Jumping (+$20,000)
2nd in Introductory Dressage (+$10,000)
2nd in Beginner Novice Eventing (+$10,000)
POSB Thoroughbred Stallion/Colt Showcase IV
2nd in 10 Years Old (+$10,000)
POSB Red Squadron 3 Day Event Show
3rd in Introductory Eventing (+$10,000)
POSB Heatwave Dressage Show
9th in Introductory Dressage
POSB Heatwave Jumping Show
10th in Introductory 2'0-2'6 Jumping
POSB Heatwave Eventing Show
4th in Beginner Novice Eventing (+$7,000)
POSB Heatwave Cross Country Show
Reserve Champion of Show (+$40,000)
17 Miles Cross Country Champion
1st in 17 Miles Cross Country (+$20,000)
POSB Thoroughbred Stallion/Colt Showcase V
2nd in 10 Years Old (+$15,000)
POSB Top Speed Eventing Show
6th in Beginner Novice Eventing (+$2,500)
POSB Couch Potato Cross Country Show
Champion of Show (+$50,000)
17 Miles Cross Country Champion
1st in 17 Miles Cross Country (+$20,000)
POSB Hot Chilli Jumping Show
10th in Introductory 2'0-2'6 Jumping
POSB Barbed Wire Dressage Show
5th in Introductory Dressage (+$5,000)
POSB Teachers Pet 3 Day Event Show
Introductory Eventing Champion
1st in Introductory Eventing (+$20,000)
MSN LIVE SHOW/Spring Fling Super Show
3rd in Best Picture
4th in Dark Colored Halter
5th in 10+ Y/O Halter
MSN LIVE SHOW Black Jack Cat's Show
1st in Training Dressage
1st in Eventer
7th in Grey Halter
7th in Training Jumping
POSB Thoroughbred Stallion/Colt Spectacular II
10 Years Old Champion
1st in 10 Years Old (+$20,000)
Pewter Darkhorse Event
2nd in Novice Eventing (+$15,000)
6th in Training Dressage (+$2,500)
6th in Novice 2'6-3'0 Jumping (+$2,500)
6th in 17 Miles Cross Country (+$2,500)
Almost Spring Time Dressage Show
2nd in Training Eventing
St. Patrick's Day Eventing Show
3rd in Novice Eventing
Soulfire Dressage #1
1st in Training Dressage (+$10,000)
Soulfire Eventing Show #1
1st in Novice Eventing, Cross Country Division
3rd in Novice Eventing, Dressage Division
5th in Novice Eventing, Show Jumping Division
OSB Twisted Thoughts Dressage Show
4th in Training Dressage (+$7,000)
POSB Blood N Gore Eventing Show
Reserve Champion of Show (+$40,000)
Novice Eventing Champion
1st in Novice Eventing (+$20,000)
POSB Burning Hate Cross Country Show
5th in 27 Miles Cross Country (+$5,000)
POSB Shot Gun Dressage Show
5th in Training Dressage (+$5,000)
POSB French Fries Eventing Show
4th in Novice Eventing (+$7,000)
POSB Pia The Pjutifull Cross Country Show
3rd in 17 Miles Cross Country (+$10,000)
POSB Spider Legs Thoroughbred Stallion VOTING Show
Progeny Champion (+$50,000)
POSB Thoroughbred Stallion/Colt Showcase VI
10 Years Old Champion
1st in 10 Years Old (+$20,000)
POSB Big Beautiful Baby Dressage Show
3rd in Training Dressage (+$10,000)
POSB One Little Step Eventing Show
3rd in Novice Eventing (+$10,000)
POSB Sick And Tired Cross Country Show
2nd in 17 Miles Cross Country (+$15,000)
POSB Stylish Spring Day 3 Day Event Show
4th in Training Eventing (+$7,000)
POSB Frisky Friday Eventing Show
3rd in Novice Eventing (+$10,000)
POSB Gol Di Locks Cross Country Show
3rd in 27 Miles Cross Country (+$10,000)
POSB Jive To Da Music 3 Day Event Show
Training Eventing Champion
1st in Training Eventing (+$20,000)
LIVE SHOW The April Showers Show
1st in Training Dressage
5th in Eventing
Rickety Rockety Live Show
1st in Cross Country
4th in Eventing
5th in Dressage
7th in Stallion Halter
11th in Show Jumping
Gimme A Go Halter Show
3rd in Stallion Halter
3rd in 9-10 Y/O Halter
3rd in Grey Halter
4th in Name Halter 1
POSB Thoroughbred Showcase VII
10 Years Old Champion
1st in 10 Years Old (+$20,000)
POSB Twirly Whirly Cartwheels Dressage Show
2nd in Level I Dressage (+$15,000)
POSB Rainstorm In Heaven Jumping Show
8th in Training 3'0-3'4 Jumping
POSB Broken Hearted Angel Eventing Show
Novice Eventing Champion
1st in Novice Eventing (+$20,000)
POSB True Love Eternal Cross Country Show
4th in 27 Miles Cross Country (+$7,000)
HE Dressage Series Show #1
1st in Level I Dressage, Freestyle To Music
2nd in Level I Dressage, Test 1
7th in Level I Dressage, Test 2
POSB Buckley's Chance 3 Day Event Show
2nd in Training Eventing (+$15,000)
POSB Lady Godiva Dressage Show
2nd in Level I Dressage (+$15,000)
POSB The Endless Matrix Jumping Show
4th in Training 3'0-3'4 Jumping (+$7,000)
POSB Fair Dinkim Aussie Eventing Show
7th in Novice Eventing (+$1,000)

POSB Humble Pecan Pie Cross Country Show
3rd in 35 Miles Cross Country (+$10,000)

POSB Thoroughbred Showcase VIII
3rd in 10 Years Old (+$10,000)

MSN LIVE SHOW EEEWWW What A Pong
1st in Dressage
2nd in Stallion Halter
2nd in Show Jumping
6th in Cross Country
8th in Eventing

MSN Live Lucky Ducky All Event Show
1st in Show Jumping
3rd in Stallion Halter
4th in Dressage
5th in Cross Country
9th in Eventing

Dirty Baby Diapers Dressage Show
1st in Level I Dressage

Babies In Pink Jumping Show
3rd in Training 3'0-3'4 Jumping

Spring Flowers Eventing Show
2nd in Novice Eventing

Sunset to Sunrise Thoroughbred Halter Show
2nd in Stallion Halter
8th in 6-10 Y/O Halter
9th in 16.0-16.3hh Halter
10th in Grey Halter

Pewter May Invitational Extravaganza Event II
Show Jumping Champion of Show (+$50,000)
Eventing Champion of Show (+$50,000)
Training Jumping Champion
Novice Eventing Champion
1st in Training 3'0-3'4 Jumping (+$20,000)
1st in Novice Eventing (+$20,000)
2nd in Level I Dressage (+$15,000)
3rd in 27 Miles Cross Country (+$10,000)

POSB Raspberry Kisses Dressage Show
6th in Level I Dressage (+$2,500)

POSB Potpie Butterfly Jumping Show
5th in Training 3'0-3'4 Jumping (+$5,000)

POSB Mystique Moonlight Eventing Show
5th in Novice Eventing (+$5,000)

POSB Baby Pink Roses Cross Country Show
2nd in 35 Miles Cross Country (+$15,000)

POSB Sweet N Sour 3 Day Event Show
3rd in Training Eventing (+$10,000)

POSB Thoroughbred Showcase VIIII
10 Years Old Champion
1st in 10 Years Old (+$20,000)

POSB The Ugly Duckling Dressage Show
2nd in Level I Dressage (+$15,000)

POSB Singin In The Shower Jumping Show
6th in Training 3'0-3'4 Jumping (+$2,500)

POSB Drive In Movie Eventing Show
6th in Novice Eventing (+$2,500)

POSB Mail Order Bride Cross Country Show
3rd in 35 Miles Cross Country (+$10,000)

2006 WF Catnip Jumping Show
3rd in Training 3'0-3'3 Jumping

DSB Easy Street Shuffle Dressage Show
3rd in Level I Dressage (+$10,000)

POSB Tiddly Winks 3 Day Event Show
Champion of Show (+$50,000)
Novice Eventing Champion
1st in Novice Eventing (+$20,000)

DHB Venus Fly Trap Jumping Show
4th in Training 3'0-3'4 Jumping (+$7,000)

POSB Kool Sun Glasses Jumping Show
4th in Training 3'0-3'4 Jumping (+$7,000)

POSB Blue Ribbon Ice Cream Eventing Show
5th in Novice Eventing (+$5,000)

POSB Union City Blues Cross Country Show
4th in 25 Mile Cross Country (+$7,000)

TEH Hubble Bubble Jumping Show
4th in Training 3'0-3'4 Jumping (+$7,000)

TEH Hundreds N Thousands Dressage Show
1st in Level I Dressage (+$20,00+)

CF Opening Dressage Classic
1st in Quadrille Dressage, w/Elusive Storm, Dressed In Black & Rock A Bye Baby

POSB Moonlight Shadow 3 Day Event Show
4th in Novice Eventing (+$7,000)

POSB Black Beard Dressage Show
10th in Level I Dressage

POSB Caribbean Calypso Jumping Show
3rd in Training 3'0-3'4 Jumping (+$10,000)

POSB Snowy Mountains Eventing Show
9th in Novice Eventing

POSB Niagara Falls Cross Country Show
2nd in 39 Miles Cross Country (+$15,000)

POSB Thoroughbred Stallion Showcase X
4th in 9-10 Years Old (+$7,000)

POSB Pyramid Of Giza Jumping Show
Reserve Champion of Show (+$40,000)
Training Jumping Champion
1st in Training 3'0-3'4 Jumping (+$20,000)

POSB Ayers Rock Dressage Show
5th in Level I Dressage (+$5,000)

POSB Nite Life 3 Day Event Show
4th in Novice Eventing (+$7,000)

July Show Jumping Events At POSB
4th in Training Jumping (+$7,000)

July Dressage At POSB
8th in Level I Dressage

July Eventing/Cross Country At POSB
7th in Novice Eventing

TEH Just Like That Halter Color Show
3rd in Grey Halter (+$8,000)

RESB Fancy Footwork Dressage Show
1st in Level I Dressage

RESB Dancing Horses Jumping Show
5th in Training 3'0-3'4 Jumping

RESB One Crazy Ride Eventing Show
5th in Novice Eventing

DHB Sherlock Holmes Dressage Show
5th in Level II Dressage (+$5,000)

DHB Jack The Ripper Jumping Show
3rd in Amature 3'4-3'9 Jumping (+$10,000)

POSB Bye Kiddo 3 Day Event Show
3rd in Amature Eventing (+$10,000)

POSB Vanilla Fields Jumping Show
3rd in Amature 3'4-3'9 Jumping (+$10,000)

POSB One Of A Kind Dressage Show
4th in Level II Dressage (+$7,000)

POSB Shakin In My Boots Jumping Show
6th in Amature 3'4-3'9 Jumping (+$2,500)

POSB Four Times A Lady Eventing Show
Prelimiary Eventing Champion
1st in Preliminary Eventing (+$20,000)

POSB Ape Escape Cross Country Show
35 Miles Cross Country Champion
1st in 35 Miles Cross Country (+$20,000)

TEH All Breed Showcase I
1st in 10-11 Years Old (+$10,000)

TEH Rainbow Styling Jumping Show
2nd in Amature 3'4-3'9 Jumping (+$9,000)

TEH Monte Carlo Dressage Show
3rd in Level I/II Dressage (+$8,000)

11 Y/O

Bring 'Em Out Showcase 2006
Thoroughbred In-Hand Top Ten

Make It Hot Show Jumping 2006
6th in 3'3" - 3'6" Show Jumping

Goldust Woman Dressage 2006
4th in Level II Dressage

2006 Sim World Cup Show Jumping – Qualifier One
31st in $20,000 Washington Open - 3'6-4'0 (35 entries!)

The Golden Road Show Jumping 2006
5th in 3'3-3'6 Show Jumping

Spring Water Showcase 2006
Thoroughbred In-Hand Top Ten

The Lighthouse Classic 2006
4th in Level II Dressage
7th in All Genders At Liberty

Greenleaf Show Jumping 2006
2nd in Level Three Jumping 3'3-3'6

Cake and Balloons Dressage 2006
Level II Dressage Test 3 Champion

The 2006 Sim World Cup - Qualifier Two
13th in $30,000 California Open (32 entries!)

Belvedere Show Jumping 2006
4th in Level Three Jumping 3'3-3'6

Soul Meets Body Classic 2006
Thoroughbred In-Hand Top Ten

Science In Method Jumping 2006
3rd in Level Three Jumping 3'3-3'6 Power and Speed

The Teacup Classic 2006
6th in Thoroughbred In-Hand

Montbretia Show Jumping 2006
4th in 3'3-3'6 Show Jumping, Table One
5th in 3'3-3'6 Show Jumping, Speed
8th in 3'3-3'6 Show Jumping, Table Two

The 2006 Sim World Cup - Qualifier Three
26th in $40,000 Oregon Open - 3'6-4'0 fences (34 entries!)

Ivy Spoken Eventing 2006
3rd in Preliminary Eventing

Top Notch Show Jumping 2006
1st in 3'3-3'6 Show Jumping, Round One
7th in 3'3-3'6 Show Jumping, Speed

Wintergreen Dressage Cup 2006
Level II Dressage Test 1 Champion
DNP in Level II Dressage, Test 2

Blue & Gold Race Prospect and Producer Show
2nd in Get of Sire, w/Mistletoe and Star of Avalon
8th in Thoroughbred Flat Racing Producer, Stallion

12 Y/O

Mallard Duck Show Jumping 2006
4th in 3'0-3'3 Show Jumping, Speed

Sim World Cup Qualifier Four
4th in $50,000 Idaho Open - 3'6-4'0 fences (28 entries!)

EA Nightingale Dressage Show
3rd in Level II Dressage

Classical Thump Eventing 2006
2nd in Preliminary Eventing

Seashell Show Jumping Classic 2006
3rd in 3'0-3'3 Show Jumping, Speed

Up The Creek Jumpers 2006
6th in Open Schooling Jumpers 3'3"

Dreamcatcher Eventing 2006
2nd in Prelimiary Eventing

Super Mario Eventing 2006
2nd in Preliminary Eventing

WF Open Breed Challenge 2006
Eleven And Up Year Old Stallions In-Hand Top Ten

SoGood Eventing 2006
5th in Preliminary Eventing

SomeSing Show Jumping 2006
3rd in Open Schooling Jumpers 3'3"

Reserve Winter 2006 Stud Horse of The Year (+$1,000,000)

The Crossroads Thoroughbred Show
1st in Grey Halter
7th in Stallion Halter
8th in 16.3hh Halter
DNP in 12 And Up Year Old Halter

Broke the Thermometer Dressage Show
7th in Level II Dressage

Cold Snap Eventing Show
3rd in Preliminary Eventing

Winter Race Series Part I
1st in Get of Sire Halter, w/Mistletoe
11th in Racing Sire Halter

Rosemary Show Jumping Event 2007
5th in Open Schooling Jumpers 3'

Winter Sunset Eventing Show
3rd in Preliminary Eventing

Winter Race Series II
6th in Racing Sire Halter
12th in Get of Sire Halter, w/Mistletoe

The Crossroads Racing Prospect/Producer Show
Champion of Show
ucer Champion
4th in Thoroughbred Flat Racing Producer, Stallion

13 Y/O

Mockingbird Dressage Cup 2007
8th in Second Level Dressage, Test 2
9th in Second Level Dressage, Test 1
DNP in Second Level Dressage, Test 3

Mystique Jumping Show
2nd in Level 2 - 3'-3'3

Ivy Dressage Show (ASDF Sponsored)
3rd in Level II Dressage, Group 1
6th in Dressage Horse In-Hand - Stallions, Group 5

Marshlands Eventing Series I 2007
DNP in Preliminary Eventing

2007 Winter Race Series Part III
8th in Get of Sire, w/Mistletoe
DNP in Racing Sire

2007 Daffodil Sporthorse Cup
Open Schooling Jumpers 3' Champion

Marshlands Eventing Series II 2007
4th in Preliminary Eventing (+$250)

Marshlands Eventing Series III 2007
15th in Preliminary Eventing

Sunrise Sporthorse Cup 2007
4th in Open Schooling Jumpers 3'

Waterside Thoroughbred Classic 2007
Reserve Eleven And Older In-Hand Group 2 Champion
4th in Senior Stallions Judged On Movement

Marshlands Eventing Series IV 2007
17th in Preliminery Eventing
---
Banners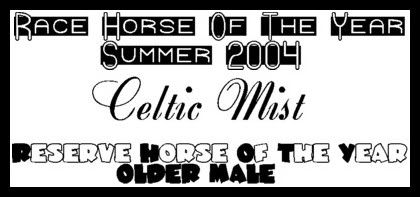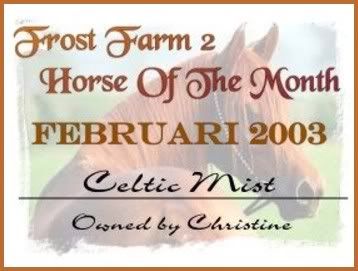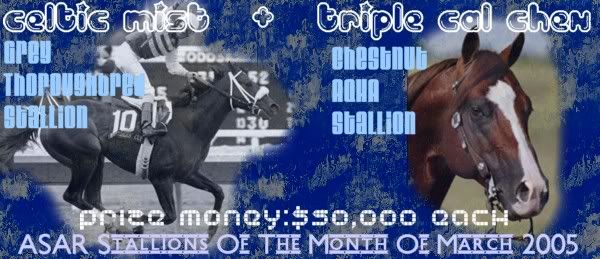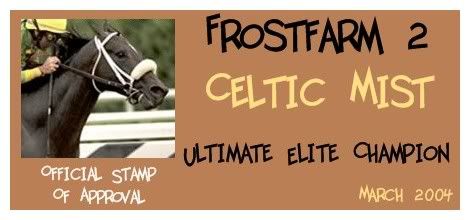 ---
Evaluatons