Freddie Francis is one of my all time favorite directors and cinematographers. He has directed serveral great Hammer horror films such as "The Evil of Frankenstein" & "Dracula Has Risen From the Grave". He's also directed "Legend of the Werewolf", "Tales From the Crypt" & "The Skull" for Amicus and wild horror works like "Craze" & "Girly". You've seen his camera work as DP in films like, "The Innocents", "The Elephant Man", "Dune", "Glory" & "Capr Fear"(1991). A longtime dream of mine was fullfilled when I was able to intervew Mr. Francis in 2003.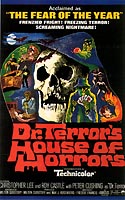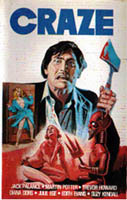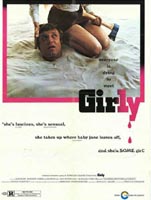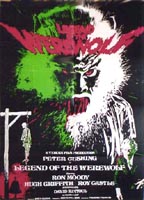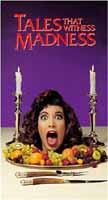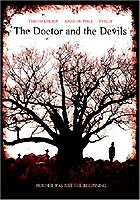 Freddie Francis director
FREDDIE FRANCIS INTERVIEW
By Barry King
Q. Can you explain exactly what you did as a director of photography during World War II?
A. During World War II I went into the Army in l939 with the Royal Army Ordnance Corps. Due to a vague contact I and after basic training, I was sent to the Army photographic stores at Aldershot. From there, I was posted to the Army Kinematograph Service based at Wembley, which before the war had been the British 20th Century Fox studios and later was taken over by the Lee Brothers. We made mainly training films including a forerunner to the Carol Reed movie "The Way Ahead" which was called "The New Lot". Others in the AKS included Freddie Young, Thorold Dickinson, Carol Reed, Peter Ustinov and many others. I progressed through the ranks and through the various films to become a Warrant Officer and until I was often directing and operating and photographing all sorts of Army films, including medical (Maxillo facial surgery) reconstructive work. It gave me a great deal of experience in all phases of film production.
Q. In 1962 you directed "Two and Two Make Six" a romantic comedy starring George Chakiris. What do you remember most about directing your first feature film?
A. Two & Two Make Six was not the movie I had hoped to make. I tried to change the script but was not allowed to. George Chakiris was a great dancer but not necessarily as great an actor. However, as I enjoy film making of every kind I did enjoy my first civilian directorial job and Janette Scott who played the lead opposite George Chakiris, became a great friend and remains so to this day.
Q. On the sci-fi monster-plant film "The Day of the Triffids" you were actually uncredited as director. Can you tell us how that came about?
A. "The Day of the Triffids" was shot mainly in Spain for the Bronson organisation. when the first cut was made, they realised they did not have enough material, contractually, for a release and so I was approached (through my agent) to add a prologue and a coda which became the lighthouse sequences. Kieron Moore, with whom I had worked on "Mine Own Executioner" and Janette Scott (mentioned above) were the leads and the sequences not only lengthened the film but also, I think and hope, strengthened it. I was paid a straight fee and received no credit although it seems to be a well know fact that I was involed.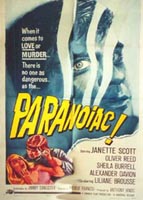 Q. You directed "Paranoic" in 1963 for Hammer. Can you explain how you first became involved with Hammer Films?
A. I became involved with Hammer through my agent and after I had directed "The Brain" for Raymond Stross. I got to know Anthony Hinds and Jimmy Sangster (both writer producers) extremely well and made several films with them. They are both friends even now.
Q. With "The Evil Of Frankenstein" (1964) and "The Skull" (1965) you began a long association with actor Peter Cushing. Did you and he have a close director/actor relationship? And, did you both begin to know what the other wanted performance-wise in subsequent films?
A. Peter Cushing became a friend a colleague. I had first worked with Peter when I was a Camera Operator for John Huston on "Moulin Rouge". He was a charming man and a consummate actor. We always had a meeting about the script before shooting begane, at a London hotel. Once shooting started I knew Peter would be always reliable and always able to make any lines totally convincing and believable.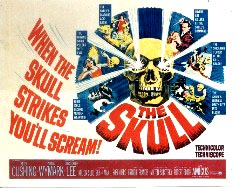 Q. We mentioned "The Skull". This is the story of a collector who buys the skull of the Marquis De Sade, which appears to have an evil power of it's own. To convey the power of the skull, you used shots through the eyes of the skull itself! This was very effective in the film. Did you have that idea in advance?
A. "The Skull" was made at Shepperton and I had the giant Skull face piece which could be mounted on the camera. This I planned from the start.
Q. You have directed several omnibus features like "Torture Garden" (1967), "Tales From The Crypt" (1972) and "Tales That Witness Madness" (1973). Do you approach a "short story" type of film any differently than a full length feature, from a directorial standpoint?
A. The 'omnibus' films were fun to make and I enjoyed them, firstly because it was always possible to assemble a great ensemble cast, and secondly it was always possible by the linking character to lengthen the stories when required (which was quite often!) so a lot of these linkages were shot 'off the cuff' and very enjoyable for that reason.

Q. In one sequence in particular in "Tales From the Crypt", Joan Collins plays a woman about to murder her husband (Martin Boddey) on Christmas Eve (after which a deranged Santa Claus shows up). There is a fabulous shot of the husband in a chair reading a newspaper. We see the scene shot from below, and all we can see is the newspaper. Suddenly there is a "thump" sound and blood begins to form on the reverse side of the paper. Then, the actor falls toward the camera and we see that he is bleeding from a head wound. This was a masterfully done shot in the film. Can you tell us how it was achieved? Did it work right the first time?
A. The scene with the newspaper was scripted but the way it was shot was my input. I cannot remember how many times we had to shoot it - certainly not many as most of these films were shot on a tight budget and schedule.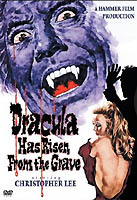 Q. Your contribution to the Dracula series for Hammer was "Dracula Has Risen From The Grave" (1968). Since Terence Fisher had helmed the Dracula films before this one, how did you want to approach this Dracula film with Christopher Lee?
A. I have always approached subjects, whatever they are, in my own way. I was aware of Terence Fisher but did not do anything other than approach the movie with my own creative instincts.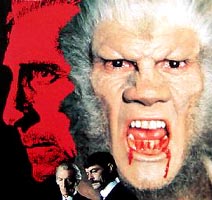 Q. In "The Legend of the Werewolf" (1975) the point of view from the werewolf was a fast moving camera view, shot through a red filter. This was extremely effective and made those scenes very mysterious and stylish. Whose idea was that?
A. "Legend of the Werewolf". I was always looking for a fresh approach and the red filter seemed one way to making this a different look. I may have been influenced by the filters I used on "The Innocents"- which I photographed for Jack Clayton where I used filters (in a black and white film) mainly to enclose the Cinemascope format. However, as some of these filters had to be hand-painted by me on the set and were, of necessity, coloured it may have been this that gave me the idea. All experiences in film making inform future work.
Q. In 1987 you had your name removed from the film "Dark Tower" as director. Can you elaborate on why?
A. "Dark Tower" was a film made in Spain. The Producer made many promises which did not come to fruition! The movie was supposed to be shot on the 35th floor - I think we had to shoot on the 5th! The Special Effects crew who came from California turned out to be a disaster and the producer promised that he would take the film back to the States for a preliminary cut and then send for me to complete the effects with a new crew after it was seen what was required. Unfortunately, he did not do this and when I saw the final movie with appalling effects, I insisted my name be taken off the credits.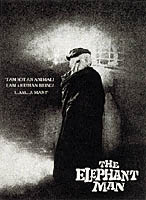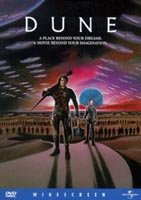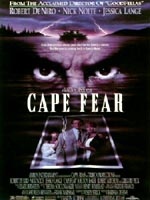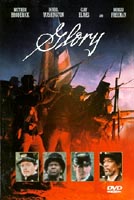 Freddie Francis cinematographer
Q. Your work as a cinematographer is legendary. You won two Oscars, one for "Sons And Lovers" (1960) and one for "Glory" (1989). Both of these were for best cinematography. Can you share with us the feeling you had when you heard your name called as the winner of the Academy Award?
A. I was not at the ceremony for the Award for "Sons and Lovers" and only heard the news via a friend in Canada who had seen the transmission and made a call to London. I was fortunate enough to be at the Awards when "Glory" won for me and it was, of course, an unforgettable experience, particularly as it was a movie which that year had not been a "blockbuster" and had a reasonably minority audience. It also was a triumph because the two Oscars were almost thirty years apart- the first was for black and white, the second for colour. And I'd directed quite a few films in the meantime.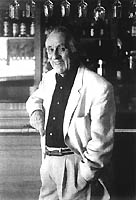 Q. Many directors cannot choose their favorite film they've directed, because they say it's like choosing one of their children over another. Can you choose a favorite film you have worked on either as a director or cinematographer?
A. The Innocents is without question my favourite film. I photographed it for Jack Clayton and because of our close relationship has a major input into the movie and was able to put many innovative touches in- such as the filters- see note above.
Thank you Mr. Francis for this interview.
I HOPE THE FOREGOING IS USEFUL TO YOU. THANK YOU FOR YOUR KIND WORDS. I AM SO HAPPY TO HEAR THAT YOU HAVE ENJOYED SO MUCH OF MY WORK.
BEST WISHES,
FREDDIE FRANCIS