These are my first hexed clothes. I hope you like them.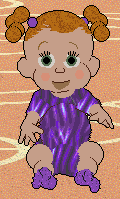 Mindy is modeling my Violet Onsie.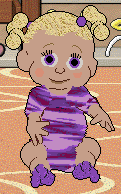 Amanda has on my Pink Zebra Onsie.
Click the picture, download, then unzip both files into MyComputer/C:/ProgramFiles/UbiSoft/Babyz/Resource/Clothes.
If you can hex but don't have a website, I will be happy to place
your hexed items here and give you credit for them. Just E-mail me
the attached files, the outfit's name and your name for the credit.
Please don't take my graphics as your own.