Higher Woodhill Mill was originally built as a cotton mill in 1792, for Richard Calrow, but following the cotton famine of 1861-1865 it was converted to paper making.
At first its power source was a small water wheel but a larger wheel was installed around 1850, and the ponds which are still visible are part of the reservoir which fed this wheel. Soon afterwards a steam engine was added to supplement the water wheel.
Higher Woodhill Mill was demolished around 1930.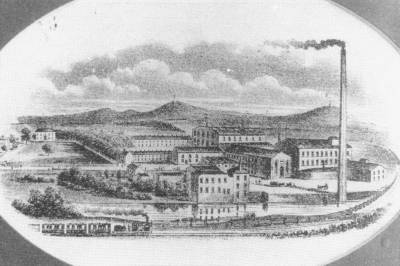 This is a rather stylised drawing of Higher Woodhill Mill circa 1870, which was used as the letterhead on the firm's stationery
Higher Woodhill is in the area known as Burrs and can be reached along Woodhill Road from its junction with Crostons Road/Brandlesholme Road, or from the footpath starting in Dene Avenue, off Brandlesholme Road. To explore the grounds of the mill walk down the cobbled road on the right side of the iron sculpture on Woodhill Road.


This is one of the remaining reservoirs.
A good water supply was essential, and not only for the water wheel. It also fed the boiler and cooled the condenser of the steam engine, and was used in the paper-making process.