Brief History of Bury - Page 2
---
Norman to Tudor Period
When the Domesday Book was compiled in 1086 the current borough of Bury was owned by the Norman knight Roger de Montebegon, who granted some of his land to Sir Nicholas de Radeclive. His descendent James de Radcliffe (spelling of names tended to evolve over the years) had a hall and defensive tower built in 1403, of which part survives as Radcliffe Tower.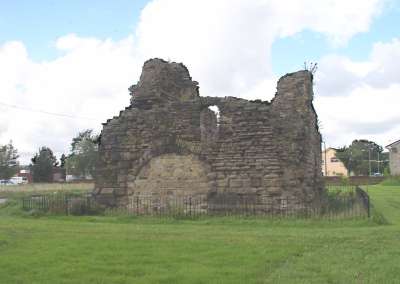 Remains of Radcliffe Tower in Tower Street. The Old Tower Inn is just visible in the background.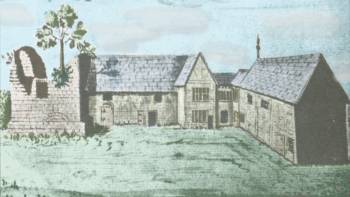 Radcliffe Tower and its attached Great Hall and Manor House, which were demolished circa 1840.
(Taken from an old drawing.)


By 1155 the manor of Bury was owned by the de Bury family, after Edward de Bury married Alice de Montebegon. In the 13th century the manors of Bury and Tottington were administered by a bailiff living in Brandlesholme Hall.

Later Bury manor passed into the ownership of the influential Pilkington family. Sir John Pilkington inherited the manor in 1406, and also controlled lands in Hertfordshire, Northampton, Suffolk and Norfolk. He took part in the battle of Agincourt in 1415. The Pilkington's manor house, located on a site overlooking Bury Ground, was built and fortified in stages between 1350 and 1470.
John's descendent Sir Thomas Pilkington fought with Richard III at the battle of Bosworth but following defeat he forfeited his lands and the manor house was dismantled from 1489 on. Parts of the foundations remain as Bury Castle.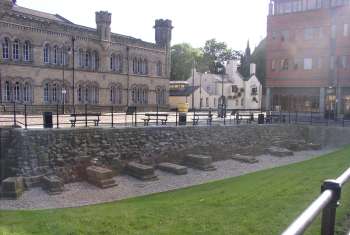 Foundations of Bury Castle, in front of the Army Cadet building in Castle Street.


When Henry Tudor became king the former Pilkington lands in Bury were given to Thomas, Lord Stanley who was later made the Earl of Derby and was one of the biggest landowners in Lancashire.

The Beginning of the Textile Industry
The Black Death of 1348 to 1350 had reduced the population to such an extent that much land in Bury was no longer being cultivated. This led to a shift to the less labour-intensive sheep farming and the emergence of a woollen trade, which was brought to Bury by Flemish weavers. The Pilkingtons had been granted a royal charter for a market in Bury in 1440 and this was held outside their house, in Market Place.
In the early 16th century Bury was still a very minor town and although it was slowly growing its population was only about 1000, living in small houses around the market place and a few nearby streets.
Bury began to expand more rapidly during the industrial revolution, as the Manchester area became the centre of the textile industry.
One factor in Bury's development is that several important inventions in the cloth-making industry were made by local people:
In 1733 John Kay invented the 'flying shuttle', a mechanism which allowed cloth to be woven in wider pieces and more quickly.
In 1760 his son Robert Kay invented the 'drop box' which allowed three shuttles carrying different coloured thread to be used to weave multicoloured cloth.
Henry Whitehead in 1791 invented a quicker way of repairing broken threads during spinning, avoiding the need to stop the machine while the broken ends were tied together.


A flying shuttle with its bobbin of thread.


These inventions helped the industrialisation of the textile industry. However it should not be thought that the flying shuttle was an overnight success for John Kay. It took a considerable amount of development before it worked reliably. Kay received little in the way of royalty payments for his invention and it was also unpopular with the weavers. The flying shuttle allowed one weaver to do the work of two or three using an older loom, but unfortunately thread was in too short supply to keep all the weavers going and many were put out of work. In 1753 John Kay's home was raided by irate weavers and he fled to France, where he is believed to have died in poverty.

---