Harold Matson and Ruth and Elliot Handler formed Mattel in 1945 in California. Originally they made picture frames but soon found there was a market for doll house furniture. Matson sold out to the Handlers, who then concentrated on making toys, advertised on the Mickey Mouse Club program.
The Handler's daughter Barbara liked to play with paper cut-out figures and in 1959 this led to Mattel producing a toy doll, naming it Barbie after their daughter. Two years later she was joined by Ken, named after their son.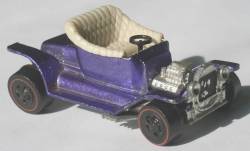 In 1968 Mattel introduced a range of toy cars under the brand name Hot Wheels. Both Barbie and Hot Wheels are still on sale. The Handlers left Mattel in 1975.

In 1977 Mattel decided to enter the growing electronic games market and with help from an integrated circuit supplier called General Instruments they developed a video game console. However Mattel's management were unsure of the potential market for such a machine and instead the company developed and sold a number of simpler hand-held electronic games.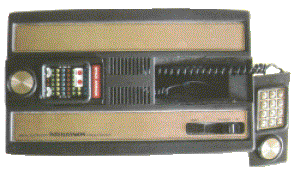 By 1979 though it was clear that video games were set to be a large market and so the console design was finalised and went on general sale at the beginning of 1980 as the Mattel Intellivision (Intelligent Television - right).

The Intellivision had excellent graphics and sound capabilities for 1980, and the hand controllers had keypads which allowed for more advanced controls for the games, which came on plug in cartridges. 3 million Intellivisions had been sold by the time it was withdrawn in 1984.
Mattel had promised that a keyboard would become available for the Intellivision, to turn it into a full computer, but this was very slow to materialise and Mattel was investigated by the Federal Trade Commission for misleading advertising. Eventually the Entertainment Computer System appeared but this was only a stopgap to placate the FTC.
Instead Mattel decided to enter the rapidly growing home computer market and to save time they bought in a design, rather than producing it in-house. The Intellivision consoles were manufactured by Radofin of Hong Kong, who luckily had already developed a computer which was rebranded and went on sale in June 1983 as the Mattel Aquarius.
Unfortunately the Aquarius, although cheap, was already outdated at launch. Its graphics and sound were on a par with machines released a year or two earlier and it had a mere 4 kilobytes of memory, while its competitors had at least 16 kilobytes, and usually more. There was no particular reason for buyers to choose the Aquarius over its established rivals, and only around 10,000 units were sold. To make matters worse the home computer boom was coming to an end by late 1983
Plans for a mark II Aquarius were shelved and Mattel withdrew from the electronics market in 1984, to concentrate on conventional toys.