In 1952 Lucian Freud painted this famous portrait of Bacon in oil on copper, a small portrait of extaordinary power measuring only 17.8 x 12.8 cm, of Francis full-face looking downwards. Acquired by the Tate Gallery, it was stolen while on loan in Berlin in 1988 and never seen again, despite the reward offered by the Director of the Tate, Nicholas Seerota. Francis Bacon told Daniel Farson he was convinced it was stolen specifically because it was an outstanding portrait of himself: "The thieves knew exactly what they were doing."
Lucian Freud also painted memorable portraits of Tim Behrens, John Deakin, Michael Andrews, and Frank Auerbach.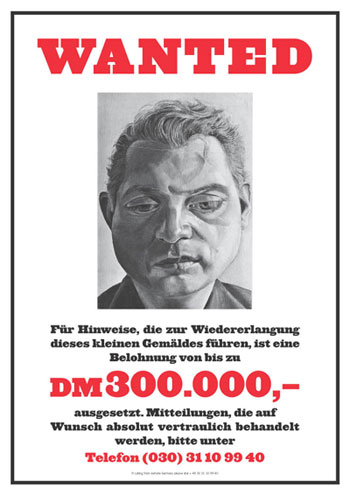 Hunt on for Freud masterpiece
A campaign is being launched in the German capital, Berlin to recover a celebrated painting by the British artist, Lucian Freud, which was stolen from a gallery in the city 13 years ago.
The painting is a portrait of Mr Freud's friend and fellow artist, Francis Bacon, and is considered by critics to be one of the most significant pieces of twentieth-century British art.
A reward of more than $150,000 is being offered for its return.
Thousands of posters will be put up across Berlin to publicise the reward.
Under German law theft is no longer subject to criminal proceedings after a period of 12 years, and campaigners are hoping that this will also encourage the portrait to be returned.
From the newsroom of the BBC World Service
Friday, 22 June, 2001, 06:15 GMT 07:15 UK