Catterall Home Page
From Newcastle, Australia (formerly from Durban, South Africa)
---
CATTERALLS OF KIRKHAM
My branch of the CATTERALLS were born in and around the Kirkham area and historically descended from the Catteralls of "Catterall and Little Mitton", and Catteralls of "Crooke Hall-in-Shevington".
Cuthbert Catterall (b.17/06/1770) was my great-great-great-grandfather. He lived in his latter years with his youngest son Robert (b.18/04/1830) at Croft House, Poulton Street, Kirkham. Cuthbert was still alive at the age of 92yrs, surviving until the early 1860's.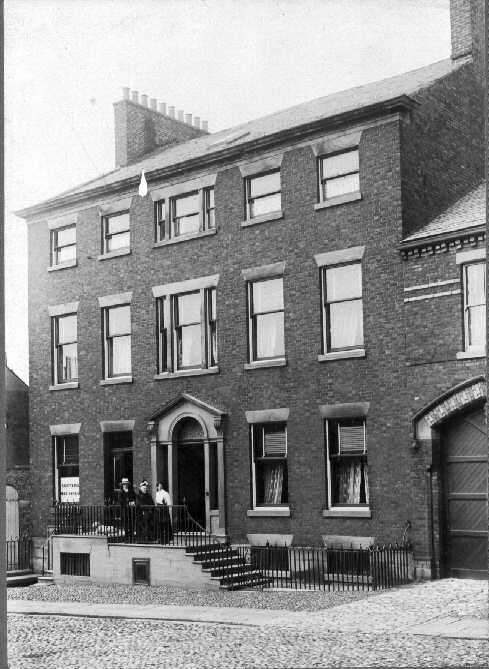 CROFT HOUSE,KIRKHAM

Cuthberts children, in order of birth, were:

Sarah (b.18/09/1812)- registered at Particular Baptist, inskip, Lancashire

John (b.02/12/1815)

Cuthbert (b.07/10/1817)

Margaret (b.03/11/1818)

George (b.21/09/1820)

Richard (b.04/04/1824)

Elizabeth (b.02/05/1826)

Robert (b.18/04/1830, d.1894)
---
Robert, my great-great grandfather, married Jane Lawrenson (b.~1840, d.~1908), in ~1860

Robert's children were:

Herbert (d. age 11yrs)

Richard (b.1866), in 1893 married Margaret Lucy Griffin (1876-1904)

Margaret (1868-1945) m.George Parkes

Mary (dob. ~02/07/1870) m.John Brierley

Ellen(Nell) (b.14/07/1871) m.William Whiteside

Edith (b.~ 1872) m.James Bradshaw

Amy (1876-1940) m.Edward Porter

Walter Herbert (b.13/02/1878; d.1951) emigrated to Canada; m. Elizabeth Brown

Alfred Vincent (d.~40yrs) m.Molly Nixon

Ernest; m. Emmelene Schlos. Parents of Robert Duncan Catterall, Venereologist
---
Richard, my great grandfather (second eldest of Robert's children), emigrated to Port Elizabeth, South Africa, in the late 1800's. He was a seed merchant in England.

My grandfather, Robert Hector Catterall (or Bob, as he was known) was born in Port Elizabeth in July 1900. He was a gifted sportsman, playing cricket for South Africa in the 1920's. He scored a century against the MCC at Lords.

He was also a great athlete and excelled at soccer, hockey and tennis. Oviously somewhat of a reprobate, he was a billiard champion, smoked, drank and played the ukelele - he never pursued a serious career! He was eventually dropped from the South African cricket team "for reasons other than cricketing ability" - one can only imagine!

Robert Desmond Catterall (b.08/06/1927, Johannesburg) studied medicine at Wits University where he met Helen Graham Hill (my Mom!). They married and moved to Rhodesia in the late 1950's. Des has worked in Kadoma, Zimbabwe for the last 40 year and Helen was the backbone of that pillar of education, Jameson High School, for 42 years until her retirement in May 2001. Also known for her exploits as a rugby coach and swimming team manager Helen has been the inspiration for many young scholars now spread around the world.

She and her sister Bette were born in Gwelo, in the Zimbabwe Midlands where their father Thomas Hill was the mayor in the 1930's. Like the previous Prime Minister, Ian Douglas Smith, they attended Chaplin High School.
---
ARMORIAL BEARINGS
In Dugdales Visitation of Lancashire, 1664 as printed by the Chetham Society, there is a four generation pedigree referred to in the letter from the College of Arms.
It states that Roger Catterall of Crooke, descended by a younger son from Catterall of Catterall, married Ms Langtree. They had three children, the eldest Peter(d.1653), Richard and Anne.
Peter married Elizabeth the daughter of Roger Digby of Ditton and had five children, Thomas, Anne, Jane, Elizabeth and Margaret.
Thomas married Frances the daughter of Stephen Thompson of Humbleton and they had two children. The eldest Peter was aged 2yrs on 22nd September, 1664 when this four generation family tree was handed to Sir William Dugdale by Thomas Catterall (who was then 36yrs).
In the Victoria County History there is an account of the Catteralls of Crooke; In the same volume there are references to the Catteralls of Mitton and the Catteralls of Catterall.
Further to this there is also mention of the four generations headed by Roger Catterall of Crooke (in Lancashire), described as descended by a younger son of Catterall of Catterall.
---
NOTE: Some of the photos on this webpage were passed on to my grandfather, Bob Catterall, by Sir Robert Catterall (b.1879) following a chance meeting with Bob's cousin Herbert Parkes. I have used his old photo of Catterall post office and show his appointed coat-of-arms although he was unrelated as far as I can establish (Ref:Duncan Mitchell and Coral McBride).
The following is an extract of a letter from said Sir Robert Catterall, M.B.E., M.S.M., 52 Station Road, Turton, Nr. Bolton :
....'I enclose also a post card of Catterall Post Office. The building on the left was known as "old Sir Roger Catterall Arms".....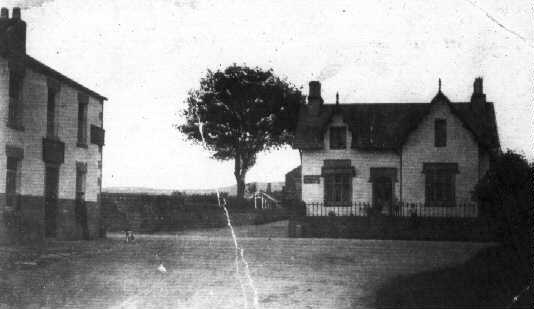 CATTERALL POST OFFICE

It was altered in the early Victoria period as you will notice and has since been turned into cottages. Records show that it was granted a licence to sell ale and spirits in the year 1613.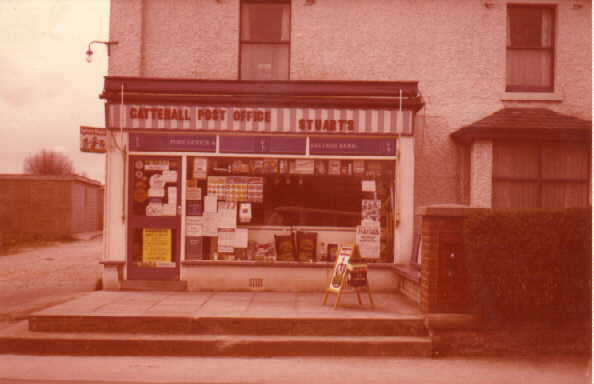 CATTERALL POST OFFICE 1975

The letter continues..."I also enclose a photo copy of my Scroll of Knighthood. You will notice as I told you that I made some slight modification in the Coat of Arms. I have since regretted this and ought to have stuck to the original of Sir Roger ...."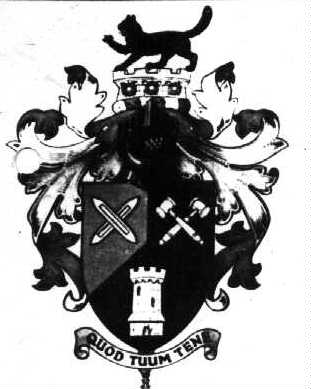 ARMORIAL BEARINGS

The Catterall Coat-of-Arms are described as "Azure three Mascles Or", and the family crest "A Cat passant guardant Argent". This refers to the shield displaying three golden diamonds on a blue background, with a Cat standing-on-guard above it.

The Catterall motto " Quod Tuum Tene" is translated as "Keep what is your own".
---
In a letter written to my grandfather Bob Catterall by Herbert, a cousin from Prestbury in Cheshire, he mentions a meeting in Bolton with Sir Robert Catterall in 1957.

Sir Robert (b.Turton) was then 78 years old. He told Herbert that the Armorial bearings of Sir Roger Catterall had been granted to him following his knighthood and mentioned his regret at his modification of the Coat of Arms.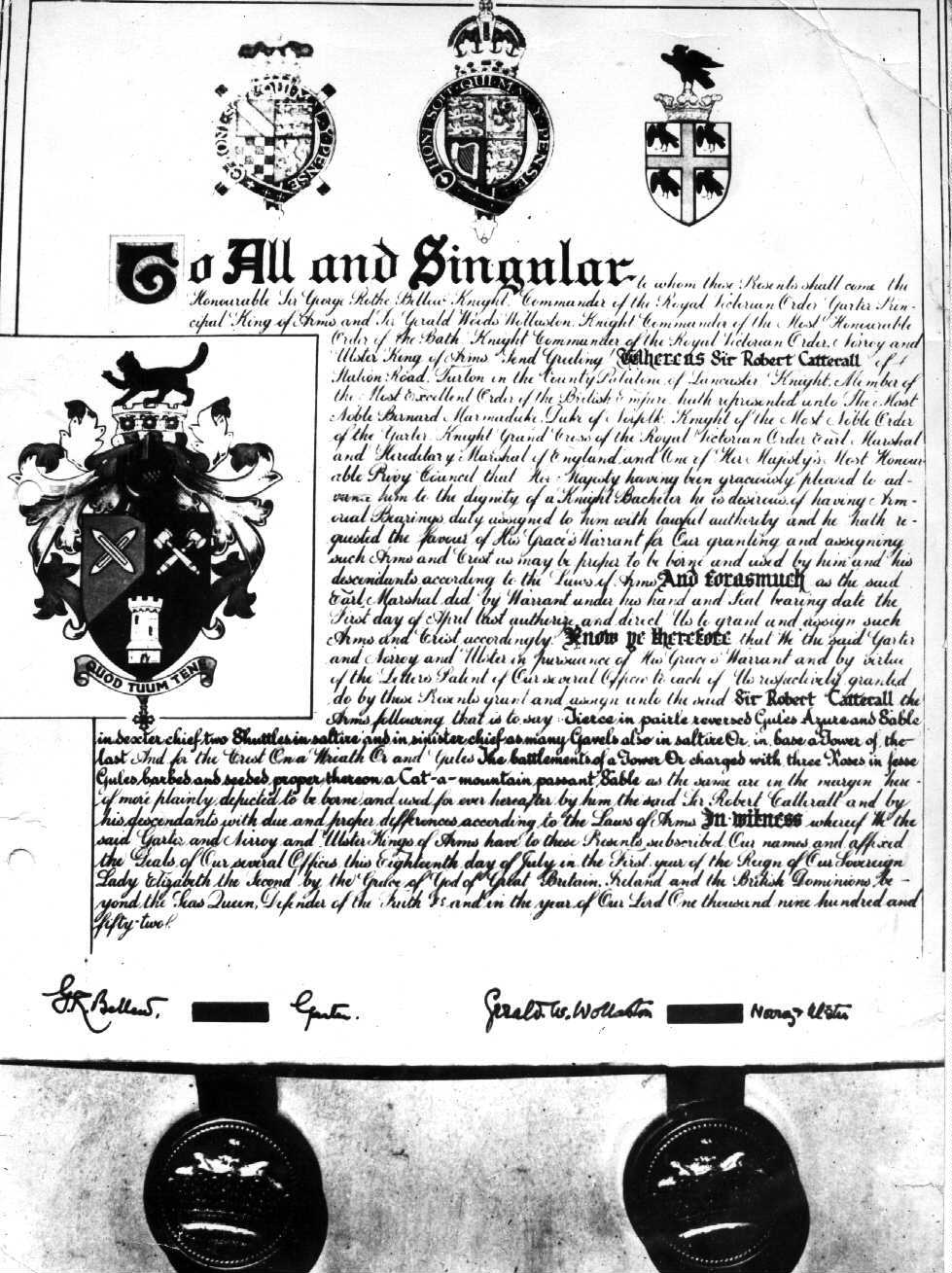 KNIGHTHOOD DECREE
---
EARLY CATTERALL HISTORY
Earl Tostig held CATTERALL in 1066 as part of the Lordship of Preston; it was assessed as two ploughlands. Afterwards it was included in the Garstang or Nether Wyresdale fee held by the Lancaster family and their successors. William de Lancaster II gave two plough-lands in Halecath and Catterall to Bernard son of Eilsi (Bernard was lord of Goosnargh - a manor inherited by the three daughters of his son Robert).
Of the two portions of Catterall named, each seems to have been considered one plough-land; Halecath probably included Howath, Stirzacre and Landskill, Catterall in its wider meaning thus extending over the southern half of Barnacre with Bonds.
Bernard's son Robert married Swain (or Suani, daughter of Robert de Athelaxton) and they had a child Richard de Catterall (b.1212). Richard had a son Ralph, who in turn had a son Alan de Catterall. Alan expanded the family estate by marrying Loretta Pontchardon, an heiress to the Manor of Little Mitton (on the banks of the river Ribble, near Whalley, about 12 miles from Catterall). The family residence was Catterall hall built on the banks of the river Wyre, across the river from Churchtown. the three daughters of his son Robert sharing the inheritance.
---
To e-mail the Catteralls
More on Catterall family history.
At this site you can also contact Charlie and Robyn Graham
---
---
---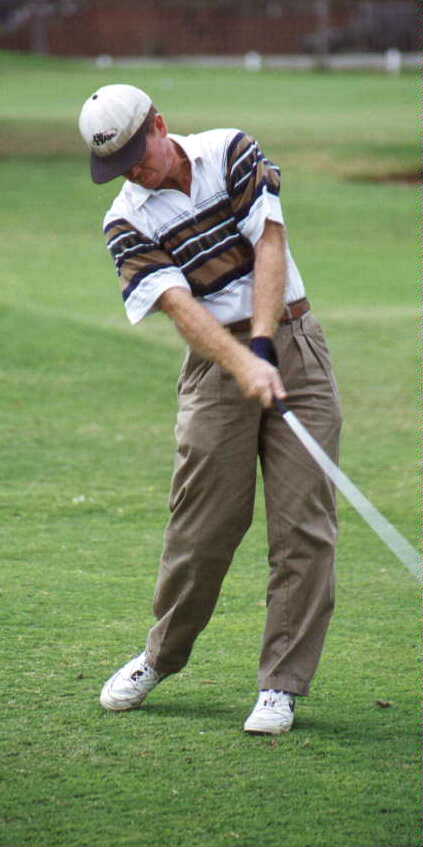 Posed!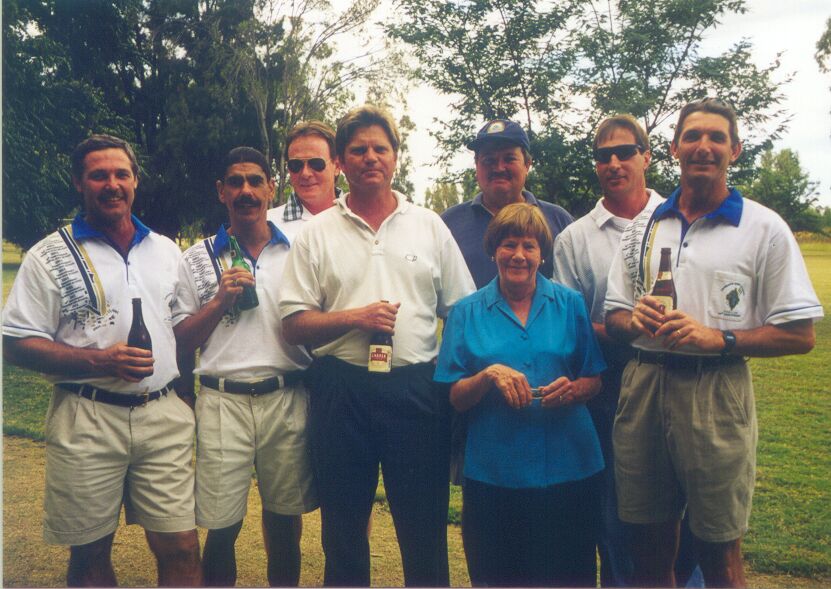 Access here for Image-inary Pathlab!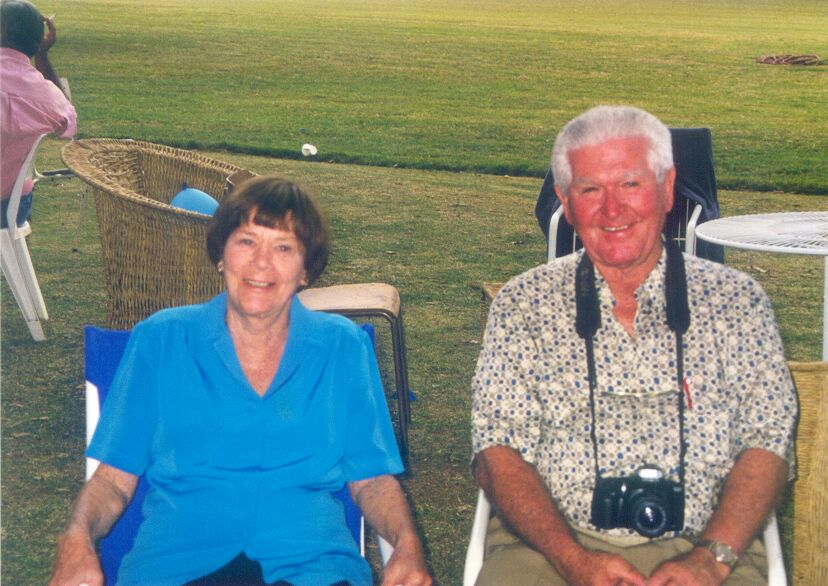 My Folks!
---