Submarine Voyage
---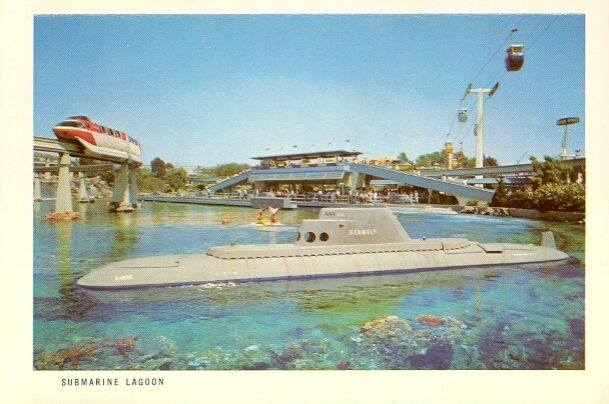 SUBMARINE LAGOON

Note: The name and number on the submarine are SEAWOLF / D-302.
Note: Two mermaids are in the center of the lagoon in this photo.
---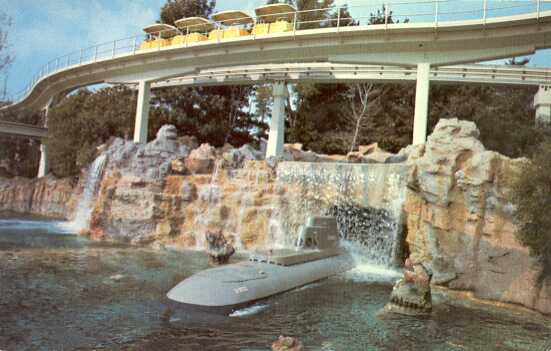 SUBMARINE VOYAGE

Homeward bound after "surfacing" from the depths of the seven seas, Disneyland submarines voyage through "liquid space" to explore mysterious undersea worlds. Crossing over the lagoon is the Peoplemover, a new concept in transportation.
---
Trivia
The complete list of the newer (yellow) submarine names and numbers is:


Nautilus (301)
Neptune (302)
Sea Star (303)
Explorer (304)
Seeker (305)
Argonaut (306)
Triton (307)
SeaWolf (308)

This list was compiled by [email protected], and was found at:
http://members.aol.com/barjesse/sublist.htm
A partial list of the old (gray) submarine names and numbers is:


Patrick Henry
Seawolf (D-302)
Skate (D-303)
Skipjack
Triton (D-305)
Ethan Allen
George Washington

(Anybody have more info for this list? Please send it to me!)
These names came from real U.S. Navy submarines.
From 1965 through summer 1967, ladies dressed as mermaids would sit and pose on the island in the center of the lagoon.

Some of the official excuses for retiring the mermaids were:


the mermaids' hair turned blue &amp green from the high chlorine concentration in the water
crowds gathered to look and thereby interfered with foot traffic in the passage between the Matterhorn and sub lagoon
guests would swim out to the island to have their photos taken with the mermaids

This trivia was found at:
http://www.oitc.com/Disney/Lost/DLSecrets/SubmarineVoyage.html
The submarines were painted yellow in the 1980s, since the military connotation of gray battle subs was politically incorrect. The yellow color was supposed to make them look like research subs, instead.
(The reason research subs are typically painted yellow is because yellow is one of the last colors to be visible at great depths.)
In and around 1982 the waiting line for the submarine had various spiels combined with sea chanties as mood music. Some of these sea chanties were:


"The Sailor's Hornpipe"
(traditional, of Popeye cartoon fame, or of Mike Oldfield's album "Tubular Bells" fame)
"A Whale of a Tale"
(from the Disney film "20,000 Leagues Under the Sea")
"What Shall We Do With the Drunken Sailor?"
(traditional, played on harmonica in the spiel)

Some of the specific oceanic creatures on the voyage were:


sea turtle
sunfish (Mola mola)
battling lobsters
Tridacna giant clam
giant squid (Architeuthis dux)

An eBay auction ending on October 18, 2001 had a high bid of $224.03 on this very buoyant 7" x 6" rubbery plastic fish from the Submarine Lagoon:


The Walt Disney Company is currently deciding what to do with the Submarine attraction and lagoon, since the lagoon is leaking.
---



Updated: March 2, 2002