One Chord To Another, or OC2A, is a radio show featuring new and independent rock music.
One Chord To Another
89.3 FM KAOS - Olympia, WA
listen LIVE: www.kaosradio.org
Monday Nights 11:00 PM - 1:00 AM PST
Contact Info:
KAOS Olympia Community Radio
Attn: Johnny Koch
The Evergreen State College - CAB 301
2700 Evergreen Parkway
Olympia, WA 98505
Next Show: February 20, 2006
Music Websites:
Band pages:
Labels:
Radio:
Commerce:
Non-Music:

oc2a.blogspot.com
click here for up to date info!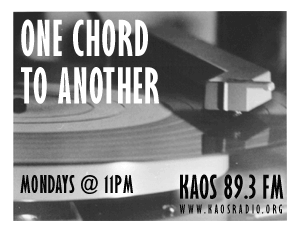 You may have noticed a few changes. I have a blog at the above address, which is where playlists and musings will live. I moved links to the main page, and ditched the second page entirely. I'll post shows here when I get them. As always, you can email me at [email protected].
P.S. I'm working on inserting the XML feed into this site. If you know an easy way to do this, let me know!
What I'm Listening To:
New Pornographers
Modest Mouse - The Lonesome Crowded West