STORIES
Here are some fictional tales of ladies doing dirty deeds. (Most stories are typically cut off after the "scenes." Click on authors for full stories if they are still on-line.)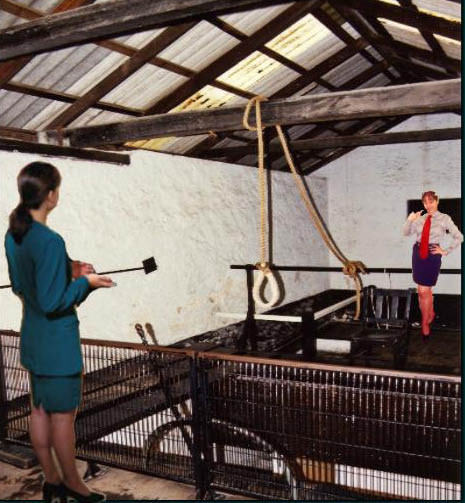 HANGING:
Aitz Bodade
The Innocent Prisoner (Sarita the Hangwoman)
Misplaced Revenge
Homecoming Gallows Dance
Ebon Robes
It Runs in the Family
Stupid Hangwoman
Grandma's House
ELECTRIC CHAIR:
Who Shot Principal Li?
Explaining Dual!
Training
Brandy
Was It Something I Ate?
Inside Dr. Frankenstein's Laboratory
Asian Championship
Rooster, Monkey and the Future
GAS CHAMBER:
Children of Jenova
Chapters 19 and onward. This process goes over several chapters but it's kind of hot.
MISCELLANEOUS:
Engine of Pain
REAL ANECDOTES
Actual accounts of women performing strapdowns in executions.
Mrs. Antonio Must Die Tonight
Ruth Snyder
Return To Home