Steve Sanders Tribute Page
September 17, 1952 -- June 10, 1998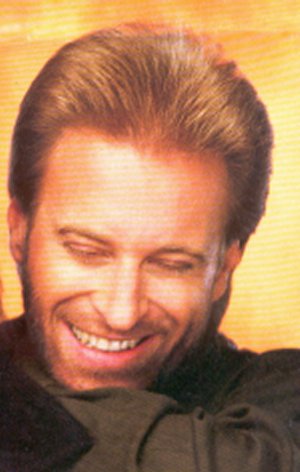 Steve Sanders sang baritone for the Oak Ridge Boys from 1987 to 1996, moving into the position vacated by William Lee Golden when he left the group. The five years prior to this time he spent as the group's rhythm guitarist. Steve's smoky-sweet baritone was featured on hit singles such as Gonna Take a Lot of River, Lucky Moon, Beyond Those Years, and No Matter How High. Steve had a smooth, distinctive and unmistakable voice.
Born Steve Herbert Sanders on September 17, 1952 in Richland, Georgia his talent was discovered quite by accident. Steve's father Herbert was learning to play a gospel song called "Not My Will By Thine Be Done" on the piano, frustrated, he stopping playing suddenly.-- A 1988 Chicago Tribune article quoted Steve as saying,
"This little voice, like a little angel's voice, just kept singing where he left off. He went looking to see where the voice was coming from, and he found me in my room sitting on the floor playing with my toys and singing. I guess I had learned it subconsciously, because he played it so much. So he said "Hey! My Retirement!! Come here, son."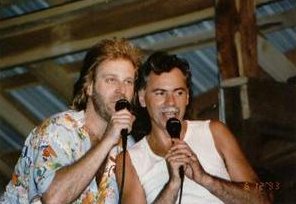 Steve and his dad started performing in area churches and were soon asked to sing on a local gospel TV program in nearby Macon, Georgia. In less than a year they were touring the Southern Gospel Music circuit, and "Little Stevie" cut his first record at the tender age of 7. Steve performed with such greats as the Florida Boys and the Sego Brothers.
He began his career as a child gospel singer billed as Little Stevie Sanders. At the tender age of 12 he auditioned for the role of Jody Baxter in the Broadway production of "The Yearling" and got the role. He had an 18 month run in this play. In the 1967 he landed a role in the film "Hurry Sundown" with Michael Caine, Faye Dunaway and Jane Fonda. By the age of 14, Steve had also appeared on television shows To Tell the Truth, The Ed Sullivan Show, Gunsmoke, and Noon Wine, a special staring Jason Robards and Olivia DeHavilland.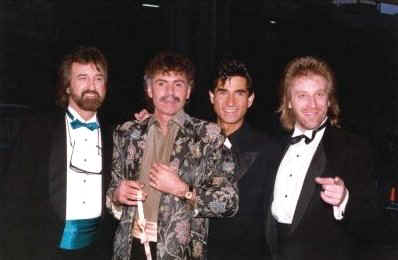 After his stint on stage, screen and television, Steve returned home to his first love, Southern style Gospel music. He began writing secular songs and at the age of 19 the course of his career changed. After moving to England he joined the British Rock scene for a short time, recording and performing with Mylon LeFevre, Alvin Lee (of Ten Years After), and Steve Winwood. He Recorded an album with the rock group Pyramid (Singing as well as playing keyboards, percussion and guitar). He moved to Nashville in 1977. After three years spent trying to establish a songwriting career, he moved back to Florida and gave up music entirely. In 1982, as he was about to embark on a three-year world cruise, Steve came back to Nashville to say goodbye to his friends, including the Oak Ridge Boys, who were friends from his early Southern Gospel days. A Chicago Tribune article quoted Steve as saying,
"They did about three days out on the road, and I went out just as a guest, and the band ended up asking me to be their lead singer. I wasn't being paid, I was just traveling with them, and occasionally they'd bring me out to do one song with the band. One thing led to another, and before long I was playing rhythm guitar for the Oaks as well as being the lead singer for the band."
Steve continued his songwriting while enjoying success with the Oaks Band. The Oaks recorded one of his songs, "Live In Love" as the B-side of their smash hit "Bobbie Sue." In 1987, he gave his notice to the Oaks that he would be leaving at the end of the tour to concentrate on building a song publishing company in Nashville. Little did he know what was to come - at the end of the tour, the Oak Ridge Boys voted out longtime baritone singer William Lee Golden, and asked Steve if he would consider joining the group as the new baritone. Steve was concerned that Golden would think he was robbing him of his place, and discussed the offer with William Lee before accepting the position:

"I went over to his house and told him the deal and said, 'What are your plans?' He said, 'I don't know, but they don't include singing with the Oak Ridge Boys ever again.' We smiled and shook hands."

Steve performed his first concert as an Oak Ridge Boy in July, 1987, being immediately thrust into the limelight in Las Vegas during a weeklong stint at Caesar's Palace. He was received well by critics and fans alike, and is generally credited as having revitalized the Oaks, whose career was sagging at the time of the split with Golden. While he was a member, the Oaks released seven albums - "Heartbeat", "Monongahela", "Greatest Hits 3", "American Dreams", "Unstoppable", "The Long Haul", and "Country Christmas Eve" (later re-released as "Christmas with the Oak Ridge Boys"). In 1990, after almost three years as an Oak, Steve described what it was like to a writer with The Elkhart Truth:

"It doesn't matter what the place is. The bottom line is we're on stage ...(and)... the audience is out there. It's the excitement, the energy. I have a saying: You can't fake real, and you can't fake steady. We genuinely love what we're doing ... the sheer love of what you're doing, that keeps you going."

Personal problems ultimately led to Steve's departure from the Oak Ridge Boys on November 4, 1995 (after which William Lee Golden returned to the group). He moved back to Florida with his second wife and stepchildren, and reportedly was writing songs and recording advertising jingles while trying to engineer a return to the Nashville music world he loved so much. Steve gave no indication why, late on the night of June 10th, 1998, he apparently locked himself in the bathroom of his home in Cape Coral, Florida, and killed himself with a single gunshot wound to the head. He leaves behind two children, Gaylea Sanders McDougal and Sevren Sanders; two grandchildren, Bayley and Austin McDougal; a widow, Janet (nee Riggins); two stepchildren, Brooke and AJ; his parents, Herbert and Lorraine; one sister and one brother; and countless friends and fans who mourn the loss of a good man ... and a great talent.
Sources:
-----. "The Oak Ridge Boys' Thoughts On..." The Elkhart (IN) Truth, 18 February 1990.
Hurst, Jack. "A new leaf: The latest Oak Ridge Boy is searching for some roots." Chicago Tribune, 14 August 1988.
Hurst, Jack. "Sanders is thrilled to become Oak." Chicago Tribune, 21 May 1987.
"Oak Ridge Boys Deliver" (press release/bio). Distributed by the Oak Ridge Boys International Fan Club, 1984.
Steve Sanders Website --http://www.geocities.com/Nashville/4043/steve_main.html
---
Links:
The Steve Sanders Tribute Page
Terri Anderson Webmaster [email protected]
©www.mightyoaks.html                                                                                                          Not an official Oak Ridge Boys Website