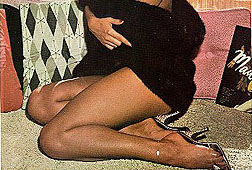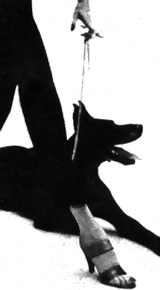 BEFORE THE 1930s, SHOES THAT EXPOSED A WOMAN'S TOES WERE CONSIDERED IMMODEST. AFTER WORLD WAR II, SUCH RESTRICTIONS WERE DISCARDED, AND WHAT HAD BEEN TABOO WAS CELEBRATED AS A SENSUAL DISPLAY OF FEMININITY.

THROUGHOUT THE 1950s AND THE EARLY 1960s, THE EROTIC APPEAL OF STILETTO-HEELED SLIDES MADE THEM A FAMILIAR ACCESSORY IN PINUP PHOTOS; BUT THEY WERE POPULAR AMONG WOMEN AS STREETWEAR, TOO. THE FASHION OF WEARING SLIDES BAREFOOT OR WITH SEAMED NYLONS ENABLED WOMEN TO BE SEXUALLY PROVOCATIVE IN PUBLIC DURING WHAT WE THINK OF AS A SOCIALLY CONSERVATIVE PERIOD.

SOME OF THE VINTAGE SLIDES IN MY COLLECTION ARE PICTURED BELOW. OLDER SLIDES ARE MOSTLY FOUND IN SMALLER SIZES: THE AVERAGE WOMAN'S SHOE SIZE HAS GOTTEN LARGER OVER THE PAST 50 YEARS, SO I CAN'T WEAR ANY OF THESE SHOES. BUT IT'S FUN TO SEE HOW STYLES HAVE CHANGED OVER THE YEARS AND WHY SLIDES HAVE REMAINED POPULAR-AND SEXY-FOR SO LONG.