We are the Chozen Few!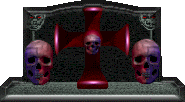 *Hackers are not bad people!*
*We create HARMLESS programs and files.*
*Crackers are the people who create viruses and destroy things.*
*If you want to do that then this is not the site for you.*
The CF Hackers would like to welcome you to our site.We are a group of hackers who create movies, images, and games for fun.These are for our own entertainment. We currently have a few ElderScrolls III: Morrowind, Diablo II, and Star Wars Knights of the Old Republic 1 & 2 mods. We now have a Taggit board and Chat room. Our Forum should be up and running in a few days along with some other content.
Feel free to check out anything here.Free E-Mail is being added as we speak.We hope you enjoy your visit.Sign our guestbook before you go.It's at the bottom of this page.You can also leave us a tag on our taggit page.When at CF Hackers it's good to play!
*CF Hackers is looking for new members.If you know how to make game mods and are interested send an e-mail to NightShine.*
Site design and construction by NightShine. Art and graphics by Neo.
view my guestbook | sign my guestbook
get your free guestbook