by Nicole Anell
Why hello there! I'm your guide, Miss Nicole Anell to you. This is a site about ROSWELL, the lovely television show for which I tread the thin line between jaded snarkiness and genuine love. Because of continued fan interest, this site will continue to be updated once in a while for the time being, despite the fact that Roswell has been cancelled. Twice.
Recent Updates
7/6/03 - Dani has a couple of new wallpapers of Max/Tess and Emilie de Ravin.
4/9/03 - More new wallpapers. A couple of new Buffy videos.
3/21/03 - Dani made 2 new wallpapers - one Liz/Kyle and one of Brendan Fehr. Check them out! :)
3/5/03 - Added a Michael/Isabel video to my music video page.
2/6/03 - Not so much in the way of a real update, but I added a new affiliate in CandyDreamGazer Flashes. More music videos is always a good thing. (*cough* speaking of which, anyone who wants to see me all branched out with a Buffy music video site, feel free to click. And remember "temporarily unavailable" is just Angelfire's way of saying I love you.)
Cult Fiction
My Roswell Fanfics - Come on in and read 'em.

Starchild University - A round-robin fic I co-author, created by Lavinia Malfoy.

Acknowlegements - I take a moment to thank the little people.
Roswell Fandom A-Z
Fanforum Glossary - A guide to all those crazy shipper names and abbreviations

Fanfic Dictionary - A listing of common fic-related words like foof and filk (say that three times fast)

An Episode Guide - Maybe it's not the kind of guide you're looking for. Then again, you probably know all the episodes already, don't you?

Son Of An Episode Guide - The Thing That Wouldn't Die, season three. It's back. And I'm bitter.
Miscelleneous Fun
Cliques and Fanlistings - I'm listed. You can be too!

Roswell Soundtracks - It's all about the music

Mighty Big TV Presents: Roswell Survivor! - An archive of the MBTV forum parody. Relive the confessionals, immunity challenges, and tribal councils. Or discover them for the first time.

FAAAB - The Abridged Version - See "Four Aliens and a Baby" like you've never seen it before.

Dani's Roswell Wallpaper - Awesome art to decorate your computer with.

Roswell Dollz - Some cute little guys I made. Mostly Max/Tess and alien stuff.

Roswell Music Videos - Fun with montage movies!

Ellen's Roswell Songs - My friend Ellen likes to (*cough* copy my ideas) make up new lyrics to popular songs so they relate to Roswell.

Roswell Personality Tests - Which "Roswell" character are you? Find out!

The Roswell Pants Page - "Pants" is a funny word.

Funny Screencaps - Wherein Max sucks Tess's nose and Liz & Maria take their clothes off for Michael.

Shameless Plugs - Links and links and links
Who In God's Name Am I?
My Old AOL Homepage - Well, it hasn't been updated for quite some time, but here's a basic idea of who I was in, like, 1999. It's close to who I am now.

Link Me, Baby! - Stick a JARRP button on your site.

....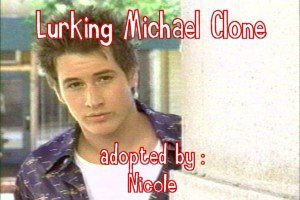 This is JARRP's official mascot, Lurking Michael.
To adopt your own Michael, go to Roswell Underground's Michael Clone page
....
....
The background on this site was made by Bridget Kath
"Roswell", it's characters, episodes, etc. are owned by 20th Century Fox, Melinda Metz, Jason Katims, all the producers, writers, actors, etc. DON'T SUE.