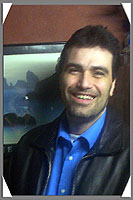 Hello I'm Nick D'Aleandro, welcome to my web site. It all started way back in 1968 in a little place called Isernia Italy, the birthplace of my parents. It was there that my journey into the world of art started. From very early on, I liked to draw and doodle for fun, watching others do creative stuff. I also loved to play and have fun on my grandparents' farm and watch them work. When I was five, my parents and me moved to Toronto.

When I got older I took an art history course at York University. I enjoyed studying the great classical masters from the renaissance, like Leonardo Davinci, Michel Angelo, Rafaello, Bernini, right up to modern day contemporary artists such as Klee, Miro Giger Modigliani, Picasso, Moore, Matisse, Rodin, Leger, Syd Mead. They all played a major role in inspiring me, in to becoming an artist.

I am a visionary thinker with visionz of the future, and capable of relating my thoughts and feelings to others through my work. I had my first exhibition at York University entitled "Utopian Vision" back in 1994. Followed by another exhibit, at Columbus Center. Entitled "Vision Future" I received plenty of television coverage, mostly from the CBC, City TV, Telelatino and Global. My work was very well received, they thought my work was very provocative, stimulating and intriguing.

I taught art in schools for a few years. The first school I taught was at Leonardo Davinci Academy grades five to eight. I shared with the kids my great life long passion for art. Collaborating with a talented group of children we created a large matchstick mural on painted plywood. I also created a huge sculptural piece of an architectural fountain, which was displayed for two years at the Boccaccio restaurant, located at the Columbus Center. Then I did a smaller commissioned piece for a man in Montreal. Two years later I did a retrospective on my work at the "Columbus Center" and people enjoyed it very much.

These days I work with "Spin Entertainment" a local animation company, in Toronto, which is in the process of developing a project I helped, create called Alien Earth. In the meantime I'm a scouting agent for both Spin and my own joint company called "Spinfactor" and "Vision Future" with a different group of individuals from many diverse backgrounds.