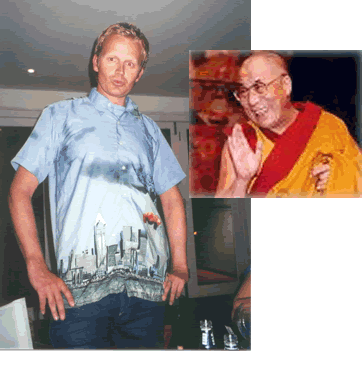 What the face-off might have looked like
Nick Sheeran displaying phenomenal moves has defeated the exiled leader of Tibet in a no-holds barred battle billed as "Busta Buddhist"
Tickets had been sold-out three weeks before the much anticipated fight, which took place in the Tibetan city of Xeger.
Nick using his Brazilian Capoeira moves, very much like old-school break dancing, weakened the Lama who remained motionless for the entire contest. The fight lasted just 6 rounds.
The defeat of the world renowned pacifist is the first fight in Nick's attempt to beat all the great world leaders. Next in line is Governor-General Dame Ivy Dumont of the Bahamas.


LINKS TO MORE ASIA-PACIFIC STORIES


ASIAN GIANTS' TROUBLED TIES

KEY STORIES


BACKGROUND



Uneasy neighbours
History and analysis of China and Japan's difficult relationship



IN PICTURES


Beijing voices

Views from Japan

HAVE YOUR SAY



RELATED INTERNET LINKS:
The BBC is not responsible for the content of external internet sites

TOP ASIA-PACIFIC STORIES NOW