GEOCITIES EMAILED ME TO TELL ME I NEEDED TO UPDATE THIS SITE OR IT WOULD BE DELETED. SO HERE I AM, UPDATING THIS SITE...AGAIN on Novermber 11 2006
CHENEY BACK TO HOSPITAL! DOCTORS TO IMPLANT MIGRANT WORKERS IN HEART TO CONTINUE VP's LIFE
Vice President Dick Cheney is entering the hospital yet again for an irregular heartbeat, marking the 3rd time since November that American's first prime minister will undergo some type of heart surgery, bypass, or study. Further evidence is revealing a White House shuddering at the prospects of a resignation.

21nickels has learned that Cheney met with doctors as early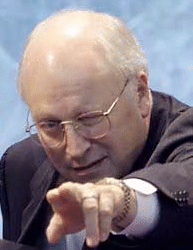 as last week, and after a series of interviews and things and what not, has now agreed to undergo a strange, cutting-edge, and revolutionary procedure.

Doctor Albert Catharsis of Washington D.C. will implant a nation of migrant workers in VP Cheney's heart to continue it to beat and enable it to make blood flow. The operation, which is being kept private for many reasons, will be Catharsis' first time working on someone in government.

"I have not worked on anyone famous," said Catharsis, to 21nickels, "just some sexual perversions from Pennsylvania, and a few inmates from New York state."

Famous for his revolutionary "penis tubing" operations, Catharsis' solution for many problems is to connect a series of tubes from the genitalia region to the lower back, enabling proper blood flow, but also painful bladder infections.

In this situation, secret service officers have thoroughly looked over Catharsis' mental background, and found him fit to operate on Cheney.

The prospect of a nation of migrant workers, though, is what is creating panic at the White House. Some insiders told 21nickels that they fear "warfare, monetary plight," and some even go as far as saying "ethnic cleansing might take place in Dick Cheney's heart."

Kathy Lee Gifford, according to sources, will take charge of the migrant workers, and perhaps even make a profit on the side. There will no sleep, no rest, no happiness, as the cheap dollar and hour workers will continuously pump blood from the Vice President's heart to his body, enabling him to live. Gifford will also open a shop this fall, selling clothing that will be made in Cheney's heart. "There are four chambers," said Gifford, "and I am going to designate one chamber as the cheap migrant working clothing sweat shop."

Michael Jordan has also expressed interest in production of shoes, and yogurt.
Democrats are already seizing the opportunity to capitalize on Cheney's case.
And some in Congress are frantically writing new legislation to increase the minimum wage in Cheney's heart.

G.O.P. operatives fear, though, if Cheney resigns in the future, Bush would take over office until another Vice President is found.
DEVELOPING.