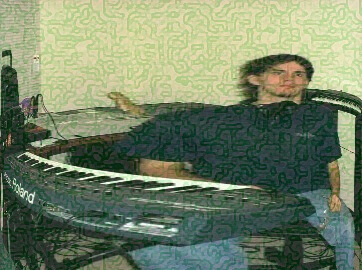 Nickateen (otherwise known as nick davidsavor) was born in the year of our lord 1980. Raised in northwestern wisconsin there wasn't much to do so his mom bought him a stratocaster for christmas of '94. this changed everything for the young buck of age 14. He was obsessed with Nirvana at the time so he learned how to play just about every one of their songs. This would be his guitar teachings, tab books of Nirvana. No lessons for Nickateen, oh no.

Christmas '95, his good buddy Austin got his very own stratocaster. Austin borrowed Nick's tab books often. He was also self taught by Nirvana books. In '97 Austin hooked up with fellow guitarist Dave Mettler who's father was a pastor. Well, Austin n Dave took full advantage of the church for rehearsal space. Nick got jealous cuz he wanted to jam too! About this time Austin hooked up with drummer Tim Hoel, 3 years younger than Nick and Austin, but he was just about the only drummer in town, so Tim jammed with Austin and Dave a few times before Nick got in the picture. By this time Nick had bought a bass guitar with the mad loot he was making at Jimmy's Pizza. So he brought his bass out to the church one day, where a dog roamed in his Aries for awhile, then they got serious. They named the band "Blister" then "Band-Aid" They recorded one sole song straight onto plain old audio tape. The wearabouts of it these days is either Tim has it or it was left there with Dave. It was good times, apparently. There was a problem brewing though. Dave wasn't into the same tunes as Nick and Austin, so he got the boot.

Having nowhere to jam the 3 young bucks' new jam room would later be at Nick's house. But before that happened Tim wasn't in the picture for a few months so they decided to record some stuff they've been making on their bud's computer. It was sweet, Vern had a fairly prime sound card so all was well. By this time it was spring of '98. This is where the first recordings came from. Mosquitodub, Prazdub, Trav n Rose, Cuntrydub, and the infamous "Krollsux." Austin had recorded a song with only guitar, and one day Nick found it and decided to pull a prank on his buddy. But he was afraid if Austin listened to it, he would kick Nick's ass. But Austin was a sport about it. He retaliated with "Nick's piece of shit car." This is about the time Nick, Austin, and Vern's mutual friend Trav came over to see what was up. Trav is a real character, who was voted class clown the next year. He decided to record ad-lib vocals over a few song's we'd made. They ended up to be very funny and outrageous. They had a blues song called "Bluesdub" when Trav recorded words over it , it ended up as "Schlong Warts" or "Schlong Blues." BUT...they had no drums on these recordings, so they recruited Timster again.

Vern's room was way too small for a drum set so they headed out to Nick's house. They called themselves "The Super-Wah Experience." They had a few jams and one day brought Vern's computer to them, and also videotaped a bit. These songs were "Post Prom" "Emotions" "Girls Suck" "Big Hairy Belly" etc. This is when Trav met Nick's aunt Rose, a grade behind the rest of them. Then the good times ended, cuz Trav was too preoccupied with her. He quit the band shortly thereafter. Then they graduated from high school.

In June '98, the remaining 3 jammed a few times in Tim's garage, recording on Nick's new 4-track. Then they went back to Nick's, where they jammed for the rest of the summer. And that was pretty much it. Austin went on to college in Saint Paul in September, Nick and Tim didn't keep in touch. This is the time Nick bought a beatbox. But Austin did come up some weekends to record with Nick. These songs were "Death Cymbol" and "Chillin". After that Nick was left to his own deviced. Vern had moved to Duluth to go to college, so Nick and his buddy Justin got up to plenty of trouble. But that's another story. Austin came back the following summer and this is where they recorded "No One" "Trip Funk" and "trippy jam."

Spring of '99 Nick quit his pizza job to make the big bucks at Durex in Luck, WI. There he met Erik Bobzin, percussionist and trumpet player for Dynamic Dan & The Master Plan. For the past 2 years, Nick and Austin had been going to local shows and they really dug Boogiewack and DDMP. Both bands were excellent funksters of the scene. So Erik and Nick started messin around with the beatbox and Nick's new sampler. Dan Tricker, bass player extraordinair was also involved in the first couple jam sessions. They later went on to record tons of weird experimental shit, and the whole band (except for their singer Ray) got involved. It was good times. Nick later relocated to the twin cities of minnesota August '99.

From '99 to 2001, 4+ albums were made and plenty of good times were had making them. Nick came up with a new alter ego project called Excrement, where the computer is the only instrument involved. He hasn't had any money to finance new albums since the end of 2001 so if u would like to make a donation send me an e-mail. He had still been productive in 2002, with quality songs being written and recorded. He was also in a local cover band called Elixir playing keyboards and guitar when needed. His good buddy Austin is out of the army now and living back home, so they are in the writing stage of several new and old songs with Nick on bass. A new project called "Eye Pi" has been conceived and is starting to grow and show, but will be there until delivery.



Stats:



Name: Nicholas Davidsavor
Age: 25
Favorite past-time: making music while smoking a cigarette and drinking apple juice or a 40oz. Mickey's
Favorite song of the week (5-07-06):the entire new Tool
Past Band/Project Names(real and fake)(copyright): The Slimy Slugs, Band-Aid, the Defaults, Blister, The Super Wah Experience, Turdbuster, Skunky Bowl of Funk, Funky Bowl of Skunk, Nixter sideproject, chicken of the sea, Really Weird Shit (or poop)(edited) and now Nickateen.