Delete your Offline Messages with "Yahclean"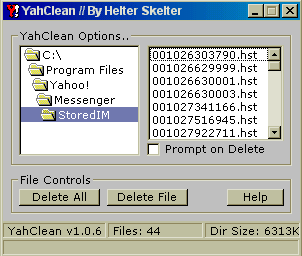 "Yahclean" Program help the Yahoo! Messenger user to delete Offline messsages. This program found to be very useful when the offline messages contains booting virus which keep booting when u open Yahoo! Messenger, for that you can first delete offline messages....Click here to download this program for free "Yahclean"
---
Copyright © 2001-2002 nick007_k™. All rights reserved.
Images are made by me . All rights reserved.
Revised: August 15, 2002 .