Yahoo! Messenger - IMVironments™

List of Available IMVironments
Wonder what each IMVironment can do? Just look for the symbols below to find out :
Buzz Friends Custom Emotions Video Muisic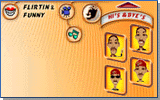 [email protected]
This IMVironment goes Hollywood, as humorous sayings by celebrity Will Smith, accompany dozens of animated emoticons. People can also share music clips, video celebrity interviews and movie trailers all within the window of this IMVironment. Believe Dat!
Download Now!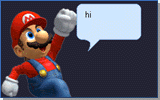 Nintendo - Super Smash Bros. Melee
- Screenshots of the upcoming game, Super Smash Bros. Melee, can be previewed and sent through this IMVironment. Gaming fans can also become any of Nintendo's 13 most popular characters including Mario and Donkey Kong when instant messaging their friends.
Download Now!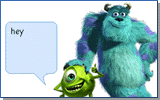 Monsters Inc.
Put a little mayhem in your Messenger with the new Monsters Inc. IMVironment. Check out the movie trailer, buy tickets to a show near you, and for a monster sized thrill, turn off the lights!
Download Now!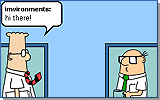 Dilbert
This unique layout takes people directly into the Dilbert comic strip as they see their messages appear inside of Dilbert's and officemate Wally's chat balloons. Dilbert's boss appears momentarily with satirical office humor when friends "buzz" (Ctrl + G) one another.
Download Now!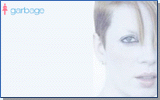 Garbage
While watching and sharing an exclusive photo montage of the band Garbage, people can now listen to Garbage's newest single, "Androgyny," directly from the Yahoo! Messenger window. Fans can also buy Garbage's newest CD from within the IMVironment window.
Download Now!

Showing 1 - 5 of 14 | Previous | Next