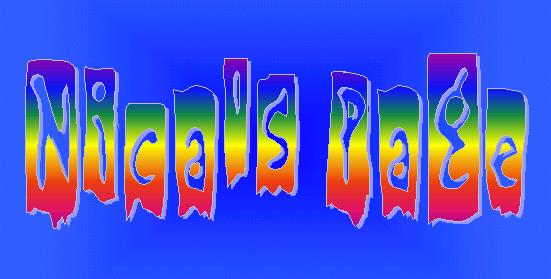 * Nica's Currently *







Site is being major-updated for 2004. In the meantime you can do what I do while bored and explore



I play Neopets...

Here are my four lovely pets! They each also have a special page of their own, click on their name to visit it!








*~Jaminjo~*
*~Kamincha~*
*~Cazzerz~*
*~Kouzzer~*
...Because I am a...

---


...Visit regularly The Best Page In The Universe

Laught at a dude called Strong Bad

Play Goodnight Mr. Snoozleberg



Do trivia at 18+chat

Check out what people's names mean at ZeLo

Get decisions decided by someone or something other than me, which is the Magic 8 Ball

I do tons of quizzes at QuiZiLLa



Find out my gender, how smart I am, if I'm pregnant at The SparK



When I'm really bored... I go to Bored.Com

Make fun of LOTR characters by reading their Diaries

Translate stuff into French using Le TranslatoR




---


What's it like outside?

What's goin on?

I am lost!