Duane Allen
April 28th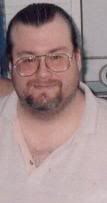 Pet Peeves
Know it alls ~ Racists ~ when someone talks behind your back and then lies about it when confronted ~ smoking without asking people if its ok ~ not returning a phone call ~ alcoholics ~
Hobbies over the Years
Building webpages, Role Playing, writing, playing games, going to movies, board games, card games, itsyourturn, goldtoken, newopets, bowling, shooting pool, darts, collecting stamps, baseball cards, playing video games.

Growing up I wanted to be a: Baseball Player and a Chef

Places and events I've been to or seen:
Walt Disney World Twice(Florida)
Great America (Outside Chicago)
Bush Gardens(Florida)
Pier 33 (California)
Saw Alcatraz from a distance (California)
Worlds crookedest street (California)
Saw Savage Garden in Concert(Michigan)
Museum of Science and Industry (Chicago)
Brookfield Zoo (Chicago)
Lincoln Park Zoo (Chicago)
Cubs and Sox Games(Chicago)

States I have been to:
Indiana, Illinois, Ohio, Wisconsin, Florida, Tennessee, Michigan, California.

Places I'd like to visit: Ireland - Egypt - Scotland - Canada - every state - grand canyon - castles all around the world -

Favorite Quotes: "Can't sleep clowns will eat me" ~ "Add some Happy Little Tress" ~ "She Wants Me" ~ "Run Forest" ~ "I'm a Virgin ask my son" ~ "Fuck off and have a Pleasant(or nice) day" ~ "WAZZZZZZZZ UP" ~ God Bless you" ~ "I got you (any word here) right here in my pants" ~ "Step off or get stepped on" ~ "Your the man Dawg" ~ "You greedy white devil" ~ "Justice is blind but it sees in the dark" ~ "EEEEEEEEEEEEE!" ~ "I didn't do it" ~ "Ima Hafta" ~ "Love me or hate me, you'll never forget me." ~ "As God is my witness I thought turkeys could fly" ~ "Get up Johnny you ain't no daisy" ~ "I'm your huckleberry" ~ "(must say this while running your fingers through your hair)"Yeah thats the stuff legends are made of." ~ "Its hard to look this good" ~ "Don't sweat the small stuff" ~ "I am a vast wealth of worthless knowledge" ~ "Excuse me but I couldn't help but notice your breasts were making eye contact with me." ~ "Nothing is kinky as long as both people enjoy it."

Things you may not know:

I am an Ordained minister through 3 seperate churches.
I used to Coach Little League and American Legion Baseball.
I was the official Indiana State Little League Tournament Announcer for 3 years.
Eats Big Mac Layer by Layer instead of all at once.
I never want to be taken off of life support. Plug me into your car lighter if you have too.
I'm Deaf in my Left Ear
I am color Blind
I am diabetic
Was an Indiana District 1 Umpire for a year.

Favorites:
Color ~ Orange

Authors ~ Stephen King, Dean Koontz, Cliver Barker, Peter Straub, Belva Plain, Poppy Z Brite, Andrew M. Greeley, Gore Vidal, Patricia Cornwell

Movies ~ Daddy Long Legs, Silver Streak, Blood Sport. Rocky Movies, Star Wars Movies, Waterboy, Happy Gilmore, Star Trek Movies, Stargate, Tombstone, Wyatt Earp,Independance Day, Ground Hog Day, War Games, Holiday Inn, The Breakfast Club, Pump up the Volume,Pirates of the Caribean, old pirate sword fight movies, old B monster Movies, 50 First Dates, Major Leagues, Rookie of the Year, Field of Dreams, Bull Durham, Underworld, Its a wonderful Life

Actors ~ William Shantner, James Spader, Tom Hanks, Kevin Bacon, Forest Whitaker, Sean Connery, Jeff Goldblum, Steve Buschemi, Fred Astaire, Bing Crosby, Bob Hope, Gene Wilder and Richard Pryor, Three Stooges, Abbott and Costello, Judd Nelson, Johnny Depp, Matthew Broderick, Adam Sandler, Charlie Sheen, Emilio Estevez, Adam Sandler, Jim Carey.

Food ~ Clam Chowder, Steak, Shrimp, Lobster, Spaghetti, Pepper Steak, Sitr-fry, anything with Garlic and Mushrooms, Cheese Burgers, McRib, Nicas Cajun Chicken, Potatoes, Veal Parmigiana, Chicken Parmigiana, Lasagna, Mostaciolli, Pork Tacos, Stroganoff, Wraps, Subs, Barbecued Chicken, Polish Sausage, Stuffed Shells, Peach Crisp, Cheese Cake, Chocolate Ice Cream with Nuts, German Chocolate Cake, French Silk Pie, Brussel Sprouts, Sauerkraut, Pierogis.

Games ~Euchre, Spades, Hearts, Murder(Progressive Rummy), Pinochle, Sims, Sports video games, Ms Pac Man, Wizard of Wor, Summer Games, Momopoly, Mille Borne, Racko, Skip-Bo, and Role Playing.

TV Shows ~ Boston Legal ~ OZ ~ The Shield ~ Survivor ~ David Letterman ~ SpongeBob ~ Family guy ~ Charmed ~ Johnny Bravo ~ Simpsons 2 Stupid Dogs ~ Courage the Cowardly Dog ~ Fairly Odd Parents ~ Jimmy Neutron ~ Law and Order ~ Law and Order SVU ~ NYPD Blues ~ Weakest Link (with Ann) ~ Who wants to be a millionaire (with Regis)~ New Detectives ~ Unsolved Mysteries ~ Cold Cases ~ Forensic Science Shows ~ anything on ufos ~ Stuff on History.

Childhood toys ~ Wiffle Balls and bats, Nerf footballs, monopoly, a sprinkler.

Drink ~ Mountain Dew (can only drink diet now sadly)~ So Now its Diet Cherry Vanilla Dr. Pepper. DIet Mug Rootbeer

Holidays ~ 4th of July, Ground Hog Day, Mother Fuckers Day,

Sport ~ Baseball

Athletes ~ Bill Buckner, Sammy Sosa, Roger clemens, Ryne Sandberg, Dave Kingman, Greg Maddux, Charles Barkley, Dr. J., Moses Malone, Walter Payton, Dan Fouts, Mike Singletary, Brian Urlacher, John McEnroe, Gabriella Sabitini, Jennifer Capriati, Baby Joe Mesi.

Dislikes:
Boiled chicken and wet nappy dough (chicken and dumplings)
Hominey
Mayo




Memories

Telling Carl Mezarous that his mother was a hooker.
Hearing Carls named butchered over and over in little league by the announcers, my personal favorite was muskrat.
Playing Wiffle Ball in the back yard in Gary trying to clear the green monster.
The little League World Series at Junedale Little League.
Working the scoreboard during the Little League World Series.
Growing up with Janette, Jennifer, and Julia Diaz.
Playing 500 at the field at the end of our block in Gary.
Playing king of the mountain in the same field when the plows pushed all the snow into the field.
Snipe Hunting in the field with pillowcases and banging pots and pans.
Playing Bounce off the wall at Junedale.
Staying up past midnight the first time watching King Kong with Janice Cassiday.
Travelling for baseball games with the fellas.
EEEEEEEEEEEEEEEEEEE
Hammond Please!!!!!!!!!
Can of Corn
Dream where Kirby Puckett tried to kill both of us when I told him I didn't want him.
Dream where Pikachu abused me sexually
Listening to the Cow channel with nica and laughing so hard that I had to pull over because my vision was filled with tears and I couldn't breathe.
Singing Honky Tonk Donkey, If I were a Fish, Nadine Needersnatch, Shit covered Sponge and many more songs.
Writing Fat white wh*** with Bob Dieter in college.
When I thought daisey dukes were shoes and the letter Mark and Trish sent not long afterwards.
Making the heart attack in a box cookies with Trish, Brian, Aj, and Jakey over the years during Christmas season.
Doing the Turkey dance amd accompanying song with NIca
Making turkey voices
The car accident on 30 Chris and I were in that the old man flopped in the road when he saw the cops coming.
Car Accident with Mark where I hit a parked car because we turned the lights out and went TPING.
The trips to Tennessee with Chris.
Watching cops on tv in Tennessee when over the cb radio came a call saying Julia wrecked my car.
Watching movies with AJ, Star Wars I & 2, Big Daddy, Charlie and the chocolate factory, and Fun with DIck and Jane.
Watching presidio and Midnight run at the movies with Mark and Brian because of some stupid tupperware party at the house.
Sitting in the front row of a movie theater watching War Games with Mark, Brian, and Carl.
The millions of times the fellas played video games together.

Visiting Florida and playing volleyball in the back yard with grandpa Newlin and the rest of the family.
Being in the car with Grandpa and Grandma Newlin in Hammond/Griffith/Munster and Grandma Newlin giving Grandpa directions and four streets in a row saying "Turn left Rudy". Grandpa made fun of her for like 15 minutes,, turn left Rudy turn left Rudy.."
Leon and Torrence living behind us in Gary.
The Cage holding the dogs behind our house we had to worry about when hitting a homerun over the Green Monster.

Nick Names
D, Dewey, Kermie, Hank, I'm Paul, Abraham Johnson, Homer, Bubba, Akeem