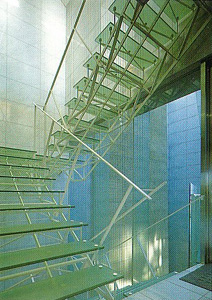 Water and Glass
Reflection and translucency in a seaside villa

The glass and metal style has become one of the signatures of modern Japanese building. On this site overlooking Atami, the popular hot-spring resort on the Izu peninsula southwest of Tokyo, is a spectacular villa in which water is a key component.

Here is a visual play on translucency and reflection so as to project the principle part of the villa into the surroundings of sea and coastline. The front of the upper floor of the three-level structure is a cantilevered slab of steel and granite over which water flows to a depth of 15cm, giving the effect of an infinity pool that appears to merge with the Pacific Ocean below. The two glass-walled bedrooms look out onto this, while from between them projects the striking oval dining room, surrounded by water and accessed by a glass corridor.
The staircase in Steel and green glass, occupying a large three-story well, is lit both from above and below. A glass footbridge at right leads to the mid-level entrance.



Morning light pours into the principle bathroom, and is both reflected and refracted around the glass and mirrored surfaces.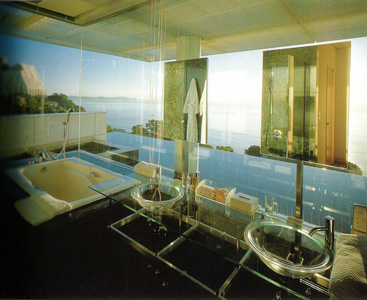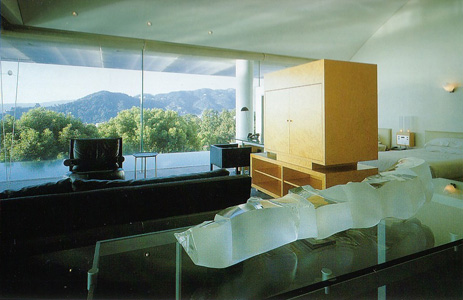 A glass sculpture, its surfaces scalloped to suggest the action of water, occupies a glass table in the south facing bedroom.
The front bedroom at sunrise. It has its own sitting area partitioned from the sleeping area by a simple, free-standing cupboard made from natural wood and a glass and steel dressing table.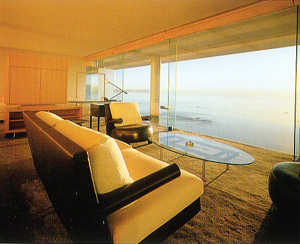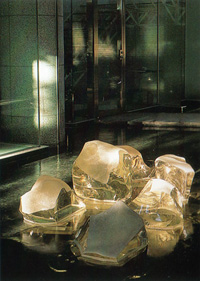 At the base of the stairwell, sculpted glass boulders in an enclosed pool sparkle in the sunlight.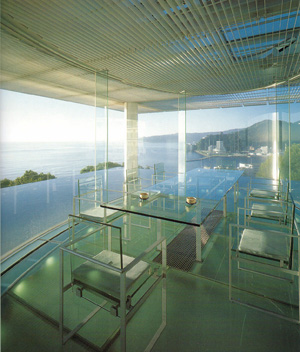 Sunrise over the Pacific illuminates the transparent dining room with its green translucent glass floor. Beyond the curving glass wall, the surrounding water appears to merge with the sea.

Exploiting the 270-degree view of to the full, there is an illusion of floating over the sea. "On the reflecting pool, there are three glass structures -- two square structures and one oval. There is no edge to the water. Just the water itself." The steel louvred roof extends over all this, helping to control the temperature while retaining the lightness of the structure and adding a distinctive chiaroscuro pattern that shifts across the pillars and surfaces throughout the day.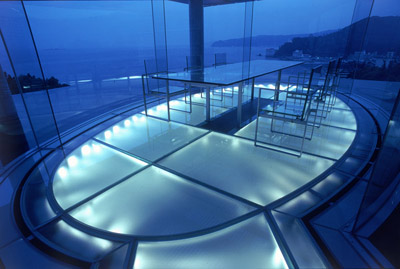 © 2003 JeffNguyen.com. All rights reserved.