THE STORY OF A MISSIONARY IN A HOSTILE COUNTRY
PASTOR CINIRAJ, a missionary to India, recently received a threat from a Muslim concerning his family's safety and that his legs and arms were to be cut off.

His children were poisoned while taking a public bus home. A lady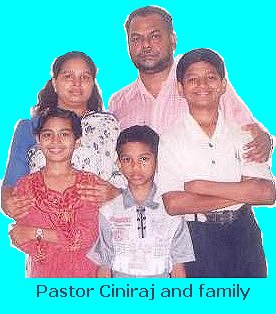 who claimed to be a ministry gave them chocolate loaded with poison and the children had to be rushed to the hospital, barely getting there in time.

His daughter had to be rushed back the following day and the doctors thought the poison may have damaged her lungs. She lapsed into a comma and had been unresponsive for approximately 30 hours.

Below is the report I received this afternoon, PRAISE GOD!!!!!!
My dear Saint of God

Praise be to Jesus Holy Name!

My 12 year old daughter Hepzy was unconcious about 30 hours. Myself, my wife Mercy, our boys Besly and Lesly knelt down before our Lord around her bed and was praying with full of tears. My sons had been recovered from the trouble; and were with us at the same room.

We were sure that hundreds of the children of God like you were praying for Hepzy with tears at that time.

When we were praying we saw Hepzy's face became so bright. Though her eyes were closed, but smiled with full of Joy. Quickly she lifted her hands up and was trying to catch something. We assured she is departing from us. My wife and children cried aloud. I tried to control; but couldn't.

Duty doctors and sisters rushed into the room hearing our cries. Doctor was attempting to check her pulse. But before he was checking the pulse Hepzy got up automatically from the bed.

Her hands were up and we clearly felt that she was holding something in the space. She was calling "YESHU APPACHAA...., YESHU APPACHAA...." in our mother tongue. (Yeshu=Jesus; Appacha=Abba). Then she opened her eyes.

She looked into her hands with an amazement, then looked up to the space, again to the hands and fingering a point, said: "AVIDE YESHU APPACHAN!" (There is Abba Jesus).

I hold her hands and called her by name. Without any problem she recognized all of us. She realised that she is in the hospital. It was about 1'O Clock at midnght.

She wanted to eat something. So doctor checked her thoroughly. And asked us to feed her something light. She is having little temperature. Doctor prescribed a tablet and she had it. Before go to the bed we praised our Lord together. Hepzy praised the Lord and prayed with a new power. PRAISE THE LORD! OUR GOD IS THE LORD OF MIRACLES! LIVING GOD! MIGHTY SAVIOUR!

Now Hepzy is taking rest. Mercy, Besly and Lesly are with her. I came home to convey this miraculous news of our Mighty Lord answered the prayers of precious and spirit filled children of God like yourself for Hepzy and gave her life back for His glorification. Please pray that our Lord may make use of her as His witness to win many unto His fold.

No! I will never turn back from the Lord. At any cost winning the Muslim world and the third world unto the Salvation of Jesus is my ultimate aim. The death may embrace me. Doesn't matter! For to me to live is Christ and to die is gain.

Once again thank you for your valuable prayers and timely sending the messages of encouragement. We have only few people praying for us and asking our howabouts. In which you are the one. I will never forget it. May God give you reward and bless you, your
family, your collegues and your ministry. We always will be remembering you in our prayers.

Yours friend and brother

Bro. PAUL CINIRAJ,
SALEM VOICE, BASEELIA, DEVALOKAM,
KOTTAYAM, KERALA-686038, INDIA
I am truly at a loss for words as I forward this!
PRAISE GOD PRAISE GOD PRAISE GOD PRAISE GOD PRAISE GOD!

I received the following email from Pastor Ciniraj this morning. Man, the email he received from this Muslim makes me want to literally jump in pure exhiliration! (See Below) This is a wonderful testament of our Lord and Savior Jesus Christ! A modern depiction of Damascus road!!!!

In His Service,
Reverend Gary L. Laymon
My dear Saint of God

Praise be to the Lord Jesus!

Please pray for the person who sent the following mail.

If he is true, may God forgive him, protect him from the enemies and bring him unto HIS Mighty Salvation. Also make use of him as a vessel of witness to win many unto the fold of Jesus our Saviour.

PRAISE YOU JESUS ! THANK YOU LORD ! YOU ARE
WONDERFUL, COUNSELLOR, THE MIGHTY GOD, THE EVERLASTING FATHER, THE PRINCE OF PEACE ! WE WORSHIP YOU AND ADORE YOU FOREVER AND EVER !

Yours friend and brother in the bond of Calvary's Love

Pastor Paul Ciniraj,
Salem Voice, Baseelia, Devalokam,
Kottayam, Kerala-686038, INDIA.



Subject: Forgive me

To
Siniraj Muhammed

Sir
I want to confess something before you. Please forgive my sins and pray for me. I could not even sleep a bit since last few days. Sometimes I feel I'm going to be mad. If you pray, your living Lord and God will give me good sleep and heal me from mental worries.

I was one among those who tried to destroy your children last week. We wanted to give you a big shock and wanted to bring you back to Islam as a good weapon against christianity. Our operation did not succeed. I was watching with two others with an ambulance nearby the hospital to see your daughters death. Our plan was to kidnap the dead body along with your family in our ambulance. But I saw a ball of light came down from the sky and stood over the room where your daughter was lying unconcious. I saw a hand came out from the ball and stood your daughter up. There was a hole in the middle of that hand and the blood was flowing down. I felt giddiness and fallen down. My friends moved me from there at once.
After that I could not sleep. Whenever I feel sleepy, at once I see that particular hand which flows blood through a hole. Yesterday night I saw a shadow of a human face (face was not clear) appeard behind the hand and asked me that why was I nailing him.

I have no peace. I can't say it to the others. If they suspect me, I will be killed. Please forgive my sins. Please ask your God to give me peace. Pray for me that I may get good sleep.

Sorry to say that my name here is not real. But the contents of this mail is fully truth.

Yours faithfully
Hussain AlRafeeqi
BID ASB VIR AL GOD SE WERKERS IN 'N TOENEMENDE VYANDIGE OMGEWING.