[Iljin's.Birthday]
---
I can't believe it, these pictures actually came out okay... I thought at least half of them would end up being exposed because I forgot to wait for the flash. The lighting wasn't that great, either, but you can still see stuff.

By the way, this page isn't open to the public, so you probably got here because I gave you the link. Don't worry, Iljin! Nobody's going to see you embarassed... except maybe everybody at Lowell.
---
click on the Black and White thumbnails to link to the actual images.



Iljin in reg. You can see her carolers kneeling down beside her.
Anna Li giggles and Luisa watches in horror.
The embarassment begins.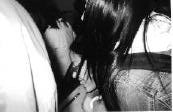 Iljin being ambushed by Jovita. Susanna watches and laughs.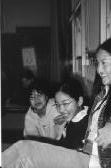 From left to right: Luisa, Iljin, and Jovita. Jan in the very back, laughing also.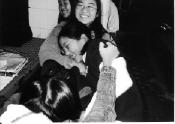 More embarassment out in the courtyard. Karen (in blue) restrains Iljin while I bust out the camera. Jovita ambushes... again. Stephanie Lo watches behind Karen.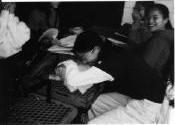 Iljin at the height of her embarassment while everyone sings Happy Birthday really loudly. Rosalie watches in red and Stephanie Ng behind her in Blue. Across the table: Julianne in white + One Unidentified female.



---