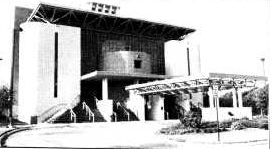 The 60 member New Gardens Band presents a series of concerts at the Eissey Campus Theatre. The theatre is part of Palm Beach Community College's Eissey campus located in Palm Beach Gardens Florida. Both the seating and acoustics in the theatre are excellent and The NEW Gardens Band is delighted to perform in this beautiful facility.
Directions:
From Interstate 95, take PGA Blvd. East toward the Gardens Mall. Approximately 1.2 mi. east of I95 (on PGA Blvd.), turn right onto Campus Drive (from right lane on PGA). Approximately 0.2 mi. south (on Campus Drive) turn right onto Fairchild Avenue (extension). The Eissey Campus Theatre is on the left just after the turn onto Fairchild Avenue.

For a map and directions to the theatre, click on the mini map picture below to view a map on GoogleMaps' web site. To obtain customized, long distance, driving directions to the theatre, (on the map on the GoogleMap web page) click on the "Directions: To Here" item in the map tack "bubble".


Click on the mini map (thumbnail) above for an enlarged view