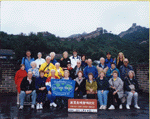 Last spring, Della and I accepted an invitaion from the Hood College Alumnae Office to travel to China with Collette Tours in September of 1999.  We were part of a group of twenty-eight people, seventeen of whom signed up through Hood.  Click on the thumbnail picture to the right for a look at our group.
Jane Marshall was our Collette tour director and travelled with us for the whole tour.  In each city we, also, had a local tour guide from the China International Travel Service, CITS.  CITS is a Chinese government organization and, to some extent, they showed us what they wanted us to see.  Nevertheless, I think that were given a fairly representative look at the China of today while we toured the antiquities.  Della and I found the Chinese people we interacted with to be friendly  If there is any hostility, I think it is primarily lodged in the government and our different ideas about Taiwan.

I would appreciate comments, corrections or additional information from my fellow travellers or our tour guides.  Please email your comments to [email protected].

OUR ITINERARY:
Click on a link to view the page(s) devoted to each locality.

Please email your comments to


[email protected]
Created using: Lightning HTML Editor Version 2.20.1997