Parodies
This is a page where you can sing some parodies that were made by my brother and I. Just go to the desired song, click on the play button, have a few laughs, and most of all, have some fun. Hopefully you will come back often. (Still haven't found a few MIDI's for some songs, if anybody has a copy of those MIDI's, please e-mailme)
PREFACE
This is a collection of rewritten songs designed to make you laugh. They are not aimed at insulting anyone because it is good clean humour. If we did offend anyone, we are sorry, (we can't please everybody).

The idea came about when my brother and I were listening to "Weird Al" Yankovick. James and I looked at each other and said, "We could write songs like that!" A George Strait music book was sitting on my keyboard and James had a few funny lines for the song "Baby's Gotten Good at Goodbye". I looked at the lyrics and also started making it sound funny. We typed them on his computer and before we knew it, we had changed the song to "Baby's Eaten All of My Fries".

The next song we rewrote was "Okie from Muskokee". We didn't know what an "Okie" was, so we changed it to "Newfie" to make it into a Canadian song. We also looked on a map of Canada to find an actual name of a city in Newfoundland to replace "Muskokee". This song is a stereotypical view of how people may act in St. Anthony's. We have always liked "Newfie" jokes because our Dad is from Nova Scotia.

I pulled out some CD's and looked through the songs. We thought of funny names to replace the name of the original songs. Also, we kept a record on the computer of the comical parodies. Over the next few months, these are the songs/poems we rewrote. We tried to make them with a story line, but I hope they are not too silly.

We enjoyed laughing at them with our family. I hope you do the same thing with your family and friends.

Richard Williams
Back to top
---
THE BINGO MAN
("The Piano Man" written & performed by Billy Joel)

IT'S NINE O'CLOCK AND IT'S SATURDAY,
THE REGULAR CROWD SHUFFLES IN
THERE'S AN OLD MAN SITTIN' NEXT TO ME
DABBING INK ON HIS FACE AND HIS CHIN
HE SAYS, "SON CAN YOU PLAY THESE CARDS FOR ME!"
I'M NOT REALLY SURE WHERE THIS GOES
CAUSE IT'S RED AND IT LEAKS AND IT'LL STAY THERE FOR WEEKS
'TIL I FIND A CLEAN PAIR OF CLOTHES"
CHORUS:
CALL OUT A BALL YOU'RE THE BINGO MAN
CALL OUT OUR BALLS RIGHT NOW
WELL WE'RE ALL CLOSING IN ON "N" THIRTY-THREE
AND YOU'VE GOT US FEELING UPTIGHT
YOUNG DAN IN THE BOOTH IS A FRIEND OF MINE
HE SELLS ME THE CARDS FOR CHEAP
YEAH HE'S QUICK WITH YOUR CHANGE WHEN YOU LOOK AT HIM STRANGE
FOR THERE'S SOMEPLACE THAT HE'D RATHER BE
HE SAYS, "JIM I BELIEVE THIS IS SCARRING ME!"
AS SOMEONE TRIED TO TAKE MY PLACE
"WELL I'M SURE THAT I COULD BE PLAYING GUITAR
IF I COULD GET OUT OF THIS PLACE."
REPEAT CHORUS
NOW FRED IS A SCIENCE GUIDE NOVELIST
WHO'S NEVER HAD TIME FOR HIS WIFE
AND HE'S CHATTING WITH REGGIE WHO'S STILL INTO VEGGIES
AND PROBABLY WILL BE FOR LIFE
AND THE SNACK GIRL IS STUDYING GENETICS
AS THE GARBAGE MAN SLOWLY SITS DOWN
YES THEY'RE PLAYING SOME CARDS THAT AREN'T REALLY THEIRS
CAUSE IT'S CHEAPER THAN BUYING THEIR OWN
REPEAT CHORUS
IT'S A VERY OLD CROWD FOR A SATURDAY
AS THE MANAGER GIVES ME A SMILE
'CAUSE SHE KNOWS THAT IT'S HER I'VE BEEN COMING TO LURE
TO FORGET ABOUT LIFE FOR AWHILE
AND IF BINGO SEEMS LIKE A PLACE TO MEET
AND THE BONANZA SOUNDS LIKE A DARE
AS SHE LOOKED AT ME HARD AND PUT DABS ON MY CARDS
AND SAID "MAN WHAT ARE WE DOING HERE?"
REPEAT CHORUS
Back to top
---
BRAND NEW CAN
("Brand New Man" written by Don Cook/Ronnie Dunn/Kix Brooks, performed by Brooks and Dunn)

CHORUS:
I SAW A SIGHT; IT WAS BUD LIGHT
WITH THE STAIN ON HER COUCH; THERE WERE TEARS IN MY EYES
(YEAH) I FEAR TO SPILL AGAIN; GOT A BRAND NEW CAN
YEAH THE OLD GIRL'S NAGGIN'; 'BOUT THE LINE I'M TAKIN'
THAT LEADS RIGHT TO HER FRIDGE; OH HOW I USED TO ROAM
AROUND THE KITCHEN STOVE
SHE USED TO SHOOT HER MOUTH OFF; SO I'D TURN THE T.V. OFF
THEN SET THAT FULL CAN DOWN
WE'VE BOTH CHANGED NOW; WE'VE TURNED THE COUCH AROUND
REPEAT CHORUS
I USED TO THRASH 'EM AND THROW 'EM
OH, I'D BRAG ABOUT MY DISTANCE; HOW SHE'D ALWAYS PUT ME DOWN
BUT I DRANK YOU; NOW MY ARM SWINGS TRUE
MAYBE IT'S NOT BUDWEISER; TASTES MORE LIKE OLD WISER
THEN MANY THINGS I'VE BEEN TOLD
SHE THINKS SHE'S SMART; I'LL TEAR HER APART
REPEAT CHORUS 3X
Back to top
---
THE CASE OF DAD'S MISSING TOP PLATE
("Face on the Cutting Room Floor" written by Steve Goodman/Jeff Hanna/Jimmy Ibbotson, performed by Nitty Gritty Dirt Band)
IT'S HISTORY, NO ONE COULD TELL WHEN THEY WERE OUT OF HIS MOUTH
HE HAD A HUNDRED OF STORIES TO TELL
WHERE HE HAD FOUND THEM BEFORE
IT'S THE CASE OF DAD'S MISSING TOP PLATE
IT'S A MYSTERY, USING HIS GUMS FOR THE MEATIEST STEAK
BIT ON HIS LIP WHEN HE ATE HIS CAKE
CAME TO OUR HOUSE FOR SOME AID
IT'S THE CASE OF DAD'S MISSING TOP PLATE
1ST CHORUS:
HE HAD VISIONS OF DENTISTS AND THOUSANDS OF PEOPLE IN LINE
(TO SEE HIM) WALKING THE FLOOR AFTER DARK GOING OUT OF HIS MIND
HE'S NOT SURE
UP THE STAIRS AGAIN, PLAYED WITH THE CEMENT HE GOT FROM THE STORE
LAUGHED WHEN THEY TOLD HIM IT'D STAY IN FOR SURE
WHERE HAD HE HEARD THAT BEFORE
IT'S THE CASE OF DAD'S MISSING TOP PLATE
2ND CHORUS:
THAT NIGHT HE TOLD US THAT HE NEVER LOST ANYTHING (IN HIS ROBE)
THAT'S WHAT THEY MAKE TO HOLD DENTURES AND PARTIALS RIGHT IN
NOW HE KNOWS
GOOD LUCK EATING FOOD, LOOKING FORWARD TO THE CHIPS HE HAD FOUND
SURPRISED AND UPSET THEY WON'T BE AROUND
HE'LL REPLACE THEM WITH SO MANY MORE
IT'S THE CASE OF DAD'S MISSING TOP PLATE
OH, IT'S THE CASE OF DAD'S MISSING TOP PLATE
OUR LITTLE CASE OF DAD'S MISSING TOP PLATE
CASE OF DAD'S MISSING TOP PLATE (FADE)
Back to top
---
DRINKIN' PROBLEM
("Thinking Problem" written by David Ball/Allen Shamblin/Stuart Ziff, performed by David Ball)
CHORUS:
YES I DO SAY, I'VE GOT A DRINKIN' PROBLEM
I SPILL IT ALL THE TIME
MY LEFT HAND GOES UP AND DOWN
I'VE TRIED TO HIT MY LIPS AND GUMS
YES I DO SAY I'VE GOT A DRINKING PROBLEM
FILL THE GLASS UP TO THE TOP, I MAYBE BETTER NOT
CAUSE I DON'T KNOW HOW TO START
I'LL STAND UP AND WALK AWAY, THE TASTE IS ON MY LIPS
ONCE THE WET LIQUIDS START TO FLOW
I CAN'T STOP WITH JUST ONE SPILL
REPEAT CHORUS
I KEEP ON THINKING ABOUT, HOW GOOD I USED TO BE
DOING IT BY MYSELF, WITH MY FAVOURITE DRINK IN HAND
REPEAT CHORUS
I MAYBE BETTER NOT, CAUSE I DON'T KNOW HOW TO START
Back to top
---
GOIN' FISHIN'
("Gone Country" written by Bob McDill, performed by Alan Jackson)

SHE'S BEEN FISHIN' FOR BASS OFF THE COAST, FOR TEN YEARS AT DAYBREAK
EVERY DAY SHE LOOKS IN THE WATER, BUT THEIR ONLY PLAYIN'
SHE'S BEEN DREAMIN' 'BOUT BIG MOUTH AND ALL THE RECORDS
THAT EVERYBODY'S WEIGHIN'
SAYS I'M A FISHIN' GIRL MYSELF, GREW UP ON AN ISLAND
SO SHE PACKS HER LUNCH TO TRY HER HAND
SAYS THIS MIGHT BE MY LAST CHANCE
1ST CHORUS:
SHE'S GOIN' FISHIN', LOOK AT THEM BOOTS
SHE'S GOIN' FISHIN', OUT TO THE DOCKS
SHE'S GOIN' FISHIN', A NEW KIND OF BAIT
SHE'S GOIN' FISHIN', THERE SHE GOES
WELL THE TROUT SCENE'S DEAD, BUT HE'S HOLDING OUT IN THE VILLAGE
HE'S BEEN BAITIN' HOOKS, SPEAKING OUT AGAINST WORMS AND CARTLIDGE
HE SAYS I DON'T BELIEVE IN GUPPIES, WHEN THAT TROUT CAN BE MIGHTY FILLIN'
CAUSE SOME OF THAT STUFF DON'T TASTE MUCH DIFFERENT THAN SALMON
I HEAR DOWN THERE IT'S CHANGED YOU SEE
THEY'RE JUST AS COMMON AS THEY USED TO BE
REPEAT 1ST CHORUS (CHANGE SHE TO HE)
HE RIDES OUT TO THE LAKE, YET HE'S GOT CAR IN THE ALLEY
NOW THE HILLS ARE PILING UP AND THE BIKE SCENE JUST AIN'T ON A RALLY
HE SAYS HONEY I'M A SERIOUS OUTDOORSMAN SWAMPED IN BOOZE AND LITIGATIONS
BUT WITH THE LIES AND THE DOGS THESE DAYS
THIS AIN'T NO PLACE FOR FISHIN'
LORD IT SOUNDS SO EASY, I SHOULDN'T BE LONG
BE BACK AT THE TRAILER IN NO TIME AT ALL
REPEAT 2ND CHORUS
3RD CHORUS:
YEAH, HE'S GOIN' FISHIN', A NEW KIND OF HOOK
HE'S GOIN' FISHIN', HE'S READ ALL THE BOOKS
HE'S GOIN' FISHIN', LOOK AT THEM BOOTS
HE'S GOIN' FISHIN', OH OUT TO THE DOCKS
HE'S GOIN' FISHIN'

HE'S GOIN' FISHIN'
EVERYBODY'S GOIN' FISHIN'
YEAH WE'RE GOIN' FISHIN'
THE WHOLE WORLD'S GOIN' FISHIN'
Back to top
---
BABY'S EATEN ALL OF MY FRIES
("Baby's Gotten Good at Goodbye" written by Tony Martin/Troy Martin, performed by George Strait)

WHAT A ROTTEN DATE, THIS TURNED OUT TO BE
I STILL CAN'T BELIEVE, HOW MUCH SHE COULD EAT
SHE JUST WANTED EV'RYTHING, THAT THEY HAD TO SERVE
THEN SHE LOADED HER PLATE, AND SAT DOWN FOR AWHILE
SHE'D DONE THIS BEFORE BUT THIS TIME SHE COULDN'T BREATHE
CHORUS:
THAT'S WHY THEIR SHUTTIN' OFF THE HOT LIGHTS
TURNIN' DOWN THE STOVES
WOND'RIN' IF SHE'LL COME BACK
THIS TIME THEY DON'T KNOW
AFTER SHE LEFT, WHEN SHE LOOKED BACK
THERE WERE SOME TEARS IN HER EYES
AND THAT'S GOT ME WORRIED THINKIN'
MAYBE MY BABY'S EATEN ALL OF MY FRIES
ALL THOSE TIMES BEFORE, SHE'D BREAK DOWN AND BUY
I'D MAKE MY THREATS, BUT HER HEART WAS JUST SET ON THOSE FRIES
SHE'D JUST DRANK ALL MY BEER, AND LICKED HER PLATE CLEAN
NOW I'M LOST FOR WORDS, SINCE SHE WENT AWAY
SHE MAY NOT RETURN, FOR THIS TIME SHE WASN'T DRY
REPEAT CHORUS 2X
Back to top
---
IF THEIR HOUSE HAD A GUARD DOG
("If the World Had a Front Porch" written by Tracy Lawrence/Paul Nelson/Kenny Beard, performed by Tracy Lawrence)
IT WAS WHERE HIS MAMA SAT ON HER OLD CHAIR WITH THAT T.V.
IT WAS HOW HIS DADDY CHASED ME OUT THE DOOR AND DOWN THE STREET
IT WAS THERE WE MADE OUR BIGGEST HAUL THAT FANCY CRYSTAL LIGHT
WHERE OUR SHEPHERD BIT THEIR KITTIES
AND US BROTHERS TOOK THEIR BIKES
THERE WERE MANY NIGHTS WE'D SIT RIGHT HERE
AND LOOK UP AT OUR GOODS
TO THE SOUND OF AN ELVIS PRESLEY TUNE
OR THE VOICE OF OL' JOHNNY CASH
IT WAS WHERE I FIRST GOT UP THE NERVE TO STEAL ME MA'S BEST GIFT
AND IT WAS WHERE I LEARNED TO HIDE MY STASH
AND PUT IT IN MY SHIRT
CHORUS:
IF THEIR HOUSE HAD A GUARD DOG LIKE WE DO NEXT DOOR
THEY'D STILL HAVE THEIR ASSETS AND WE'D ALL BE FRIENDS
LEAVING THE NEIGHBOR'S WITH HIS NEW V.C.R.
WOULDN'T BE GONE WITH THE WIND
IF THEIR HOUSE HAD A GUARD DOG LIKE WE DO NEXT DOOR
CADILLACS AND PINTOS I'VE STOLE MORE THAN MY SHARE
AS FLASHING LIGHTS AND SIRENS MESSED UP MY SILENT PRAYERS
AND LIKE A BEACON THAT OLD YELLOW BULB IT ALWAYS LED ME HOME
SOMEHOW MOMMA ALWAYS KNEW JUST WHEN TO LEAVE IT ON
REPEAT CHORUS

LAST THREE LINES OF CHORUS
Back to top
---
GOOD INSTRUCTIONS
("Good Intentions" written by Randy Travis/Marvin Coe, performed by Randy Travis)
MAMA ALWAYS PRAYED THAT I'D BE A BETTER COOK THAN DADDY
AND I DETERMINED NOT TO LET HER DOWN
DESSERTS MADE BY THE MAN SHE LOVED
WERE WORSE THAN MY POOR DONUTS
THEY WERE THE LOCAL GOSSIP OF THE TOWN
I PROMISED HER THAT THEY'D BAKE RIGHT
AND NOT BE LIKE MY FATHER'S
BUT THEY WOUND UP LIKE ROCKS ON PLYMOUTH BAY
I TOLD HER I'D BE HOME AND NOT TO WORRY 'BOUT MY SUPPER
WHEN I GOT HOME MY BREAD WAS THROWN AWAY
CHORUS:
AND I HEAR TELL FOR DOUGH TO SWELL
YOU NEED SOME GOOD INSTRUCTIONS
BUT MAMA YOUR INSTRUCTIONS WERE THE WORST
I'VE BAKED LOTS OF THINGS IN MY LIFE
I'M JUST NOT PROUD TO MENTION
LOOKS LIKE THEY TURNED OUT LIKE ALL THE REST
CAUSE MAMA YOUR INSTRUCTIONS WERE THE WORST
A LITTLE CRUST ON PIZZA PIES
A-BEGGIN' TO BE EATEN
I PROMISED HER BUT NEVER LET IT RISE
NOW SHE WON'T EVEN SMELL IT
AND I STAND HERE A-SLICIN'
SLICIN' ALL THE SAUSAGE ONE MORE TIME
REPEAT CHOURUS
Back to top
---
I LET IT DIE
("I Let Her Lie" written by Tim Johnson, performed by Daryle Singletary)
I CAME HOME AT SIX P.M.
THE COVER HAD BEEN OFF AGAIN
AND I LET IT LIE, I LET IT LIE
AND IN THE LIGHT OF THE EV'NING MOON
I KNEW THAT MY POOR BUDGIE WAS GONE
AND I LET IT DIE, I LET IT DIE
CHORUS:
YES THE CAGE WAS TOO BIG TO HANDLE AND I
WASN'T THERE TO SUE THAT CLERK
I WAS THE PET STORE SCANDAL 'CAUSE
IT WAS THEIR ONLY BIRD
THAT BLURRY NIGHT I'M CONFUSED MYSELF
CAUSE IT CHOSE TO NEVER EAT AGAIN
SO I LET IT DIE, I LET IT DIE
THOUGH IT TRIED LORD IT COULD NOT FLY
YET IT ONLY HAD TO MOVE IT'S WINGS
SO I LET IT DIE, I LET IT DIE
REPEAT CHORUS
THE NIGHT IT DIED NO CHIRPS WERE HEARD
IT WAS STONE COLD STIFF ON ITS SWINGING PERCH
CAUSE I LET IT DIE, I LET IT DIE
I LET IT DIE, I LET IT DIE
Back to top
---
NEWFIE FROM ST. ANTHONY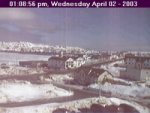 (This is an actual picture I found off the net from a web cam of St. Anthony, Newfoundland)
("Okie from Muskokee" written & performed by Merle Haggard)

WE DON'T SMOKE OUR HALIBUT IN ST. ANTHONY
AND WE DON'T DRIVE AROUND IN LIMOUSINES
AND WE DON'T BURN OUR GARBAGE DOWN ON MAIN STREET
CAUSE WE LIKE FISHIN' RIGHT AND SEEING TREES
WE DON'T BUY OUR LOBSTERS OUT OF PLASTIC
'CAUSE WE LIKE SAILIN' OUT AND SETTIN' TRAPS
WE DON'T LET OUR COWS GROW MEAN AND NASTY
LIKE THE RANCHERS OUT IN WEST ALBERTA DO
CHORUS:
AND I'M PROUD TO BE A NEWFIE FROM ST. ANTHONY
A PLACE WHERE EVEN COWBOYS HAVE TO CRAWL
WE STILL TELL ONE-LINERS DOWN AT THE BARBER'S
ICE FISHING'S STILL THE BIGGEST THRILL OF ALL
RUBBER BOOTS ARE STILL IN STYLE FOR MANLY FOOTWEAR
JEANS AND SILVER BUCKLES WON'T BE SEEN
MATH CLASS' STILL THE TOUGHEST THING ON CAMPUS
AND THE KIDS HERE STILL RESPECT THE SNOWFEST QUEEN
REPEAT CHORUS

LAST LINE: IN ST. ANTHONY, NEWFOUNDLAND, CANADA
Back to top
---
STEREO
("Rodeo" written by Larry Bastian, performed by Garth Brooks)

HER SHOWS ARE OLD AND POINTLESS, HIS TUNES ARE ALWAYS HEARD
AND HE'D GIVE HALF OF HIS TAPES, JUST TO CHANGE THE WAY SHE FEELS
SHE KNOWS HIS LOVES IN MUSIC, AND HE KNOWS HE'S GOTTA GO
WELL IT AIN'T NO WOMAN FLESH AND BLOOD
IT'S THAT DAMNED OLD STEREO
CHORUS:
WELL IT'S NUTS AND BOLTS, IT'S GLASS AND CHROME
IT'S THE ROAR OF ROCK 'N' ROLL BANDS
IT'S THE SIGHT OF THE RECORDS
THE SOUND OF THE NEEDLE, IT'LL MAKE THE NEXT TIME 'ROUND
IT'S TORN-UP PANTS, IT'S BASEBALL CAPS
HE'S SET AND PACKED TO GO, IT'S THE COPS AND THE FINES
AND THE STRESS AND THE STRAIN, AND HE CALLS THE THING STEREO
SHE DID HER BEST AND TOLD HIM, WHEN THAT BAND CAME LAST FALL
BUT HIS NEED FOR IT CONTROLS HIM, AND HER BACKS AGAINST THE WALL
AND IT'S SO LONG GIRL I'LL SEE YOU WHEN IT'S TIME FOR HIM TO GO
YOU KNOW THE WOMAN WANTS HER T.V. LIKE HE WANTS HIS STEREO
REPEAT CHORUS
IT'LL MAKE A GOOD MAN LAZY, IT'LL DRIVE HIS WIFE INSANE
'CAUSE HE'LL SELL OFF EV'RY SET SHE HAS
JUST TO STAY AND PLAY HIS TUNES
AND A BROKEN HOME AND SOME BROKEN BONES
IS ALL THEY'LL HAVE TO SHOW
FOR ALL THE YEARS THEY'VE BEEN FIGHTIN'
THIS MACHINE HE CALLS STEREO
REPEAT CHORUS
BRIDGE:
IT'S THE BOOZE AND THE WINE, IT'S THE BEER IN THE STEIN
AND HE CALLS THE THING STEREO
Back to top
---
STICK-UP MAN
("Pick-up Man" written by Howard Perdew/Kerry Kurt Phillips, performed by Joe Diffie)

I GOT MY FIRST GUN WHEN I WAS THREE
ROBBED A HUNDRED THOUSAND PEOPLE ON THEIR KNEES
SNATCHED NICKELS AND DIMES AND THOUGHT TWICE BEFORE
I STOLE A TEN DOLLAR BILL FROM THE HOUSE NEXT DOOR
THEY TRIED TO HIT ME WITH A STICK AND I BEGAN TO UNDERSTAND
THERE'S SOMETHIN' THEY DON'T LIKE ABOUT A STICK-UP MAN
WHEN I TURNED FIFTEEN I FOUND A FEW HUNDRED BUCKS
MY FIRST CRIME WAS STEALIN' A TRUCK
I WAS ROBBIN' A STORE AND THE FIRST COP I SEEN
WAS EATING SOME DONUTS RIGHT ON MAIN STREET
HE FLAGGED ME DOWN AND CLIMBED UP IN THE CAB
AND SAID "I NEVER KNEW YOU WERE A STICK-UP MAN"
CHORUS:
I COULD SET THAT TRUCK ON FIRE OR ROLL IT DOWN A HILL
BUT I SHOULD GIVE IT BACK 'FORE THEY THROW ME IN JAIL
THEY'VE GOT TWO-FOOT BEDS THAT ALWAYS HAVE TO BE MADE
YOU KNOW IF IT WEREN'T FOR BUNKS THERE WOULDN'T BE CELLMATES
I USED ALL MY KNIVES IN TRIGGER JAMS
THERE'S JUST SOMETHIN' THEY DON'T LIKE ABOUT A STICK-UP MAN
MOST SUNDAY NIGHTS I CAN BE FOUND
IN THE PEW OF A CHURCH AND I'M CHOIR BOUND
BACK INTO MY SPOT AT THE ALTAR ROW
YOU KNOW THE CANDLE LIGHT GIVES OFF A HALO LIKE GLOW
I NEVER HAVE TO WAIT IN LINE FOR CONFESSION LAND
CAUSE THERE'S SOMETHIN' THAT PRIEST LIKES ABOUT A STICK-UP MAN
REPEAT CHORUS
BRIDGE:
A MOUTHFUL OF DUST OR AN ARM IN A CAST
ONCE AROUND THE YARD AND YOU'LL DO WHAT YOU'RE ASKED
REPEAT CHORUS
Back to top
---
THE ROAST IS ON
("The Race is on" written by Don Rollins, performed by Sawyer Brown)

I SMELL BUNS WARMING UP REACHING RIGHT OUTSIDE
LIKE MY MOMMA USED TO MAKE
AND THE LACK OF HUNGRINESS DARK AND SHAMEFUL
THAT YOU MAY NEVER BREAK
OH YOU MIGHT SAY THAT YOU WERE MAKING A POINT
SINCE YOU COOKED IT UP OUT OF SPITE
BUT DON'T YOU GAMBLE THAT I'LL EAT IN SILENCE
WHEN I MAY STAND RIGHT UP AND YELL
CHORUS:
SO THE ROAST IS ON AND HERE COMES PIES ON THE BIG PLATES
CARROTS STEAMIN' ON THE OUTSIDE
MY FEARS ARE BUILDIN' UP BABY AND TRYING NOT TO SHOW
MY MOUTH'S NOT INTO DINING
HOT DOG'S ARE SCRATCHED FOR ANOTHER DAY
NOW THE ROAST IS ON AND IT LOOKS LIKE IT'S BAKED
SO THE WIENER LOSES OUT
TODAY I VENTURED A GUESS
NEVER ONCE COMPLAINING HOW YOUR ROAST BEEF DISH STICKS WITH ME
AND HOW I LIVED IN FEAR OF EATING IT EACH EV'NING
WAITING WITH MY FORK IN HAND
THIS ACHING PAIN IN MY GUT JUST TODAY
FOR THE ONE I HATED TO TASTE
YOUR BUDDY SUE SHOWED UP WITH WIENERS
YET THEY CAME OUT IN SECOND PLACE
REPEAT CHORUS 2X
Back to top
---
USE THE OTHER BRAND
("On the Other Hand" written by Don Schlitz/Paul Overstreet, performed by Randy Travis)

ON THIS BRAND I COUNT THE TOXINS, THAT COULD STAIN OUR CLOTHES
WHEN THEY'RE SUPPOSE TO BE, FRESH AND CLEAN
NOW MANY PEOPLE CLAIM, THEY HAVE TO RINSE THEIR CLOTHES
WITH THAT BRAND, THERE'S A REASON WHY IT'S WRONG
CHORUS:
SO USE THE OTHER BRAND, THERE'S NO SKULL AND BONES
TO REMIND US OF SOMETHING THAT COULD FADE OUR CLOTHES
WITH THIS BRAND WE COULD PRAY OR BUY YOU DENIM PANTS
SO THE REASON IT MUST GO IS JUST THE OTHER BRAND
IN YOUR HOUSE I HEAR YOU CUSSIN', THE STUFF THAT DYED
WHEN I WALKED INTO THE ROOM I GOT THE HINT
AND WHEN YOU FIRST SEEN YOUR BLOUSE, YOU FELT YOU COULD CRY
I'VE GOT TO HAND IT TO YOU GIRL IT'S SOMETHING ELSE
REPEAT CHORUS
EXTRA LAST LINE
Back to top
---
WINE GARDEN
("Rose Garden" written & performed by Lynn Anderson)

CHORUS:
I BEG YOUR PARDON, I NEVER PROMISED YOU A WINE GARDEN
ALONG WITH THE CORKSCREW,
THERE'S GOTTA BE A LITTLE BEER SOMETIMES
WHEN YOU DRINK YOU'VE GOTTA BURP
SO LIVE AND LET LIVE OR LETS GO OH OH OH
I BEG YOUR PARDON, I NEVER PROMISED YOU A WINE GARDEN
I COULD PROMISE YOU WINES LIKE DI USED TO DRINK
BUT I CAN'T FIND BOTTLES STOWIN' ON SHELVES AT WOOLWORTH'S
SO YOU'RE BETTER DRUNK THAN SOBER
WHEN IT'S SWEET TASTIN' WINE YOU CAN MAKE IT COME TRUE
I WOULD GIVE YOU A CASE RIGHT NOW OF AGED RED PORTER'S
BUT IT MAKES YOU MADDER
SO SMILE FOR A WHILE AND LET'S BE JOLLY
BEER WOULDN'T BE SO MELANCHOLY
COME ALONG AND SHARE THE GOOD TIMES WHILE WE CAN

(go to CHORUS)
I COULD BRING YOU A BREW AND PROMISE YOU THE TRUTH
BUT IF THAT'S WHAT IT TAKES TO HOLD YOU
I'D JUST AS SOON LET YOU GO
BUT THERE'S ONE THING I WANT YOU TO KNOW
YOU BETTER SPEW BEFORE YOU SLEEP SILK BEDSPREADS AREN'T CHEAP
AND THERE WON'T ALWAYS BE SOMEONE THERE TO CLEAN YOU UP
AND YOU KNOW WHAT I'M TALKIN' ABOUT
(go to SO)
Back to top
---