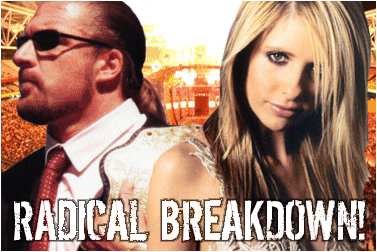 FEB 4, 2008 - A Radical Breakdown in Brisbane!
The international tour of Winter 2008 comes to a climatic finale, with the latest WrestleWire Supercard! "Radical Breakdown" is about to erupt in the Suncorp Stadium; an opened roof will welcome the sun upon 53,000 fans, as well as the finest professional wrestlers in the game today. Headlining is the Radical, who prepares for his first Title Defense against Drusilla. And Distortion in Saitama painted the picture for us! These two intense, and passionate competitors, will clash in a unique male versus female Main Event. The World's Championship is on the line!
Tag Team Mayhem!
Jonathan Jericho finds newcomer Serenity to take the place of the now removed Trey SparXX, and the impact of Arrogance Ascending continues! Their first encounter as a team will be at WrestleWire when the two clash against Shock Value; the combination of Brian Adams and the man who will make his NWR debut, "The Dangerous One" Keith Daniels!