Newscat's
Nutball Page
Home of the TenneXena ConnXion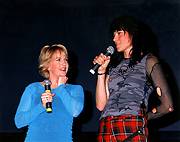 WHAT'S NEW?/MEDIA ALERTS
I've updated Newscat's Blogspot with new Xena news, as well as other information. I'm also doing a little much-needed deleting of old stuff on this site.
---
WHAT'S NEW? and GOOD LINKS
---

THE TENNEXENA CONNXION

Click to subscribe to tennexena
There are 28 of us in The TenneXena ConnXion, an informal admiration group, which began in July 1997. Most of the TenneXenites, or TXXers, are from Tennessee, although we have a few members living across the borders in Alabama, Kentucky, Arkansas, Virginia and North Carolina. We represent all three "states" of Tennessee, the East, the Middle, and the West. We also have members from Florida, Australia, ... everybody loves Xena!

I'm also co-moderator of ChristianXenites, which currently has 100 people enrolled. If you're interested in joining this list of Christians, who also enjoy the show, join the mailing list.

Click to subscribe to ChristianXenites
---
WHO IS NEWSCAT?

I am but a humble bard of contemporary times, reporting the tales of fact that arise in the small hamlet of the Secret City and the surrounding province of Anderson. I cover meetings of the province's school directors and squires, do feature stories on the townspeople, give tasks to my fellow bards and the celluloid artist, and put together a daily scroll for mass consumption by the literate public. I traveled the countryside with my faithful red-headed sidekick, Petey, the Feline Warlord. However, Petey is now gone. I miss him.
I've recently adopted a new charge. His name is Dickens and I'll add a link soon so you can see "what a little Dickens" he truly is!
---
AS A CONTEMPORARY BARD I SUPPORT FREE SPEECH, BE IT PUBLISHED IN THE NEWSPAPER, ON TELEVISION, RADIO OR THE WEB.
"Xena: Warrior Princess" and "Hercules: The Legendary Journeys" are exclusively distributed in domestic syndication by MCA TV and internationally by MCA TV International. This Web page is simply a work of a fan and not intended to infringe upon any rights of MCA, Universal, Renaissance Pictures, Creation or any other company or individual who might think I'm infringing upon their rights.
Web page created Aug. 9, 1997.

Click the box to find out more about it.
---
---