Brand New Cobain Song


Nirvana fans, rejoice!
Kurt Cobain's recently published high school recordings include Mrs Robinson, a brilliant Simon & Garfunkel cover. How this dissheveled guy could sing at fourth grade is unbelievable... The song was written by Paul Simon and is featured on the soundtrack of The Graduate, Dustin Hoffmann's first picture. Listen to the song now!

You can download it here. Enjoy!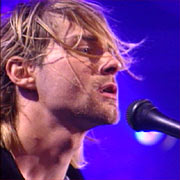 back to cobain.com or kurt-cobain.com