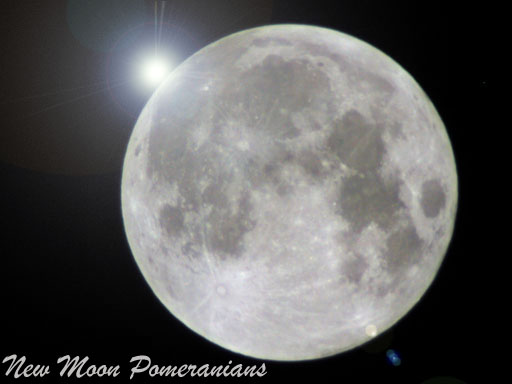 Welcome to New Moon Pomeranians.
W e hope that you enjoy your stay!
HOME // OUR POMS // NEW MOON'S FUTURE // HEALTH CONCERNS
BREED STANDARD // AMERICAN POMERANIAN CLUB // WEBRINGS // E-MAIL US
You may contact us by phone at 509.921.2796
"Quality that will stand the test of time, and beyond!"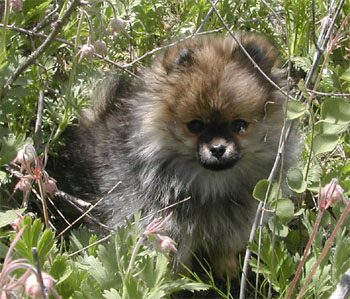 New Moon's Aurora Borealis CGC, RN
(12 weeks old in picture)
OFA Cardiac Normal (cardiologist), OFA Patellas 0/2, CERF Normal
Certified Therapy Dog with the Delta Society
Welcome to New Moon Pomeranian's home on the web!

We will be active with our Pomeranians in conformation, obedience, rally, agility and therapy work. We have high aspirations for this wonderful little breed and many plans for the future! The "Total Dog" concept is our goal - which means we strive to produce Pomeranians with a balance of beauty, intelligence, sound health, and stable temperament. This means Pomeranians which not only can win in the show ring, but earn working titles, and most importantly, be great companions. None of our Pomeranians will even be considered for breeding until they are health and temperament tested. At this time we do NOT breed Pomeranians, this web site is here just to showcase our lovely dogs and their show wins. We test our Pom's patellas & hearts (with a board certified cardiologist!) with OFA, as well as eyes with CERF. Our Pomeranians are never snappish, aggressive nervous, shy or "yappy". They are well mannered, obedient and devoted companions who love both the young and old. Sound temperament and health ALWAYS comes first here.
Thank you for stopping by, please browse our web site by using the site menu at the top of each page.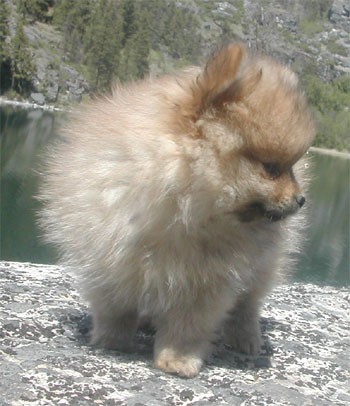 New Moon's Solar Flare
(9 weeks old in picture)
OFA Cardiac Normal (cardiologist), OFA Patellas Normal, CERF Normal
A title says your dog was intelligent, and adaptable, and good-natured.
It says that your dog loved you enough to do the things that please you, however crazy they may have sometimes seemed. And a title says that you loved your dog, that you loved to spend time with him because he was a good dog, and that you believed in him enough to give him yet another chance when he failed, and that in the end your faith was justified. A Title proves that your dog inspired you to have the special relationship enjoyed by so few; that in a world of disposable creatures, this dog with a Title was greatly loved, and loved greatly in return. And when that dear short life is over the Title remains as a memorial of the finest kind, the best you can give to a deserving friend, volumes of praise in one small set of initials before or after the name.
A title is nothing less than love and respect, given and received permanently.
Author unknown
© 2004-2008 New Moon Pomeranians. All Rights Reserved.