THE FIRST EDITION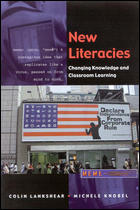 The first edition was published in the first quarter of 2003. It was a book shaped along the same lines as Changing Literacies (1997) in terms of its conception and production. That is, it was the outgrowth of a writing program over the previous 2 years that had been consciously shaped to generate a suite of thematically related stand alone papers that would also collectively add up to a book. To be sure, and as some reviewers note, the final product is not as tight and cohesive as a book that has been written from scratch as a book will often be. At the same time, and having written both kinds of books, we have always thought that the looseness that comes from this approach is more than compensated for by the extra scope and freedom it allows -- whereby individual themes or topics can be developed in their own right without having to be accountable in a tight way to what comes before and after. Such a book combines the benefits of an edited collection with those of a self-authored book (e.g., a single voice), albeit with the sacrifices in tight cohesion and build up that a 'true' self-authored book can aspire to. Needless to say, we did not go overboard in 'domesticating' the original essays to try and squeeze them into a tighter cohesion. Rather, we left their original spirits as intact as possible.
A note about the cover
We felt very fortunate to be given the chance to design our own cover for the book, because we knew exactly how we wanted to 'house' the text. We were big fans of David Bennahum, whose book Extra Life we loved. More significantly, we thought that David was building his life in a way that exemplified so much that we associated with the 'insider' mindset that lies at the heart of the book's message. Years earlier David had established Meme, from which we had learned a lot. We asked David for permission to use his Meme logo and definition, and he kindly agreed.
We also admired enormously the work of the Adbusters media critics and saw their work as exemplary in terms of using media for social, ethical and political critique. In our writings we had referred to their various 'adbusting' campaigns, among which The Corporate Flag (no longer available online, so thank goodness for the book cover -- smile) ranked high in our esteem. We were very grateful to get permission to use one of the corporate flag images for the cover. The graphic designers at Open University Press put our component ideas together beautifully, and the result was a cover we enjoy greatly.
The foreword
The foreword to a book provides a great opportunity to invite friends on board; to have people stand with you who you want to stand with and have stand with you. Over the years we have been privileged to have some very fine folk stand with us in various books we have written and edited: including, Michael Apple, Maxine Greene, Jim Gee,
For New Literacies Donna Alvermann very kindly agreed to write a foreword, and she wrote a very kind foreword. This has brought the book agreat deal of good fortune, as Jim Gee's foreword for Changing Literacies had done earlier on.
The dedication
We dedicated the book, with pride and love, to JPG -- whom we owe more than we could ever possibly hope to repay. Jim's work is justly massively influential. And he makes the world a better place just by hanging around in it. As we always say, if you want literacy theory, why go past the best that's going around?
The contents
| | | |
| --- | --- | --- |
| Contents | | |
| | | |
| List of Figures and Tables | | xiii |
| Foreword | Donna Alvermann | ix |
| Acknowledgements | | xi |
| Part 1 | What's new? | 1 |
| 1 | From 'Reading' to the 'New Literacy Studies' | 3 |
| 2 | The 'New Literacy Studies' and the Study of New Literacies | 23 |
| 3 | Atoms and Bits: Literacy and the Challenge of Mindsets | 50 |
| Part 2 | Staring at the Future | 79 |
| 4 | Faking It: The National Grid for Learning | 81 |
| 5 | Attention Economics: Information and New Literacies | 109 |
| 6 | The Ratings Game: From eBay to Plastic | 132 |
| Part 3 | Changing Knowledge | 153 |
| 7 | 'Digital Epistemologies':Rethinking Knowledge for Classroom Learning | 155 |
| 8 | New Ways of Knowing: Learning at the Margins | 178 |
| References | | 207 |