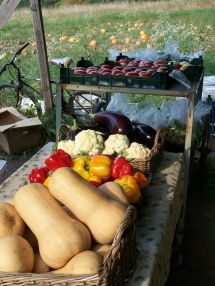 The New Leaf CSA grows over 35 different vegetables as well as flowers, herbs and melons. Each week you'll receive a diverse mix of those crops that are in season. While this list does not include everything, these are some of the expected highlights:
Late MAY – JUNE: Mesclun mix, asparagus, succulent greens for salad and stir fry, radishes and peas.
JULY: Baby beets, crisp carrots, cucumbers, summer squash, green beans, and herbs. By late July, if we're lucky, we'll have tomatoes.
.
AUGUST: The July crops continue and peppers, eggplant, tomatoes, and corn* all arrive.
SEPTEMBER: Cool nights invite the return of early greens, while warm days keep the August crops coming.
OCTOBER - early NOVEMBER: Potatoes, leeks, winter squash, pumpkins, carrots, Brussels sprouts and cauliflower. Frost ends the summer vegetables, while improving the flavor of those remaining.
* Sweet corn is from other local organic farms, all other vegetables are our own.