NEWS UPDATE
MONDAY, NOVEMBER 7, 2005 11:00 AM
Sorry for the November 5th update being late. I just returned from a fun weekend in Strongsville, Ohio with Lauren and her family.
A blue screen test was conducted on ships and on a brave volunteer (myself) and a cockpit. An old friend, Chris from Florida is helping me out with 3D matte paintings of the planets in this film. We took a concept animation from one of the planets in the script, combined with a cockpit from a toy, and our brave volunteer and shot the various layers against a blue screen and the chroma key process looks seamless for a rough test shot: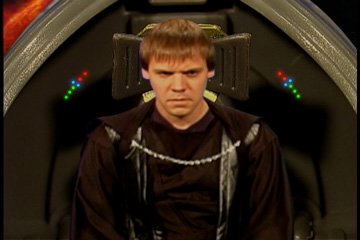 Flying a starfighter away from a planet at the moment still unknown. Separate elements include the fire planet, cockpit, cockpit lights, and the actor.
After seeing this test, I am currently writing a third draft to see what else could affect my characters to the point of no return and an aggressive lightsaber duel.
The next update will be on November 26, 2005.
THURSDAY, OCTOBER 27, 2005 01:00 AM
Yesterday morning, several blue screen tests were shot involving some of the vehicles that will be used in this film and I filled in as the pilots being placed inside the models' cockpits. After filming each element, the process was much easier with the help better technology. It proved that if I really want it bad enough this time, it will happen. I have done some re-thinking of what I have been writing on this site and too much of my energy is being spent on the past instead of this current project. From this point going forward, I am dedicating myself to this film and its crew. We have a group of very dedicated people expressing interest in this project and the script. It would not be fair to any of them if I let things hit me in the back again when I was not looking. To the three people that I know still visit this site from time to time, best of luck. I am sorry that things did not work out. Maybe things are better off this way.
Tonight is a planned concept drawing meeting to figure out what exactly will be needed to be built. As far as shooting goes, at the moment, it makes sense to shoot all the secret site shots first, followed by the cockpit shots, followed by the great duel. This way the complicated moves can be fully choreographed and the proper set pieces can be built. All additional establishing shots and background shots will be completed in post. Post is going to be a little different because of the demand these final shots will play throughout the film, the plan to begin collecting these plates should begin in the next few weeks. Look for more updates as this time approaches.
MONDAY, OCTOBER 24, 2005 01:15 AM
Preproduction has begun on my fanfilm. After five years of mistakes with co-producers who only know about the production process from watching behind the scenes DVDs or taking their experiences in retail and applying them to the film business. No more of that. If they do not have the experience they are below the line. After several postings on some of my regular visiting sites, plus my contacts I have made through the Ohio 501st, I have more support now, than I did when I was in this position on Jedi Purge and Betrayal of the Jedi and the duel with no story. I have decided to spend money to do this film right. I am living at home, working a good paying job, and paying no rent or bills, so why not? I purchased a Canon GL-1 and I have never been more happy. It is easy to track lightsaber rods frame by frame at faster speeds and blue screen and green screen extraction is a snap.
As of this morning, this film has had discussions with several people with skills in drawing and with model building since blue screen should be a full go after Tuesday's tests are conducted. The screenplay is at twenty pages on draft two, up from fifteen in draft one because of the addition of two key scenes. There has been about twenty pictures of concept art submitted for review since work began two weeks ago. This will pick up as the plan is get a few artists on in a few weeks. As for the story... oh wait. You'll have to wait for the final film. Sorry. I know certain people read this site from time to time and when I was better off when I left their film. They can wait and see the film when it is complete.
As far as this site goes, updates will be made as they become available or are ready for time of release. Some of the links will not work at this moment and that is fine. Casting will not begin until auditions are conducted this winter. Expect our next news update for this fan film to be released around November 5, 2005. Thank you for visiting and check back with us soon.
Brian - Director