New Ground
Ensemble
Concert Schedule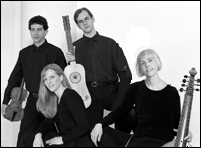 l to r
Peter Kupfer
Keri Mikkelson
Lucas Harris
Carlene Stober
New Ground Ensemble, active in New York's music scene since 1998, specializes in the immeasurably rich body of seventeenth century music for church, chamber, and theater. The ensemble's foundation is a versatile quartet wielding the wide palate of colors created by various combinations of lute, theorbo, baroque guitar, violin, viola da gamba, violoncello, harpsichord, and organ. The ensemble often combines with voices and other instruments for diverse repertoire projects. This flexibility permits the exploration of dozens of genres from the lute song to large-scale cantatas.
Playing together since 1998, the musicians have created over twenty original concert programs and performed in as many different venues. Programs have ranged in style and content from "Behind Convent Walls" (dynamic motets for female voices and continuo by seventeenth-century Italian nuns) to "Se tu m'ami" (opera arias from G. Schirmer's infamous anthology 24 Italian Songs and Arias using original sources and instrumentation). New Ground's home concert space is Holy Trinity Lutheran Church (just near New York's Lincoln Center at Central Park West and 65th Street).
The players have performed together at Boston College, Museum Concerts of Rhode Island, Smith College, the Phoenix Early Music Society, Sweet Briar College (VA), New York University's Maison Française, Rockefeller University, Columbia University, the Society for Historically Informed Performance (SoHIP), and many others.
For more information contact:
Lucas Harris, [email protected]
Lucas Harris — director — (lute, theorbo, & baroque guitar) began his musical career as a classical and jazz guitarist in his hometown of Phoenix, Arizona. After graduating summa cum laude in music and humanities from Pomona College in California, he traveled to Europe and turned his focus to early music and the lute. He studied first with Paul Beier at the Civica Scuola di Musica di Milano as one of the first scholars of the Marco Fodella Foundation, then at the Hochschule für Künste Bremen with basso continuo experts Stephen Stubbs and Andrew Lawrence-King. Since returning to America four and a half years ago, Mr. Harris has become a prominent freelance continuo player in the U.S. and Canada, and performs with many ensembles including The Harp Consort, Apollois Fire, Santa Fe Pro Musica, Chatham Baroque, the New York Collegium, Trinity Consort, and Tafelmusik. In that time, he also created and directed some twenty themed concert programs with New Ground Ensemble. Mr. Harris's passion for baroque opera has animated the continuo accompaniment of productions by the New York Metropolitan Opera (Handel's Giulio Cesare), the Juilliard Opera Center (Eccles's Semele), the Boston and Utrecht Early Music Festivals (Cavalli's Ercole Amante and Lully's Thésée), Boston College (Kapsberger's Apotheosis), the Connecticut Early Music Festival (Duron's Salir el Amor del Mundo), the Toronto Consort (Monteverdi's Orfeo and Ulysses) and Opera Atelier (Charpentier's Medée and Monteverdi's Poppea. In addition to private teaching, he coaches the players and singers of the New York Continuo Collective, and recently joined the faculty of the Baroque Performance Institute at Oberlin Conservatory. This summer he will also serve as faculty coordinator for the Lute Society of America Summer Seminar at the Amherst Early Music Festival. This season's many highlights include recording projects with Les Voix Baroques (Montréal), the Seattle Baroque Orchestra, and New Ground Ensemble, a lute/viol/flute recital with Erin Headley and Nancy Hadden, a program of Italian 'love letters' with Suzie le Blanc and friends in Montréal, and 'Sufficient Grounds,' his first solo recital on period instruments. Mr. Harris studies with the renowned Patrick O'Brien of New York City.

Baroque violinist Peter Kupfer has performed with many of the period instrument ensembles in North America, including American Bach Soloists, Philharmonia Baroque Orchestra, Handel & Haydn Society Orchestra, Apollo's Fire, the New York Collegium, Smithsonian Chamber Orchestra, and Tafelmusik. He has been principal or solo violin with Grande Bande, the American Classical Orchestra, ARTEK, Philadelphia Classical Symphony, and NYS Baroque. Peter has played in many music festivals both at home and abroad, including the Maggio Musicale Festival in Florence, the Edinburgh Festival, Aston Magna, the Connecticut Early Music Festival, and the Basically Bach Festival, at St Peters in NYC, where he performed a solo recital of Biber Mystery Sonatas. He is concertmaster for Bach Vespers Series at Holy Trinity Church, in NYC.

Keri Mikkelson (harpsichord/chamber organ) has collaborated as a chamber musician and soloist with Chatham Baroque, Neue Bach Band, New York Baroque, Voices of the Golden Age, Mensa Sonora, the Franklin Chamber Players, the Mansfield Symphony Orchestra, the Baltimore Bach Society, and many other ensembles. She also toured throughout the U.S. with Heifetz and the Classical Band and was the Artistic Director and founding member of Fiori Musicali in Baltimore. Ms. Mikkelson received a Bachelor's degree in piano and harpsichord from Oberlin Conservatory, Master's degrees in piano and harpsichord from Peabody Conservatory, and is presently completing her D.M.A. in harpsichord at Peabody. Additionally, Keri has studied at the Royal Conservatory of Gent as the recipient of the Belgian American Educational Foundation Fellowship. Her harpsichord teachers have included Lisa Goode Crawford, Webb Wiggins, and John Whitelaw. She has been on faculty at Goucher College, St. Paul's School in Maryland, Convent of the Sacred Heart in NYC, and the Western Wind Workshop in Ensemble Singing at Smith College.

Carlene Stober (viola da gamba/baroque cello), a graduate of the Eastman School of Music, performs as continuo cellist for Bach Vespers at Holy Trinity Lutheran (New York City), and is a member of Empire Viols and the New York Fortepiano Trio. As a baroque cellist and gambist, she has performed as a guest with the Connecticut Early Music Festival, Concerto Antico (Dallas), Cecilia's Circle, Parthenia, the Juilliard Opera Center, Prairie Home Companion, Brooklyn Baroque and the New York Consort of Viols. She is formerly with Musica Dolce (Arizona) and the Utah Shakespearean Festival. On modern cello, she served as principal cellist of the Tucson, Great Falls, and Shreveport symphony orchestras and performed throughout the U.S. as a member of the Delphi String Quartet. In recent seasons, Ms. Stober performed in the orchestra of the Lake George Opera Festival.