Sage Alcazar
Parent: Luis Alcazar
Uncle: Lorenzo Alcazar
Age: 16
Love Interest: Dillon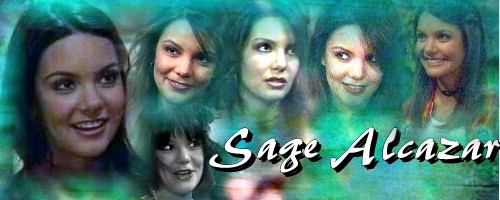 Katie Stuart playing Sage Alcazar
Sage continued to flirt with Dillon ever chance she got and even schemed up Tracy to get Dillon's heart. In December, Dillon slept with Sage after Georgie break up with Dillon to protect him. Sage took ever chance she got to destory Georgie, she took naked pictures of her and posted them on the internet. This pissed Dillon, and he wanted nothing to do with her.
However, when Ned brought back LnB records, Sage wanted to become a famous singer. She started to work with Dillon again and Georgie did not like this. So, Georgie thought it would be a good idea to prank Sage making Sage look bad but that plan backfired. Sage ended up hurting her knee and damaging her voical chords.
Sage was pushed asided in the storyline when Brooke Lynn arrived. But when Lois took over LnB, Sage audition and made the cut. However, Sage ended up singing in a girl band with Brooke Lynn, Georgie, and Dillon. (lol) That didn't last long. Sage also worked with Trent to work on her own music.
Sage was murdered on August 25, 2004 at the Quatermanie's, after Georgie locked her up in the freezer because she was pulling pranks on everyone. She was only 16 years old. After her death, Dillon received a letter from her leaving him a poem about herself. Brooke Lynn was so moved by her lyrics she but music to it and made it a song.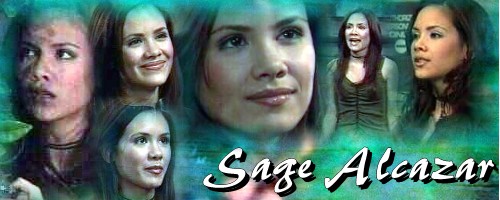 Eileen Boylan playing Sage Alcazar
Sage first came to Port Charles to get revenge on Alexis Davis for killing her father. However, Dillon was at the courhouse where she attempt to shot Alexis with blanks. In the coursefire, Lucky ended up shooting Dillon. Sage returned her thanks by kissing Dillon. Georgie didn't like this at all. Meanwhile, Uncle Lorenzo hires Dillon to babysit Sage. Sage enjoyed all the time she spent with Dillon. She spent most of her time flirting.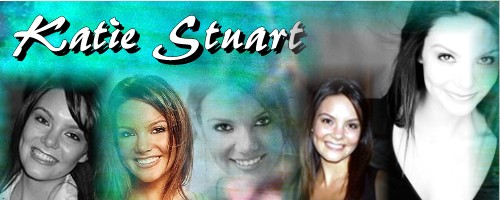 Birthday: August 22, 1984
Birthplace: Sonora, California
Lost Dream (2008) (post-production) .... Janine
Blackout (2007/II) (post-production) .... Francesca
Tamara (2005) .... Chloe
Wild Things 2 (2004) (V) .... Shannon
The Girl Next Door (2004) .... Jennie
"General Hospital" (1963) TV Series .... Cindy (2003) / ... (unknown episodes, 2003-2004)
"Boomtown" .... Claudia Nelson (1 episode, 2003)
- Home Invasion (2003) TV Episode .... Claudia Nelson
"City Guys" .... Brittany (1 episode, 2001)
- Red Dawn (2001) TV Episode .... Brittany
"Xena: Warrior Princess" .... Genia (1 episode, 2001) ... aka Xena (Australia)
- Many Happy Returns (2001) TV Episode .... Genia
"Titans" .... Faith (7 episodes, 2000-2001)
- Someone Wicked This Way Comes (2001) TV Episode .... Faith
- She Stoops to Conquer (2001) TV Episode .... Faith
- Payback's a Bitch (2000) TV Episode .... Faith
- Angels with Dirty Minds (2000) TV Episode .... Faith
- Secrets & Thighs (2000) TV Episode .... Faith
Fangs (2001) .... Genny Winslow
"7th Heaven" .... Lu-Lú (1 episode, 2000)
... aka 7th Heaven: Beginnings (USA: rerun title)
... aka Seventh Heaven
- Losers (2000) TV Episode .... Lu-Lú
Frog and Wombat (1998) .... Allison 'Frog' Parker
info from: http://www.imdb.com/name/nm0835759/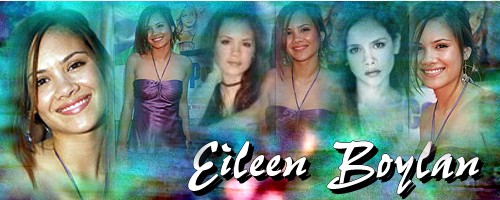 Making Change (2007) (completed) .... C Girl
Dakota Skye (2007) (completed) .... Dakota Skye
"South of Nowhere" .... Kyla Woods / ... (12 episodes, 2006)
- Too Many Girls, Not Enough Aiden (2006) TV Episode .... Kyla Woods
- Trouble in Paradise (2006) TV Episode .... Kyla Woods
- Love Child and Videotape (2006) TV Episode .... Kyla Woods
- Love & War and Love & War (2006) TV Episode .... Kyla Woods
- Objects May Be Closer Than They Appear (2006) TV
Episode .... Kyla Woods (7 more)
"Strong Medicine" .... Araya / ... (7 episodes, 2005-2006)
- Special Delivery (2006) TV Episode .... Araya
- Dr. Thornton Hears a Who? (2006) TV Episode .... Araya
- Promising Treatment (2005) TV Episode .... Araya
- Broken Hearts (2005) TV Episode .... Araya
- Gunshot Wedding (2005) TV Episode (as Eileen Boylan) .... Araya Fujito
Sideliners (2006) (TV) (as Eileen Boylan) .... Barbie Green
Sleepover (2004) (as Eileen Boylan) .... Jenna Allen
"Judging Amy" .... Lydia Chavez (1 episode, 2004)
- Werewolves of Hartford (2004) TV Episode (as Eileen Boylan) .... Lydia Chavez
"General Hospital" (1963) TV Series .... Sage Alcazar #1
<(unknown episodes, 2003)
"Special Unit 2" .... Girl (1 episode, 2001)
... aka SU2 (USA: promotional abbreviation)
- The Brothers (2001) TV Episode .... Girl
Alex in Wonder (2001) (as Eileen Boylan) .... Young Alex
... aka Sex and a Girl (USA: video title)
"The Amanda Show" (2 episodes, 2000-2001)
"Baywatch" .... Little Girl (1 episode, 1998)
... aka Baywatch Hawaii (USA: new title) - Sharks, Lies and Videotape (1998) TV Episode .... Little Girl
"Four Corners" (1998) TV Series
info from: http://www.imdb.com/name/nm0102159/