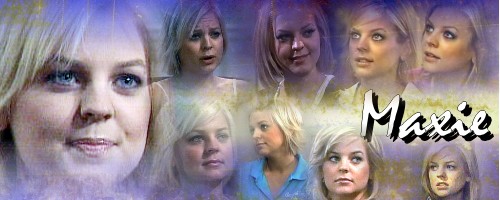 Kirsten Storms ( May 2005- present)
Age: 20
Parents: Andrew 'Frisco' Jones and Felicia Scorpio-Jones Step Father: Malcolm "Mac" Scorpio, Uncle:Anthony "Tony" Jones, Sister: Georgianna "Georgie" Jones, Cousins: Barbara Jean "BJ" Jones (deceased, Lucas Jones (adopted)
Medical History: At a young age, 7 she had a rare disase and needed a new heart. Bobbie's and Tony's daughter BJ was in a terrible bus accident causing BJ brain damage. They took BJ heart, and gave it to Maxie to save her life. It was powerful one of the most powerful and emotional storylines on GH.
Boys! For the longest time Maxie has always had a crush on Lucky Spencer! She also kissed Lucas to make Georgie relaize that she didn't like him in 2003. Maxie dated Kyle in the summer of 2003 but then they brought up in the end of September.
Maxie came back from private school and now can graduate high school. However, she collapsed on the Haunted Star during Dillon's b-day party. It turns out she had a heart attack and that BJ's heart is dying. She's needs a new heart but she won't give up BJ's!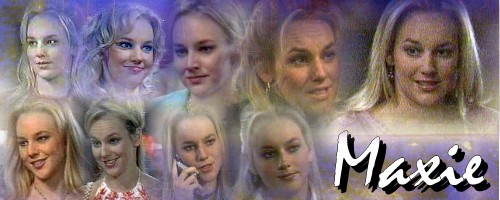 Robyn Richards (1994-2002, 2002-2004)
Maxie has been crushing over Lucky Spencer ever since he was dating Elizabeth. Lucky would be very kind to Maxie and treat her with respect. Lucky would always treat her like a little sister. However, now Maxie has grown up into a 16 year old girl she has moved from crushing over Lucky into falling in love. Since, Georgie has deveolepd a crush on Lucas, she's trying to convince Georige that Lucas would never date her because she's to young for him. Now, Maxie has met and fallen for a popular guy name Kyle Radcliffe. He first used her by sleeping with her while his friends watch and post it up on the internet. Later, one of Kyle's friends give Maxie's drugs to impress Kyle. Kyle has done nothing but put Maxie into trouble.