Guy Tucker
Age: 19
Parents: Dad is a commerical pilot
Boyfriend: Lucas Jones
Intersting Fact: He's gay!!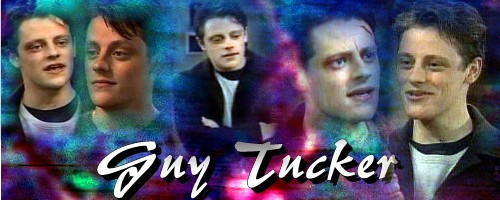 Guy Tucker was first introduced to Port Charles when Dillon and Georgie were not together. Guy, helped Georgie make up a boyfriend and find a person to play "Tom" her made up boyfriend.
He then disappeared from the teen scene but was brought back in 2005, when Lucas annouced he was gay. Guy helped Lucas deal with being gay and being confident. They started hanging out, and then they both disappeared.
Played By: Nicholas DiNardo
Actor:
"General Hospital" .... Guy (11 episodes, 2004-2006)
- Episode #1.11022 (2006) TV Episode
- Episode #1.10999 (2006) TV Episode
- Episode #1.10998 (2006) TV Episode
- Episode #1.10997 (2006) TV Episode
- Episode #1.10994 (2006) TV Episode
"CSI: Miami" .... Damon Loughlin (1 episode, 2005)
- Blood in the Water (2005) TV Episode (as Nicholas Di Nardo) .... Damon Loughlin
The Nights of Blue (2004) (as Nick Dinardo) .... Blu (2004) ... aka Noci smutku (Czech Republic)
"Scrubs" (1 episode, 2003) - My Dream Job (2003) TV Episode
"What I Like About You" (1 episode, 2003) - Dude, Where's Val's Car? (2003) TV Episode
"Grounded for Life" (2 episodes, 2003) - Drive Me Crazy (2003) TV Episode (as Nick Dinardo) - Just Like a Woman (2003) TV Episode
"Everybody Loves Raymond" .... Young Mook (2 episodes, 2002) ... aka Raymond (USA: promotional abbreviation) - Annoying Kid (2002) TV Episode - Cookies (2002) TV Episode (as Nicholas Donardo) .... Young Mook
The Laramie Project (2002) .... Reverend"s son "Undressed" .... Series Regular (1 episode, 2000)
... aka MTV's Undressed (USA: complete title)
- 202 (2000) TV Episode .... Series Regular
"Get Real" (1 episode, 1999) - Sexual Healing (1999) TV Episode