WELCOME TO MY HOME PAGE
---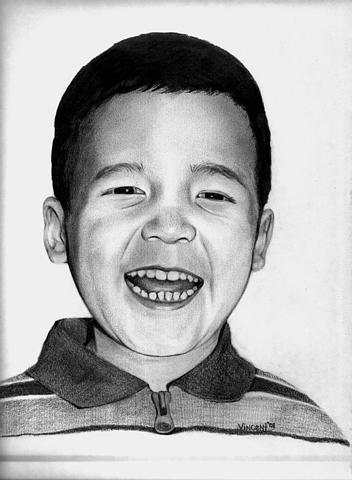 "Click" here for larger version
My Nephew "Kai"
---
I have been drawing portraits for a number of years now. Nothing pleases me more then to see the look on a parents face when I present them with their finished portrait. I especially like drawing children. I am a graduate of the Sir Wilfred Grenfell College, School Of Fine Arts. I received my formal B.F.A. in 1994 and my B.Ed. from Memorial University in 1995. I have taught Art and various other subjects for 6 years as well as trying to maintain my portrait drawing. I graduated from a two year Programmer Analyst (Networking)course from The College Of The North Atlantic, in 2003.
---
I am currently living and working at the geographical center of Canada, Baker Lake, Nunavut. This home page represents my first attempt at HTML with a little Java script thrown in for fun. I hope you enjoy my site. If you have any comments please click on any of the E-Mail Graphics. Unfortunately I am unable to receive information from my order page. However it is a good guide for your E-Mail queries. To view examples of my work simply click on the links. If you would like to see how the drawings compare to the original photos Nicole and my Self portrait have a mouse over. Follow the links to the "larger" version and simply move your mouse on the drawing.
---
Features Of Finished Portraits
Acid Free Paper: I exclusively draw on 100% Acid Free paper. This paper will not fade or yellow with age.
Rag Content: All paper is made from 100% cotten fibers. No trees died to make this paper folks. I use a Reeves BFK paper imported from France.
Matt Sprayed: The finished drawings are matt sprayed to protect them from moisture and surface damage. This spray will also prevent the drawing from being erased.
Finished Drawings: The finished drawings come unframed and are shipped flat as to prevent creasing or folds.

Picture Quality: The quality of the drawing is directly proportional to the quality of the photograph. Please read the photo section of the order form for a better idea of a reasonable picture.
Comments From One Of My Satisfied Customers
I always strive for the best possible finish on every drawing that I do. Each is very special to me and I put a large part of myself in every piece.
I always wanted to get a portrait drawn of my son and when I saw Craigs' work I took a chance and had one done. Boy, was I glad that I took that chance. When I received the finished drawing it went way beyond my expectations. I would recommend Craig to anyone who wishes to have a high quality portrait made of their loved one.
---
Portrait Prices · Order


---