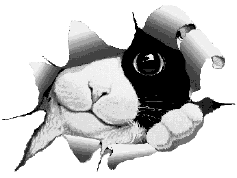 HELLO!

My name is Thelma.
Please don't mistake me for an ordinary pet.
I am far from that.
I am a cat.


I came to live in this home when I was young. At first I wasn't sure how things would go. I hid behind the washing machine for an hour or two, until I decided that I would give it a try.
Surprisingly, this family wasn't that difficult to train! Of course, I was already using a litter box and the family seemed to appreciate that and quickly fell into the routine of cleaning it regularily.
I enjoyed sharpening my claws on the door jams. That ended when they had me declawed. Just the front ones, of course. It was a very traumatic time for me and if they even try to put me in the car, I protest loudly. My mom is now very careful not to let
me go outside. Which is the way it should be.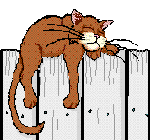 I must admit that I have it pretty good. I get my food regularly and they even replace the day old food in my dish with new when I nag them about it. I rather suspect that they're only placing a little bit of new food on top of the old. They think they're fooling me, but I know better. The mistress of the house, let's me lick the ice cream bowl when she's done with it, so that makes up for it, I guess.

All in all, life is good here. One drawback, however is the dog that lives here. While my mistress is at work, he helps himself to my food dish. Sometimes she remembers and puts my dish up before she goes. The dog doesn't get my food then, but neither do I. And she wonders why I'm grouchy when she returns! She tells me that I won't starve for 8 hours.

But she's wrong! I'm a cat!

*~*~*~*~*~*~*~*~*~*~*~*~*~*~*~*~*~*~*~*~*~*~*~*~*~*~*~*~*

To help this family out...and other's who may wish to be owned by a cat - I have set down a few rules that should make my life much better.
*~*~*~*~*~*~*~*~*~*~*~*~*~*~*~*~*~*~*~*~*~*~*~*~*~*~*~*~*
*~*If I am sleeping on the bed,
do not disturb me.

*~*Never give me food I don't like.
It will end up in an undigested form on the rug.

*~*If you leave me alone for the night,
do not expect me to be nice to you.
I have feelings too, you know.

*~*Pick me up immediately when I request it.
It will go a lot easier on you if you do.

*~*Spoiled milk in a dish does not make me a happy cat!

*~*Don't expect me to catch mice.
They're just not worth the trouble!

*~*Expensive scratching posts and toys are just a waste of money.
I prefer an empty box or grocery bag.

*~*Purring louding seems to get me
whatever I want.

*~*Always love me and I will love you back.

*~*~*~*~*~*~*~*~*~*~*~*~*~*~*~*~*~*~*~*~*~*~*~*~*~*~*~*~*

All in all, I'm pretty content with my life. And that's saying a lot!

'Cause I'm a cat!


Dogs drool.
But cats rule!

&nbsp&nbsp&nbsp