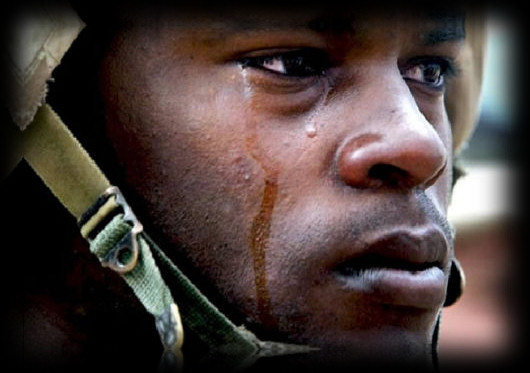 The photo used here ©The Associated Press

A Soldiers Prayer



Last night I heard a soldier cry,
His face was turned up toward the sky.
I saw him there, on bended knee,
And felt his pain as he strived to see…


He prayed to God, and I saw the glisten,
Of a teardrop, as he begged him to listen.
He asked for guidance, in a world gone astray,
And I heard his words, 'Please show us the way..


To live in peace and love again,
And bring this war to a sudden end.
I know the burden that I lay on you,
But guide us now, in the things we do."


And suddenly there were signs all around,
That God had heard, though at first not a sound,
For high above a dove did appear,
A lily bloomed, and a light came near.


A Voice answered then, from all around,
"Grieve not my friend, for you have found,
The answer lies in forgiveness, it is true,
Love your fellow man and they will love you."


And the soldier felt a fleeting, gentle touch,
That raised him up, and soothed him much.
He listened in wonder as he heard God say,
"Your prayers will be answered, in a new day.


For when you ask, and seek solace from me,
I will guide you until your soul is free.
Be not afraid, and rejoice in my care,
Take comfort in knowing that I am there."


© 2001 Loree (Mason) O'Neil




This page is dedicated to our heros overseas and here on the home front. I am grateful for the sacrifices that you have made and continue to make on behalf of our country, our commander-in-chief and our freedom. God records and stores each of your tears in a bottle. Your sacrifices will not go unrewarded.


God bless you all.