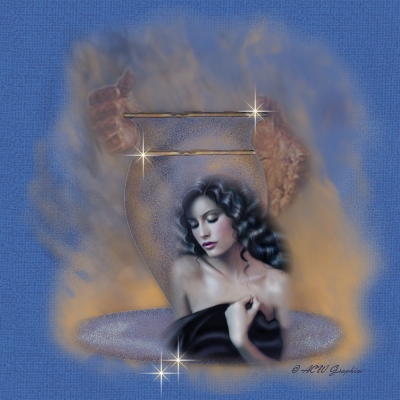 Yet, O LORD, you are our Father.
We are the clay, you are the potter;
we are all the work of your hand.

Isaiah 64:8



Some time ago, I borrowed a video from a friend. It was called "The Parables of the Potter" and was filmed as a pre-play performance by the Potter on the grounds of THE GREAT PASSION PLAY at Eureka Springs, Arkansas. It blessed me so much that I ended up buying a copy for myself.

In this pre-play presentation, the Potter (a gentle soul with long black hair who reminds you of Jesus) sat at a potter's wheel and as he spoke, he transformed a lump of clay into a vessel. All the time he spoke of what a potter does to transform the clay into something usable and how God works the same way in our lives.

Jeremiah 18:6 says, ...Behold, as the clay is in the potter's hand, so are ye in mine...

It's a comfort to know that God cares so much about your lives that He is willing to take the time to mold us and make us into what He wants us to be. We all look forward to being that finished product, all shiny and beautiful, a vessel "meet for the Master's table". We all want to be a vessel of honor.





But I'm sure I'm not the first to say that the transformation to that vessel of honor is not an easy one. Being on the potter's wheel is scary, painful and sometimes you feel like it's never going to end. The molding and sometimes breaking of our will is very uncomfortable. We as human beings can be very "me-oriented" individuals. "What's in it for me?" "How will this affect me?" We tend to want our lives very ordered and familiar. Personally, I have always thrived on planning way ahead of time. I made plans and expected them to come to pass without a hitch. When a "hitch" came, it would really upset me.

God has plans for us as well, but they are not always our plans. Sometimes He points us in another direction and we resist. We feel the pressure of His hand molding us. Many times the pressure must be very firm because we resist. But still His Hands continue.



Eventually, the molding process is done, We stand tall on the table, a lovely shape. But, the process is not finished. We are still weak, unable to stand any pressure from the outside. We are not ready for use. And so, the Potter puts us in the fire. The heat feels unbearable. We just can't understand why we're having to go through this! Why me?



But the Potter is ever watching the process. At just the right time, He removes us from the fire and we finally stand strong.

We started out in the flesh as a lump of clay. The leading of the Holy Spirit became the hand of the Potter and the forming of the vessel became the shaping of our mind. We went through the fiery trials that transformed us from a soft, unusable vessel to one that God could use. In the end, we can reflect God's glory as we continue to be responsive to His voice and obedient to His Word.



I encourage you that if you feel you are on the Potter's wheel right now to not be discouraged. Let God complete His perfect work in you. You will become a vessel of honor if you allow Him to mold you. Give Him those selfish, desires, those cares you have been carrying for so long. Don't resist Him. He loves you so much.